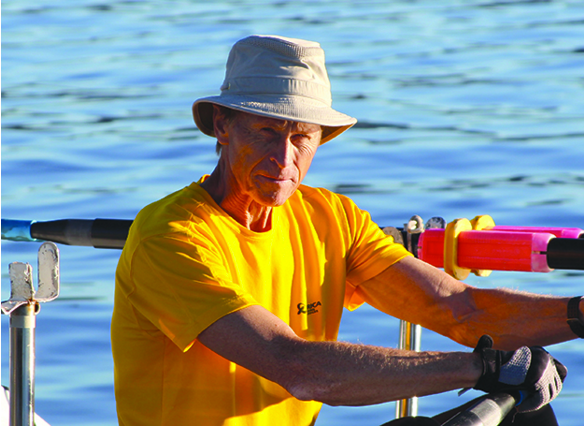 For a man who's 70 years old, Stein Hoff is not exactly retiring.
The Norwegian septuagenarian is about to undertake a physical feat that few people of any age could complete: Rowing from New York City to London, a journey of 2,500-to-3,000 or more nautical miles, depending on the current.
At 8 a.m. Sunday morning, Hoff will get into a 24-foot-long rowboat at New York's North Cove Marina and start out on a 90-day journey by himself.
With luck, Hoff will arrive 90 days later at the Isles of Scilly, on the southwest coast of England.
Check out our conversation with Stein Hoff on Facebook Live: 
Hoff's amazing journey is a tribute to a similar journey made in 1896 by two Norwegian Americans, George Harbo and Gabriel Samuelsen.
The duo were the first people to row across an ocean aboard a boat they named "Fox."
"Only a handful of people in the world have ever completed a transatlantic row," said Edward Meyer, Ripley's VP of Exhibits and Archives. "For Stein Hoff to do it solo at the age of 70 is an amazing feat and truly a 'believe it or not!' event."
Hoff is honoring Harbo and Samuelsen's efforts by naming his boat "Fox II," but it's a long way off from the one they used.
Fox II has a waterproof cabin and is self-righting, to prevent it from capsizing. There is also a GPS navigation equipment, a VHF Radio, a water filtration system, and small gas canisters for cooking. The boat's solar panels keep the electronics charged.
The boat's solar panels keep the electronics charged. If there is a problem, Hoff can call for help on a satellite phone, but the journey won't exactly be smooth sailing.
"I will be solo and I plan to do the whole journey unsupported and non-stop, Hoff told Norwegian American Weekly. "[Harbo and Samuelsen] had some supplies underway and were invited aboard one or two ships for meals on their journey."
Hoff and his wife are both competitive rowers who have completed many long journeys. He's a doctor and a grandfather and considers this the ultimate adventure. 
"I enjoy the challenges," he said. "It keeps me young."
REAL LIFE. REAL NEWS. REAL VOICES.
Help us tell more of the stories that matter from voices that too often remain unheard.
BEFORE YOU GO
PHOTO GALLERY
Ripley's Believe It Or Not! Eye-Popping Oddities