What happens when you give eight bright young entrepreneurs the freedom and resources to change the way we approach sustainable business?
They create something revolutionary, while making established businesses sit up and take notice.
Over the northern summer, DNV GL gathered a team of students from a range of studies at the company headquarters outside Oslo, Norway. They were given six weeks to create a digital platform to drive awareness of the UN Sustainable Development Goals (SDGs), while creating value for both business and society.
The result is Wembo - a two-part digital platform designed to enable businesses and consumers to do their part in reaching the Global Goals through transparency, collaboration and sharing.


Four of the eight dedicated summer students in 2016 with the new Wembo app, from left: Marthe Sogn Lien, Alexander Gaugstad, Ingrid Bye Løken, and Stefan Elston.
Wembo consists of two digital products: an online dashboard called Wembo Analytics for businesses, and a smartphone application called Wembo Go for consumers.
Wembo Analytics is a web portal that will enable companies to share, monitor and improve their sustainability performance across every link of a product's supply chain. The information is then analyzed by DNV GL's data center that will provide companies with a score of how sustainable their production is. A company could see how it measures up against competitors, and select suppliers based on their sustainability scores.
The Wembo Go app lets consumers scan and compare to products side by side, choosing the product with the best sustainability score. This could be based on things like labour practices, or how far a product has travelled for processing and packaging. The aim is to encourage more sustainable consumption by letting consumers see the global impact of the products they choose.
"Before I started working on the project I didn't really grasp the size of the negative impact we humans are having on the planet. I hope Wembo can contribute to a more sustainable future", explains Stefan Michael Elston, a graduate student from the Norwegian School of Economics (NHH).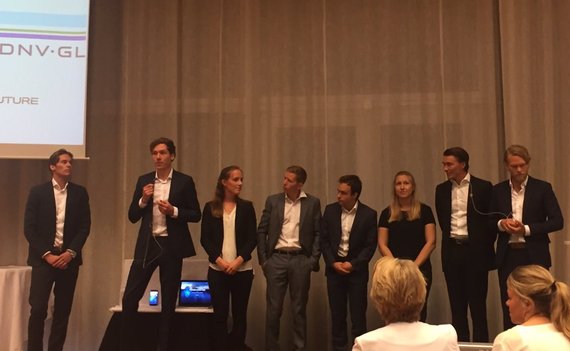 The team presenting Wembo at DNV GL head office, from left: Stefan Elston, Eivind Harris, Ingride Bye Løken, Simen Hexeberg, Erlend S. Harbitz, Marthe Sogn Lien, Johan Jørgen Grav and Alexander Gaugstad.
Backing youth in business
When companies like DNV GL hire interns, the standard assumption is that we're going to teach them about the world of business. With our summer project, we turned this completely around. Instead we gave the students the opportunity to teach us what to do. I am convinced that giving young digital natives this kind of opportunities and responsibility will be a key factor for success in the accelerating technological shift that is happening today. As a company, this approach is extremely valuable. It helps us stay flexible, creative and keep us energized.
It's also a boon for the students: partnering with a global company and working on something that has real-world significance puts them a step ahead in the competitive graduate market.
I am truly impressed to see what the students have created over just six weeks. At DNV GL, we aim to enable sustainable business models and encourage industries to see the opportunities and the value of being transparent. Wembo fits right into this approach. Over a short period, these students have given us a tool to help the world reach the UN Sustainable Development Goals by year 2030. They really are members of 'Generation S'; the custodians of tomorrow who understand the power of sustainability to create positive change.
The combination of big data analysis and transparency Wembo provides could very well be the key to unlocking a safe and sustainable future.
REAL LIFE. REAL NEWS. REAL VOICES.
Help us tell more of the stories that matter from voices that too often remain unheard.