"I have cherished the ideal of a democratic and free society in which all persons live together in harmony and with equal opportunities. It is an idea for which I hope to live, and hope to see realized. But if need be, it is an ideal for which I am prepared to die. "
The documentary on The Human Rights Tattoo project begins with Nelson Mandela's voice saying these words.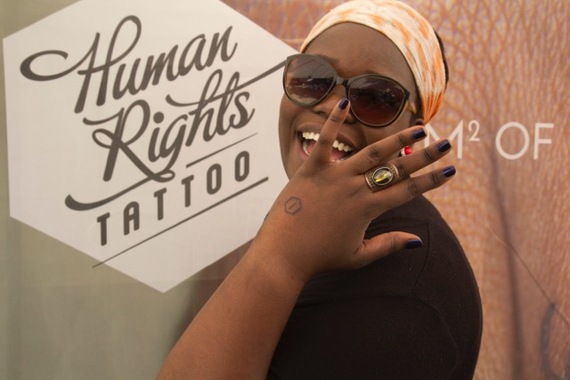 Why you might ask? While some may see their human rights as self evident, this is not always the case. According to Human Rights Tattoo's webpage, "Universal Human Rights mean that the Human Rights apply to every single living human being. There are no exceptions. While one may think these 30 rights are commonly known, but that is far from the truth. It is impossible to respect and protect these rights if they are not known."
If you think this concern may be overblown, go ahead and try to name all of the Universal Human Rights enumerated in the Universal Declaration of Human Rights. No? I couldn't either.
For Van Bussel the project started with the murder of Steven Nyagah. Nyagah, better known as Nyash, was a Kenyan activist, filmmaker, radio journalist, and artist. Nyash was shot in Nairobi's sprawling Korogocho slum, ostensibly for the political nature of his work. Van Bussel knew and had a relationship with Nyash, from when Nyash was invited to participate in a project for Festival Mundial, an international arts festival in Tilburg. Later, when visiting Nairobi, he tried to call Nyash but the call did not go through.
The following day Nyash was murdered.
Concerns about human rights violations surrounded Nyash's death and played a part in inspiring Human Rights Tattoo. The project has taken Van Bussel and other artists across the world. Beginning in Nairobi, Kenya, where Nyash lived and died, Human Rights Tattoo strives to include diversity in the people that get the tattoos and the stories that explain why they are getting the tattoo (a condition for getting tattooed). This desire has taken them to Kenya, South Africa, Zimbabwe, Argentina, and the United States, among other countries.
"Having a letter of the Human Rights Declaration means you are reminded of yours and everybody else's rights. It is a way of putting your signature under the Declaration of Human Rights only this time a piece of the document is signed on you. You will carry it with you. For the rest of your life," writes Human Rights Tattoo.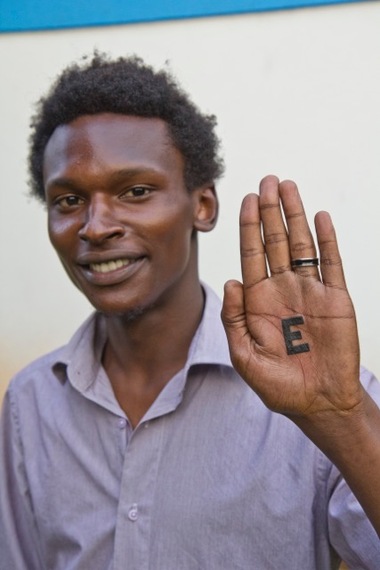 In this way, the tattoos not only emphasizes the individual's commitment to and belief in the universality of human rights, but also link the individuals who bear these letters together and makes their stories and the reasoning behind getting the tattoos part of a larger narrative around human rights. While Human Rights Tattoo is helping people show a commitment to human rights they will have forever, it is also building a collection of stories that bring depth, names, and faces to the idea of human rights. In doing so they are creating not only an educational program for human rights, but also a pan humanist art project that utilizes photo, tattooing, film, and writing to encourage people's empathic capacity.
Human Rights Tattoo, in this way, is a form of performance art, adding an experiential element to the visual tattoo, and connecting people throughout the world, whether they know each other or not. The end result being that two people, unbeknownst to each other, display visual art that links them together. While it is easy to say they aren't linked and that the tattoos are just tattoos, the struggle for human rights involves supporting and being connected to those that aren't always seen, those most vulnerable, and taking a leap of faith to stand with and support those you don't intimately know, but whose rights are being infringed on.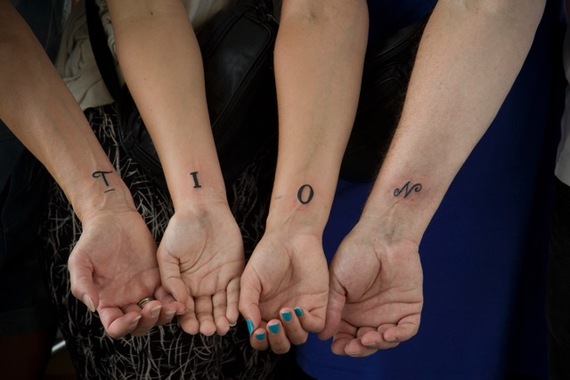 Ezra Pound once said, "The artist is always beginning. Any work of art which is not a beginning, an invention, a discovery, is of little worth." Human Rights Tattoo highlights the way that tragedies produce beginnings, and artists inspire and contribute to each other, even when their life is cut short. The beginning of Human Rights Tattoo may have been influenced by Nyash's death, but it now begins other journeys and discoveries for those it tattoos, setting into motion events that create beginnings in the world.
During Van Bussel's TED talk at The Hague, he told the audience, "I believe that human rights is not about being big. It is not just about papers, courtrooms, and committees. It's about you and me, about sharing something important, about not being indifferent. "
In the daily battle for human rights, each letter on someone's body counts as one small step away from indifference.
Popular in the Community