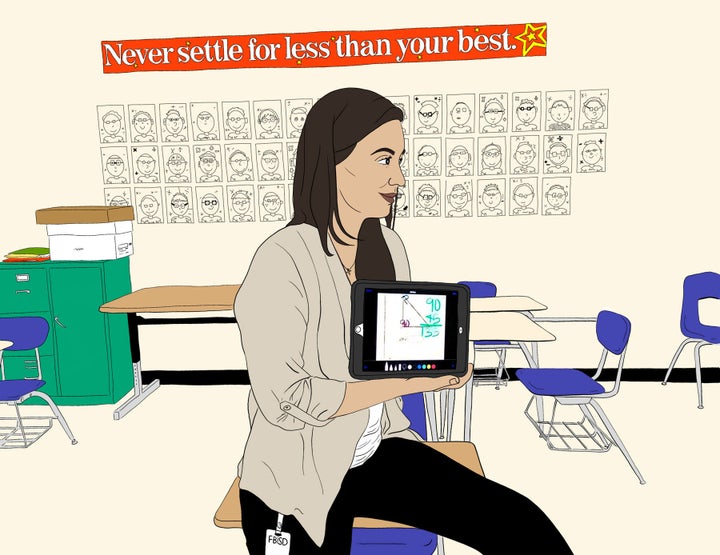 Draw a perfect circle. Now bisect that with a 45-degree angle, the perfect slice of geometric pizza. Now, using your drawing, find the area of the rest of the circle. 
Chances are, you wouldn't be able to give the answer at the drop of a hat ― but the students of Hodges Bend Middle School, a Verizon Innovative Learning school in Houston, Texas, can. With tablets recently integrated into their classrooms, learning can be more interactive, more fun and more concrete. We worked with Verizon to show you how the students of Hodges Bend have used their devices to take math education to the next level.
In an era of ever-evolving technological innovation, critical thinking, problem-solving and STEM skills are more important than ever. Unfortunately, many students don't have access to the internet at home, and very little access at school, meaning they run the risk of getting left behind.
Verizon Innovative Learning is trying to remedy this problem for under-resourced schools with a three-pronged mission focused on providing free technology, internet access and hands-on learning experiences. This changes the game for students at schools like Hodges Bend: Every student at the school is assigned a tablet or device with Verizon connectivity that they can use in the classroom and at home, effectively making sure they can participate in lessons during the day and complete assignments at home at night, whether their house is connected to wi-fi or not. Teachers infuse technology into their lesson plans, not only preparing kids for the jobs landscape of the future, but also making learning more fun and engaging. Students who love to communicate by texting can apply the same skills in the classroom, making the lessons they learn there stick.
Kimberly Bloom, who is teaching eighth-grade math at the school this year, says that the integration of devices and technology in her classroom has revolutionized the way she teaches and the way her students, 80 percent of whom are economically disadvantaged, learn.
"It's awesome, how you can bob and weave in the moment," Bloom says of the flexibility she's found thanks to the devices.
Bloom teaches with a device in hand, which is also connected to an Apple TV so she can demonstrate concepts in real time. Bloom can be anywhere in the classroom and still instruct, and she can pull up a display showing an overview of each of the students' screens, allowing her to keep everyone on task and spot struggling students.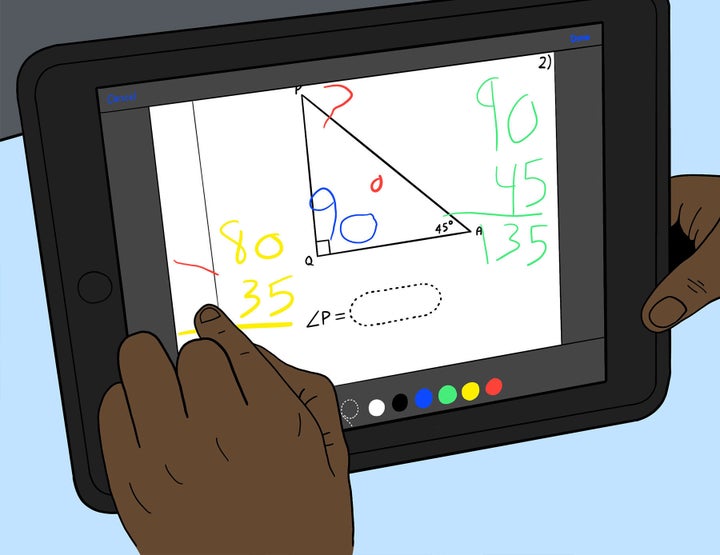 "Before you had to walk up and down and monitor the groups," she says. "I'm watching all 30 in real time and I can see if their answers are right… Being able to constantly monitor and adjust as a teacher is very impactful and not having to wait until you get the test and assignment back."
But just as―if not more―important as classroom management, the use of tablets in the classroom has skyrocketed students' enthusiasm for the subject. By putting the same technology into students' hands that they associate with entertainment, learning becomes an interesting challenge, not an arduous task.
"This generation is a technology-driven generation," Bloom says. "The use of technology in a classroom gets the enthusiasm and excitement through the roof and their output seems to be well over 90 percent. With a paper and pencil task, they're reluctant. It seems when you put technology in their hands the most reluctant students work because they're excited to use it. We give them a stylus and they work and work."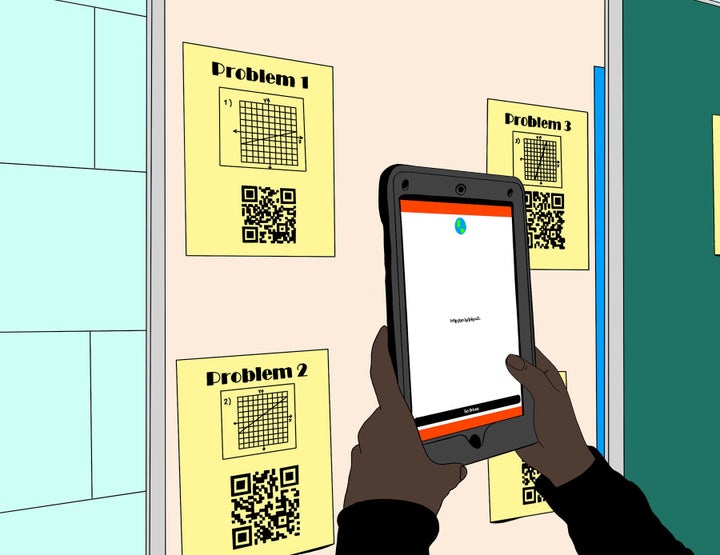 Now, word problems and discussions can be collaborated on in real time on a Facebook-like wall, and participation isn't only limited to those who raise their hands. "They're used to texting," Bloom explains, so some students are more likely to contribute to discussions if the medium is digital, rather than conversational. "The biggest struggles as a teacher are your reluctant learners. You can give the best lesson in the world, but if they're reluctant and just don't want to do it, that's a struggle," she says. "You put this tech in their hands, [the difference is] amazing."
Additionally, Bloom says, some of the apps she uses in class have markup and illustration options that unlock students' creativity and enthusiasm. "They're incredible with Snapchat, so using those same type of ideas on a problem―they're amazing at it."
This is only Hodges Bend's second year integrating the tablets into classes, but already the results are showing: school officials said that typically 70 to 75 percent of students pass an annual statewide math assessment test. Last year, after the first academic year with the technology and lesson plans in the classroom, higher than 95 percent of students passed, a dramatic improvement pointing to a new kind of engagement in the classroom. According to a 2017 study conducted by research company Westat, after two years 6th grade students who participated in Verizon Innovative Learning schools improved on their math standardized tests at rates three times of those seen by their peers who did not participate.
Bloom credited the tech with bringing a new agility to her teaching, and unprecedented engagement to her students.
"These are tremendous changes that literally change the face of education and what we're able to do from our supplies into furthering discussions and encouraging deeper thinking."
Verizon Innovative Learning provides free technology, internet access, hands-on learning experiences and a technology-infused curriculum. The program delivers real academic improvement and prepares students for success in the digital economy. Students in Verizon Innovative Learning schools show improvements in math and reading, and they're more engaged in school. Visit VerizonInnovativeLearning.com to see how Verizon is driving real improvements in academic performance and engagement.
This article was paid for by Verizon and co-created by RYOT Studio. HuffPost editorial staff did not participate in the creation of this content.
Calling all HuffPost superfans!
Sign up for membership to become a founding member and help shape HuffPost's next chapter