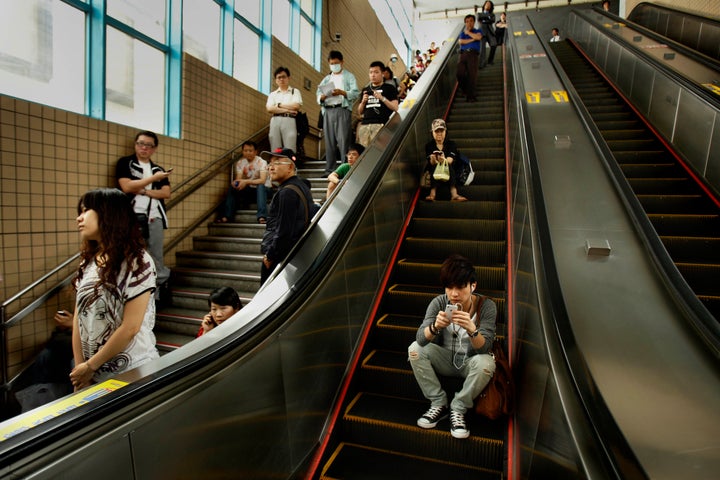 A short drive from the frenzied valuations and IPOs of Silicon Valley, Professor BJ Fogg and a team of Stanford students are examining whether technology might be used to bring about world peace.
Fogg is the head of the university's experimental Persuasive Technology Lab, and he spends considerable time studying ways in which technology affects human behavior -- and, one day, how it might be used to bring about a better, more peaceful world.
While less nobly minded individuals might focus such research on innovative ways to reach consumers and sell product -- and some amount of his work does, inevitably, do that -- Fogg is intent on expanding the ways in which technology might be harnessed to make us live happier, more mindful lives.
Fogg, for his part, described the mission in less vaunted and moralistic terms: "The lab is about doing cool things with people who want to do those cool things," he said.
The Persuasive Technology Lab, Fogg's brainchild, had humble beginnings: In the conference room of Stanford's student union, Fogg began convening the forum in 1998 while finishing up his Ph.D. work in communications. It has since grown into a formal group, with proper funding and office space, though Fogg is quick to dismiss any illusions about the lab being particularly well-endowed: "I don't think great work depends on having lots of money," he said. "Money often just sustains boring projects for years and years, when they should have died a long time ago."
When Fogg began his work studying technology, the sector was relatively young: The term 'social network' was not in common parlance and Mark Zuckerberg had yet to get a learner's permit. Technology itself was still relatively rudimentary. "If you're too far ahead," said Fogg, "you can waste your time. We probably wasted about four years because the technology wasn't there."
Says Jason Tester, one of the lab's first participants, "The lab was for people who saw what technology would be and were almost waiting for it to catch up to their ideas -- ourselves at the lab included. There were very few models to show people. We had to create these, at the time, fantastical visions."
Fogg said his main goal was to help "map the landscape of what technology could do -- pioneering, trailblazing [stuff]. We came up with lists, like, 'Wouldn't it be great if we could get people to exercise more?'" With these goals in mind, the students set upon studying how technology might change human behavior.
Early on, Fogg saw the potential power of mobile phones. "Back in 2000, 2001, I thought it was pretty clear that this little thing would be the most persuasive thing in our lives," he said.
Tester further explained that in the early days, a lot of the "fantastical visions" had to do with location technology. "As in, what if our mobile phones actually knew our locations? How persuasive could they be?'' he recalled.
Rather than focus on exploitative uses for potential technology, the lab focused on positive applications: "Could you persuade someone to go into a health food store, instead of a McDonalds? Could you send out a reminder to drink water when you passed by drinking fountain? Or a reminder to exercise when you had 10 minutes to kill?" said Tester.
What the lab determined, he explained, is that "It's all about the right time and the right place -- getting that trigger to perform something. Oftentimes, that moment you need to be persuaded is not when you're at your computer, it's when you're at the store about to spend your paycheck."
It's only now that such tailored messages -- ones that the lab conceived of years ago -- have come to fruition. As an example, Tester recalled a man who had hacked into the location capabilities on his phone in an effort to curb himself from wasteful spending habits. "If this guy lingers at an electronics store too long, his phone automatically sends a text message to his five friends, who then chime in and tell him not to blow his paycheck."
He added, "It uses bleeding-edge capabilities of technology to make a connection with friends. That's the future of combining the capabilities of technology with really simple social mechanisms."
Another early study tested behavior around the burgeoning field of email. "We wanted to see what happened when you put someone's name in the subject of an email versus putting their name in the body of the email," says Fogg.
The study showed a clear difference in response: Without personalization, Fogg says, the response was 19 percent. With personalization, response was 38 percent. But "we didn't want to be thought of as the fathers of spam," he says. "I didn't want my name associated with it."
The dark side of persuasive technology did not initially occur to Fogg. "There were a lot of questions about ethics," he explained. "How do you create machines that control behavior? When I applied to Stanford in 1992, I didn't think about the dark side. All I thought about was environmentalism and communications. It wasn't until these conferences" -- where findings were presented -- "that people started getting concerned. Some people were saying that I was creating the technology for the atom bomb."
Perhaps because of this, or in reaction to it, Fogg maintains a strong interest in developing technology that will in some way heal or ameliorate society. Given the recent advances in tech development, these days students actually build the technology and are evaluated on a set of concrete metrics. Projects underway this year include one that aims to optimize commute time between work and home, another that uses interstitial moments throughout the day to reduce stress, and others focused on "getting people to smile and to stop procrastinating," said Fogg. For clarification, he added, "It's not all about yoga and meditation. In fact, there's not a single project about sitting and meditating."
Fogg began working on his Peace Innovation project two years ago. He explained its genesis: "Tools and systems can connect people like never before. They can connect them faster and better than ever -- and we should apply that to creating peace in the world."
He conceded that "When you say 'peace,' people automatically think you're crazy. When you say, 'Yeah we think peace is possible,' the reactions are really mixed. People get mad, people go crazy." Nonetheless, said Fogg, "We decided to go for it."
While the project remains a largely informal undertaking these days, it brings together innovators tackling the question of peace, in an effort to share information and connect disparate networks. According to the website: "Creating a measurable impact on peace won't happen overnight, or even in a few months. But we must start somewhere. As we see it, the right starting point is with people who understand the innovation process: launch early, measure results, iterate on success."
Though world peace may be an elusive goal to reach, perhaps one of the most striking things about the Persuasive Technology Lab remains its focus on doing good. Given Stanford's proximity to Silicon Valley -- where the appetite for profitable product is rapacious -- it is remarkable that many of the applications coming out of the lab are not driven by a desire for dollars, but to help users better navigate the complexities of the 21st century and in so doing, make it more livable.
Said Terry Winograd, a professor of computer science at Stanford and one of the early supporters of the Persuasive Technology Lab: "One of the things that BJ has tapped into is a real desire on the part of students to do things that help the world. Not to just create billion dollar startups -- although there are students who want to do that, too -- but he's speaking to those who say, I want my talents to be for something that's going make the world a better place."

REAL LIFE. REAL NEWS. REAL VOICES.
Help us tell more of the stories that matter from voices that too often remain unheard.