After graduating from the University of Michigan, I became a graphic artist in D.C. Twenty years later, I was involved with the labor movement. At the time, I didn't think that there was a connection between the two, but now I'm quite sure that there is.
Today, I see notable parallels between unions and the arts in cities like Detroit, and opportunities for members of different professional fields to learn from the successes of each other. As an artist-turned-worker-activist (and the President of Union Plus), I'm here to suggest the following: from graffiti to Facebook, the answer to better organization, better art, and stronger communities may be written on the walls.
Engaging in Partnerships: Jobs and The Arts
As a part of their strategy to attract new members, the American Federation of Musicians created a series of "community orchestras" wherein artists/members could receive credit for their pension plan. They've also launched a Music Performance Trust Fund series that goes into Detroit public schools, partnering with music foundations.
Some key community leaders felt as though an alliance between the arts and apprenticeship through the Works Progress Organization would incentivize participation in the arts while safeguarding artists' financial stability. Historically, the WPA as part of the New Deal has funded public art projects that have put, not only artists, but tradesman to work as well. Unions, with their aptitude for organization, are perhaps better poised than any other group to set up community outposts like these, and bring in artists in need of an affordable place to create.
The arts community has always organized to work towards a brighter future for its participants. Artists with an interest in the organized labor aspect of their profession have chosen to serve as loudspeakers for the arts, making political statements on public walls, and even more subtly, by the achievement of good wages and benefits for artist unions such as SAG-AFTRA, AFM, IATSE and the Writers Guild. As John George of Motor City Blight Busters says, "Detroit is an open canvas."
There are 633,000 union workers in Michigan, but unfortunately, not all of them employed. Perhaps more stunning is the fact that there exists a sector that is oftentimes ignored: the arts community.
Unions have historically run great apprenticeships -- from carpentry and electricity to painting and glazing. Union building trades members could begin to work with artist communities or housing organizations, like Habitat for Humanity.
For the past 10 years, Union Plus has done just that.

Get Social: Embracing the Online Community
Gone are many of the union halls of yesterday -- people just don't have the time to congregate in person anymore. However, there are still a number of great ways to foster community engagement amongst unions, although the "community" looks and feels a good bit different than what we're used to.
Today, many local unions do much of their union building online. Linked-in local unions provide anything from online bulletin boards to showcase job openings to online training programs -- online platforms have provided the interactive, real-time functionalities necessary for organizing in the online space.
The real trick will be introducing unions to other like-minded groups in order to meet similar goals. There are a large number of pre-existing alliances covering topics such as: income inequality, tax fairness and raising the minimum wage. Providing these alliances with online, public forums would provide a simpler way to meet the similar needs of diverse groups.
Some groups have already started making progress in the online space. We can look to sites like: http://detroit.iamyoungamerica.com, which requires members to pay a small fee in order to access to grants, co-working spaces, and marketing support. The site describes itself as "more than a blog." In fact, they prefer to see themselves as "a movement."
How does the new face of worker representation, including organizations like Working America Detroit (http://www.metrodaflcio.org/working-america), create synergies with other digital innovators?
Get Outside: Making it Public

Detroit boasts a robust and raw energy of community artists. From the various artists involved in the creation of the Heidelberg Housing Project, to Gilda Snowden, Vito Valdez, Hugo Navarro, George N'namdi, Jacob Martinez and Antonio "Shades" Agee, Detroit certainly has its fair share of talented artists.
Knowing this, it seems only natural to look deeper into Detroit's budding artistic scene to find new ways to connect to the community. I see potential in a number of opportunities, including the possibility of creating a partnership between the union building trades community and local graffiti artists. With more than 35,000 union building trades craftsmen in Detroit, it's stunning just to imagine what their union skills could offer when introduced to Detroit artistic "mojo." A powerhouse combination like this could finally marry construction and organization know-how and artistic vision in the public eye.
Detroit is often referred to as one of the "art cities of the future." We are certain that unions can help to foster that growth.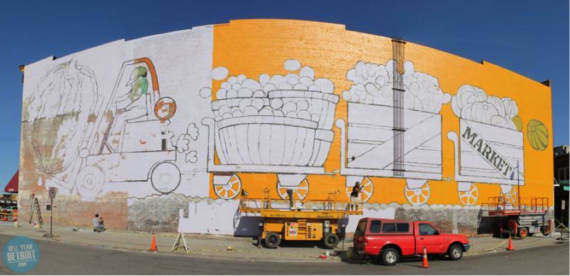 Collaboration of Vito Valdez and other graffiti artists for the new Detroit Eastern Market.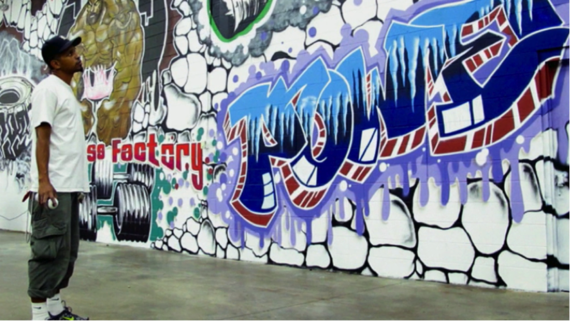 Antonio "Shades" Agee in front of his mural.
Unions and Arts Together: Driving the Economy in Motor City
Solidarity has always been a rallying cry for union workers, but it's also a common denominator of the "have nots, which Detroit has a lot of. Fortunately, community members representing the arts and labor unions have proven to be good for the local economies in numerous instances, and can foster growth again in Motor City through the arts. In a city like Detroit that is struggling financially, a summoning of these positive resources could be a game changer.
There is no shortage of information supporting our position on this topic. We know the following things to be true:
• Cultural institutions like the Detroit Institute of Arts, bring in $10 million a year in tourist dollars
• Citizens have banded together to summon change in Detroit - organizations like Write a House (home rehabilitation working with Young Detroit Builders), and the Detroit 15 (working with fast food workers) have been born to make a difference in the Detroit community
• Unions provide jobs, as well as local economic benefits and stimulation
Creating change is something that both labor unions and artists have always revered. For the first time in Detroit, we need, share ideas and creating new alliances. The possibilities are truly endless -- what if the teacher's union partnered with art galleries like 555, and introduced art classes? What if the Scarab Club introduced a Musicians Night co-sponsored by the musicians union, AFM?
There is a major opportunity to revive Detroit through the appreciation of the arts that it already possesses. The power to do so, I believe, rests within young workers. If these young workers, artists, and unions came together in the Motor City, the community could potentially revive its own engine.
Popular in the Community