 This is the second article of this series. Read Part 1 here.
By the mid-1920s, a million African Americans lived in Mississippi -- a half-million concentrated in the Delta. Through hard work and sacrifice, families freed themselves from sharecropping's imprisoning cycle of debt. The men took to the rails as "hoe-boys" or hobos, working harvest seasons around the country. Their wives sold chickens, eggs, butter and cheese and worked as maids and laundresses.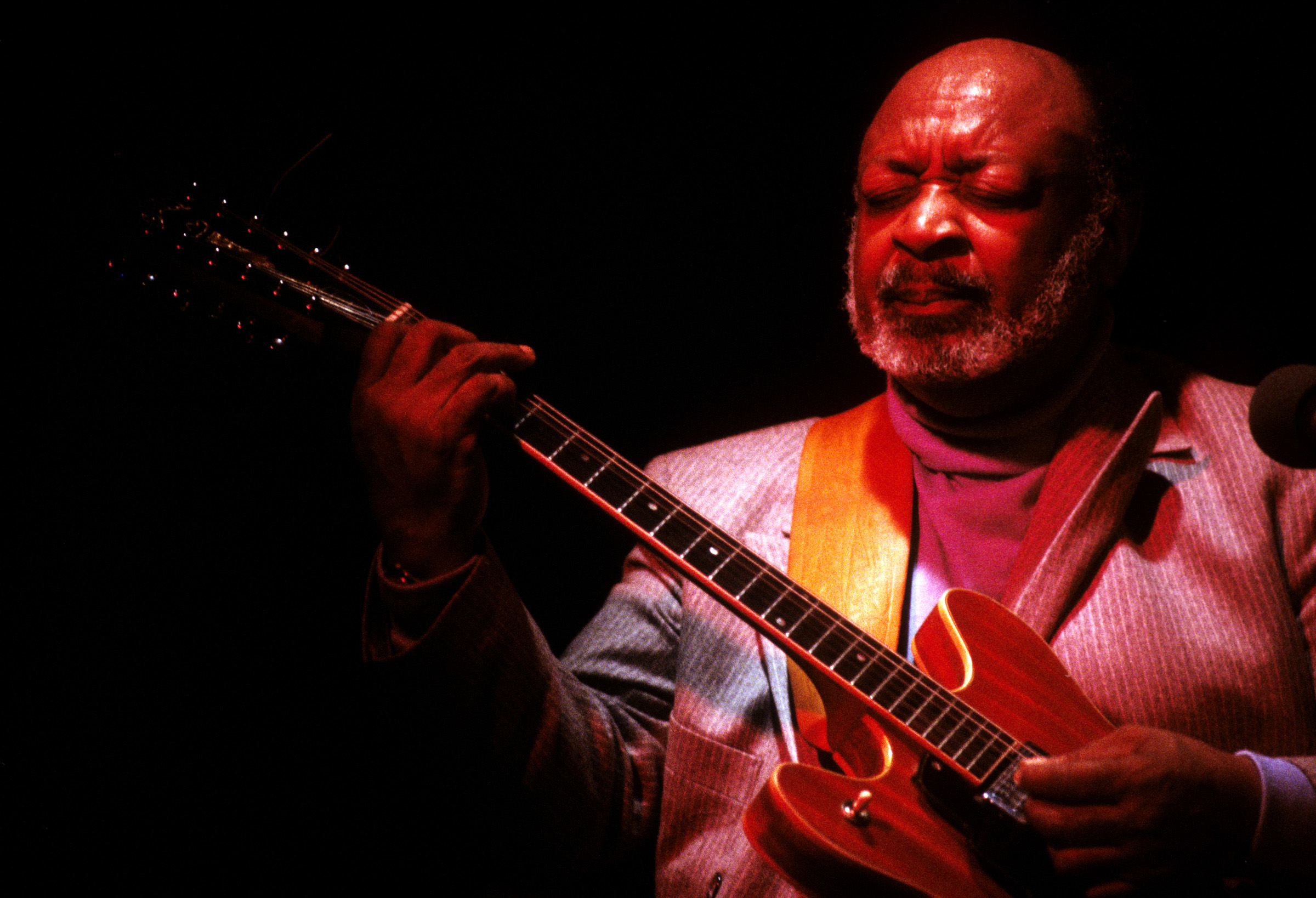 I interviewed legendary bluesmen who grew up in the Delta -- like Robert Jr. Lockwood, Hubert Sumlin and "Little" Milton Campbell Jr. -- for my book The Language of the Blues. Lockwood was born in 1915 in Turkey Scratch, Arkansas, an African-American community of former croppers. "In the South there was prejudice and it wasn't too good," Lockwood told me, "But my people on both sides of my family owned farms and we was on no plantations except our own. Where I came from a whole lot of black people owned their own everything. Everybody in Turkey Scratch had their own property." Robert Jr. Lockwood, photo © Joseph A. Rosen, The Language of the Blues
To Sumlin, born in Greenwood MS in 1931, the Delta was a musical melting pot. "There were musicians everywhere," he said, "We had people down there they speak French, French Creole. We had black Seminole. We had people from Jamaica, the Bahamas. Oh yes, you could hear the African feeling in the songs, in the dance, the way they tapped their feet, in everything."
Country music and Irish folk-songs influenced the blues, too. "Back then you worked every day," recalled Campbell, "You keep saying 'blues,' but it was music, period, that was around everywhere. I was exposed to country and western first. It was the Grand Ol' Opry on the radio for me. I listened to people like Eddy Arnold, one of my favorite singers, and George Morgan. I never was into the bluegrass stuff, but I always liked the great stories that the real slow singers would tell.
"They say that so-called twelve-bar stuff is the black man's blues and country western of that day was the white man's blues," Campbell mused, "but there's a very thin line between the two musics. Only difference is the beat, and the bars to some extent, but the stories of happiness, sadness, being lonesome. All that was the same."
Maya Angelou has signed on as Khafre Inc.'s honorary chair. Superstars like B.B. King, Robert Plant and Morgan Freeman have also contributed wealth and time to their beloved Delta. King built his sleek $14 million museum, which cleverly conjoins the 1920s cotton gin where he worked as a teenager. He returns every year for the B.B. King Homecoming Concert on the museum grounds.
Plant, who visits the region regularly, drew the largest crowd in Clarksdale history -- over 20,000 people and their wallets -- when he brought his Sensational Space Shifters to Sunflower River Blues and Gospel Festival last August. Freeman owns Ground Zero Blues Club in downtown Clarksdale, which hosts hot regional talents like gospel-tinged singer/songwriter David Dunavent or the fiery Cedric Burnside Project, led by North Mississippi blues legend R.L. Burnside's grandson. Freeman told the Washington Post, "One reason to be back here is because I made a lot of money and I am going to spend it somewhere. This is the best place to spend it."
At my book signing at the beautiful Delta Blues Museum in Clarksdale -- which is the state's oldest music museum and the pioneering heartbeat of Clarksdale's blues tourism business -- I ran into many tourists from around the world thrilled to be tracing their musical heroes' footsteps. As we explored incredible artifacts like the cabin from Stovall Farms where Muddy Waters lived as a sharecropper, I wondered why I had never thought to come here before. I heard repeatedly, "Americans don't seem to value this incredible history in their own backyard." And "the locals don't quite get it yet. They don't see how they could participate and benefit."
This is not unique to the Delta. Business can seem an impenetrable mystery if you don't learn it from an enterprising relative, or in school. I'd love to see the Network for Teaching Entrepreneurship (NFTE), which teaches at-risk youth to create and operate small businesses, brings its programs to rural Mississippi. Entrepreneurship education has helped many city kids expand their horizons beyond welfare or drug dealing. It could prevent some of the crime that plagues the Delta, like the mugging of a 77-year-old lady last summer in Clarksdale by 14-year-old who beat her for her debit card.
I also met white blues fans like Ohio transplant Roger Stolle, who left a high-paying corporate gig to open his charming Cat Head Delta Blues & Folk Art gallery in Clarksdale and co-produce award-winning films like M for Mississippi and We Juke Up In Here. Businesses like Cat Head and Po' Monkey's Juke outside Merigold -- one of the few authentic jukes left and a 2009 Mississippi Blues Trail marker recipient -- benefit from the trickle of blues tourists year round and the flood come festival season.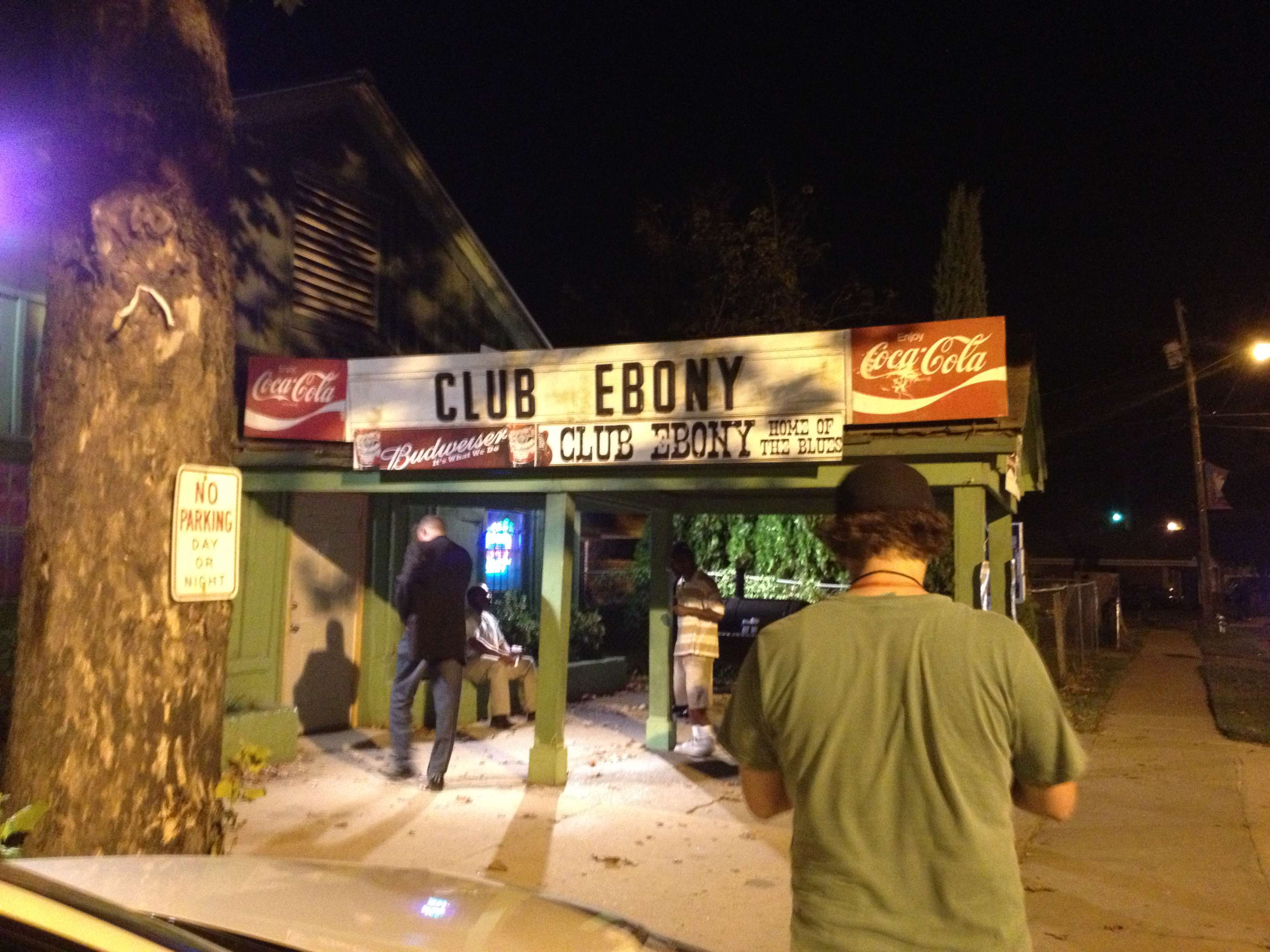 B.B. King has also purchased the famous chitlin' circuit Club Ebony, where I surreptitiously brushed away a few happy tears as I watched 77-year-old Bobby Rush and his bodacious dancers playfully work the crowd. ("Bobby Rush Thrills Intimate Crowd at Club Ebony")
Before the show, American Blues Scene magazine editor Matt Marshall and I were ushered backstage by Dion Brown, one of the warmest people I've ever met (funny, they all seem to live in the Delta). Rush, a Grammy-nominated artist and huge star around these parts, was charming and down to earth, as were his sweet dancers. As Matt talked with Bobby, I admired Mizz Lowe's outstanding collection of high-heeled shoes, which she keeps scuff-free in Crown Royale bags. (Check out Rush's fantastic new album, Down in Louisiana!)
So, can this really work? Can the blues rescue this region that remains the poorest in our nation? I came home with questions, so for answers I went to some of the high-powered folks I met. Come back next week to read their insightful answers in Part 3.
Popular in the Community