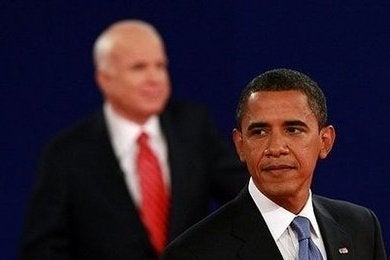 Last month, I wrote about my invitation to attend the Republican National Convention, where I took part in a panel discussion on American leadership in Global Health. I mused before attending that as a lifelong democrat, I would likely feel like a fish out of water in Minneapolis-St. Paul.
While I did experience the odd feeling of dislocation at times, I came away from the experience greatly heartened, and - at the same time - very concerned. In conversations with my fellow panelists and leading Republicans, I was strongly impressed by the party's leadership's commitment to a forward-thinking policy in Africa. Several delegates I spoke with noted that the only aspect of Bush's foreign policy that they viewed positively was rooted in Africa. Not only do Republicans talk about their commitment to current investments such as Millennium Challenge Accounts and PEPFAR, they agree that significantly more needs to be accomplished - in infrastructure, communications, and economic development. Highlighting the appeal of service and investment in Africa, the ONE campaign service event managed to attract Bill Frist, Cindy McCain, Laura Bush, and a crowd of hundreds of the Republican elite. Although I didn't make it to Denver, I heard the parallel event there was not nearly as well attended.
Thus, my concern grows that the Democrats have not shown the same level of commitment to Africa as the Republicans have. Though, it's true that the bipartisan organization ONE Vote '08 recognized the need to support Africans through Bush Administration programs, and during their visit here, they were genuinely surprised and pleased by my Rwandan neighbors' energy. The Rwandans' grassroots enthusiasm and desire for more trade and business opportunities was a significant revelation to them.
However, as Election Day nears, I can sense that my neighbors' concern is deepening somewhat. What Rwandans - who are certainly bigger fans of President Bush than Americans are at this point - want to know is this: will the next President of the United States honor the commitments of his predecessor? Will he also open doors to them that allow increased trade and business opportunities - opportunities that make it possible for rural farmers, merchants, and skilled laborers to create their own businesses?
I often talk about prosperity creation in these pages. Yet, my conversations with some attending the convention and others reveal that prosperity creation through business or entrepreneurial activity seems counter to what Rwandans and other Africans need. Some believe that aid is all that is required to keep Africa moving in the right direction, but the fact is, aid programs are not about movement, or even stasis. Too often, aid is about playing catch-up.
We can certainly do better and we must. To get African nations mobilized as Rwanda, Tanzania and Uganda are beginning to be, we need to look beyond simple aid. We need to help Africans develop business agreements, new companies, co-operatives and other wealth generation activities. When I describe this type of investment, my audience occasionally nods and repeats the old saying, "If you give a man a fish, you feed him for a day: if you teach a man to fish, you feed him for a lifetime." While this feels right, it may undermine the enormous potential of wealth-building programs.
The fact is, you don't just feed that person for a lifetime. You make it possible for that person to teach others, to build relationships, to create more profitable systems that improve the lives of everyone involved, in education, in health, and in a country's future. People in Rwanda value U.S. programs that build prosperity more than any other programs we currently fund because they see the immense potential to build health and wealth in their lives and their communities. Is this better for all of us? You bet it is. A fellow panelist at the RNC, Nancy Birdsall of the Center for Global Development, recently noted in her superb collection of essays, "The White House and the World", that 45% of US exports go to developing countries and 10% of our labor force depend on those exports. Helping developing countries to generate wealth helps us.
Before Election Day, I don't think the Democrats are likely to make as vocal a commitment as the Republicans did last month to US programs that build African prosperity. But, if Barack Obama is elected, I would hope that he embraces the best part of the Bush legacy - as the Republicans have.