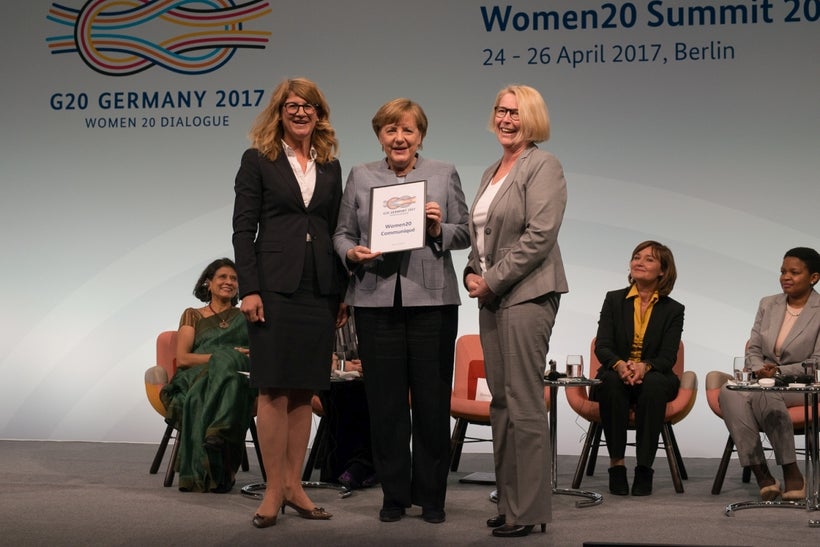 We have a global economy but no global government. This means countries need to cooperate to keep things from going awry. The Group of 20 (G20) plays a critical role in international policy coordination: it serves as a forum for leading economies to set shared goals for sustainable economic growth and financial stability – and to review each other's performance.
All G20 members agree that economic discrimination against women is a major constraint on growth. That's why, in 2014, G20 leaders committed to reducing the gender gap in labour market participation rates by 25% by 2025. And it's why, the following year, Turkey used its G20 presidency to create an official 'engagement group' on women – the Women 20 (W20) – charged with generating ideas for the G20 on how to expand women's participation in the global economy. The International Trade Centre was an early supporter of this initiative as we saw in it the platform to advance women entrepreneurship which we promote through our own SheTrades initiative, which aims at connecting one million women in business to markets by 2020.
Gender equality
It's now Germany's turn at the helm of the G20's revolving presidency. Based on what I saw and heard at the W20 summit in Berlin last week, Germany may be giving a decisive lift to the G20's approach to gender equality.
Germany's G20 priorities have expressly included the economic empowerment of women. For the first time, W20 representatives have been invited to attend the influential meetings of top government officials – called 'sherpas' – resulting in an exchange on how G20 leaders could increase women's participation in the global economy.
Chancellor Angela Merkel has been the first G20 president to engage directly with the W20 on multiple occasions – not least this past week in Berlin (24-26 April). At the W20 summit, accompanied by German Minister for Family Affairs, Women and Youth Manuela Schwesig, the Chancellor made three personal appearances, joining other high-profile speakers to share experiences and ideas on how to scale up women's entrepreneurship and answering questions from W20 delegates.
Three 'asks'
In Berlin, the W20 delivered three major "asks" to Chancellor Merkel and the G20 aimed at anchoring women's economic empowerment in governments' policy agendas.
The first was for individual G20 country action plans to articulate specific actions and national targets to reduce gaps in their labour market participation rates between men and women, in line with the '25% by 25' goal. These plans drive national actions to unlock growth and jobs. If G20 is serious about these targets, including a gender dimension in these plans and ensuring regular peer review should be a "no-brainer".
The second was to foster entrepreneurship by unlocking credit for women in business. The fact that 42% of women and girls worldwide – approximately 1.1 billion people – remain outside the formal financial system did not go unnoticed in the W20 Communique handed over to Chancellor Merkel on Wednesday. Proposals being discussed to set up a fund to facilitate access to credit for women in developing countries would be a big step in that direction.
Finally, the W20 challenged G20 leaders to bridge the digital gap by improving women's access to the internet and effective digital skills training. The internet and e-commerce will continue to power world growth in the future; for women to share in this growth, they will have to be equipped to take full advantage of information technology.
Setting goals is easier than meeting them. A few days in the headlines for the W20 and gender issues is one thing, but the true measure of success will be whether G20 leaders first adopt ambitious commitments on gender equality at their summit in Hamburg this July and then go on to deliver on those commitments. The three asks are the test of G20's credibility towards including more women in the economy. Not because they want to be nice. But because all G20 members have agreed to do under the Sustainable Development Goals. Because women are integral to stronger economies.
It is too soon to measure the success of the German G20 presidency on the issue of women's economic empowerment. But if the last few months are anything to go by, I for one remain optimistic.
REAL LIFE. REAL NEWS. REAL VOICES.
Help us tell more of the stories that matter from voices that too often remain unheard.
This post was published on the now-closed HuffPost Contributor platform. Contributors control their own work and posted freely to our site. If you need to flag this entry as abusive,
send us an email
.