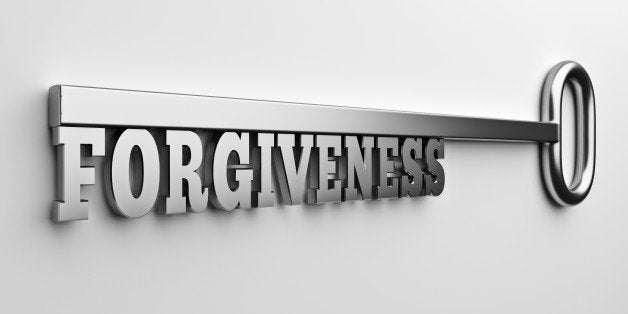 It is a hallmark of the Gospel: forgiveness. When we wrong another, it is asked of us to seek forgiveness.
Interestingly, on Sunday, June 26, 2016 Pope Francis was quoted as saying that both Christians and the Roman Catholic Church should seek forgiveness from gays for the way they had treated them. It was one year ago, on June 26, 2015, that same-sex marriage became legalized in the United States.
In the same interview, Reuter's news agency went on to report that Pope Francis also said that the church should ask forgiveness for the way it has treated women, for turning a blind eye to child labor and for "blessing so many weapons" in the past.
There, of course, can be so much to comment on from these powerful remarks made to reporters, but since I am a gay man who left ordained ministry in the Roman Catholic Church, I will limit my remarks to the LGBT community, and the United States Catholic Conference of Bishops.
For context, what prompted the Holy Father's comments on gays was a reporter who identified German Cardinal Reinhard Marx of Munich as a prelate who publicly stated that the Church should apologize to gays. More specifically, Cardinal Marx, while giving an address at Dublin's Trinity College, stated: "the history of homosexuals in our societies is very bad, because we've done a lot to marginalize [them]." He further went on to say that both the Church and society had been "very negative" about gay people and described that attitude as "scandalous and terrible".
Two strong and pastoral leaders have named an injustice with regard to the LGBTQ community, and, as a result, they call for the Church to seek forgiveness. Personally, I am grateful; and I accept their apology. Of course, I do not speak for the LGBTQ community. But, I dare say, I find this highly validating and comforting.
What I'd like to know is where the bishops of the United States stand? We hear so little from them about anything. Are they afraid to speak or to lead? For example, when the bishops of the conference made a three-sentence statement of sorrow for the killings of my brothers and sisters in Orlando, they never acknowledged or named "LGBTQ" or "gay" in their statement. I find this disrespectful and negligent.
I once again offer to the United States Conference of Bishops, "be not afraid." For your own credibility and relevance in today's society, you must take some action to better understand LGBTQ persons. You must be coached on how to relate to us, speak to us, and converse about us.
For instance, as much as I am pleased about the Holy Father's acknowledgment that
both Christians and the Roman Catholic Church should seek forgiveness from gays, the Holy Father also used uninformed language about us. The pope repeated a slightly modified version of the pastorally inviting "Who am I to judge?" comment he made about gays in 2013. On Sunday, June 26, 2016, he went on to say: "The questions is: If a person who has that condition, who has good will, and who looks for God, who are we to judge?"
Let me be clear, LGBTQ persons do not have a "condition". A Vatican spokesman, the Rev. Federico Lombardi, said that the pope's reference to "that condition" referred not to a medical condition but to "a person in that situation." In Italian, the word condition can also mean situation.
But alas, LGBTQ persons are not in a "situation" or "that situation" either. My point is, that despite good will, it is important to understand how we self-identify and refer to ourselves. LGBTQ persons and organizations are in the perfect place to educate, inform, and, yes, to process our language and self-understanding. We are persons born with the same dignity and beauty as all of God's people.
About a year ago, I made a four-point recommendation to the United States Catholic Conference of Bishops. In addition, if welcomed, I offered to be a part of the solution. My suggestions went unanswered and unheeded. But, given the Holy Father's recent words in support of forgiveness and pastoral sensitivity for persons who are LGBTQ, let me repeat just two recommendations:
The United States Catholic Conference of Bishops should organize an ad-hoc committee that seeks to understand the LGBTQ community and persons--hopes, contributions, concerns, and self-identifying language. This understanding, then, influences a common national plan to use language and Catholic terminology that is pastorally respectful and inclusive whenever the LGBT community is addressed or discussed. This ad-hoc committee, of course, would be a two-way dialogue.
The next step would be to revisit the 2006 pastoral document, Ministry to Persons with Homosexual Inclinations, and the Pope John Paul II letter to bishops, Letter to the Bishops of the Catholic Church on the Pastoral Care of Homosexual Persons, so as to update recommendations and language. For instance, gay persons are not persons who have "homosexual inclinations." And, to refer to our expression of sexual love as "intrinsically disordered," is neither helpful nor useful.
There are always moments that reveal themselves to us, and I want to suggest that just such a moment of grace is before the bishops of the United States. I invite all bishops to an LGBTQ pastoral plan of action where you can come to know us, serve us, and depend on us. And, any action step you implement to both apologize to us and understand us will only model acceptance, care, and a deeper commitment to the human family--and, of course, the Gospel.