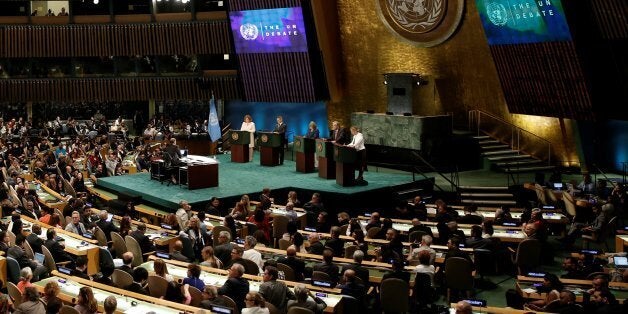 UNITED NATIONS -- Led by Columbia, many UN members want a woman as secretary-general of the world body. But if a recent straw poll is any guide, the choice will be another man.
The next informal poll in the UN Security Council is on August 5 (Friday) but a final decision is not expected until October. Still if the results are the same, the second poll is an indicator of the final choice.
The first secret vote, with results leaking almost immediately, showed Antonio Guterres, a former Portuguese prime minister and the ex-10-year high commissioner of the U.N.'s refugee agency, with 12 votes of support out of 15 possible votes and three "no decision."
The former president of Slovenia, Danilo Turk, who had been a high ranking official in the UN Political Affairs department, came in second, with 11 votes in favor, two against and two "no decision."
In the convoluted voting procedure all 15 Security Council members voted for each of the 12 candidates, casting a total of 180 ballots. There was no distinction among the veto-bearing five -- the United States, Russia, China, Britain and France -- who will have the final word.
What will Russia do? Unknown is whether Russia will insist on an Eastern European secretary-general, a region that that is a leftover from the Cold War since most of its member nations are in the European Union. Yet its candidates have argued that these countries opened their borders that resulted in the fall of the Berlin Wall in 1989
Moscow's U.N. ambassador, Vitaly Churkin, told reporters he had a preference for Eastern Europeans and had nice words for Guterres but refused to reveal his decision.
And thanks to the current president of the 192-member General Assembly, Mogens Lykketoft of Denmark, all candidates for the first time in the 70-year history of the world body, have appeared in public sessions where UN members could question them. Lykketoft believes it would be impossible for someone to run for secretary-general without talking to the full membership.
Twelve candidates are in the race so far to replace Secretary-General Ban Ki-moon, whose 10 years in office expires in December. Eight are from Eastern Europe and only three are women, two of them already more or less eliminated in the informal poll. The other four from outside the region include three women and one man.
Colombia's UN ambassador, Maria Emma Mejia, had circulated a letter seeking support for a female secretary-general. Over 44 governments initially signed on to the initiative and she has pointed out that only 25 percent of the top level jobs in the United Nations are held by women.
One Council diplomat said there was a possibility of a blockage with no candidate emerging. The door would then be open to encourage others to enter the race, but this is a long shot.
The other 10 candidates are: In the second level of front-runners were Irina Bokova of Bulgaria, the head of the Paris-based UN Educational, Scientific and Cultural Organization and former foreign ministers, Vuk Jeremic of Serbia and Srgjan Kerim, a former foreign minister of Macedonia.
Bokova, a hard-working UNESCO director has some detractors among Western nations and Jeremic, despite his energy and vision, also had some detractors when he served as General Assembly President in 2012.
The next group with positive and negative votes showed a deep and firm grasp of issues in the open forums because of their positions in U.N. headquarters: Helen Clark, a former prime minister of New Zealand and the head of the U.N. Development Program, and Susana Malcorra, Argentina's foreign minister, who recently was chief of staff to Ban Ki-moon and a former top official in the UN peacekeeping operations.
And ranking high in this group with a good grasp of issues was Miroslav Lajčák, Slovakia's minister of foreign and European affairs and the former high representative in Bosnia.
Those with the least encouraging votes included Cristiana Figueres of Costa Rica, the head of the UN climate change operation; Natalie Gherman, the former deputy prime minister of Moldova; Igor Lukšić, foreign affairs minister of Montenegro; and Vesna Pusić, Croatia's first deputy prime minister.
Being secretary-general is a messy job. Despite overseeing a huge organization, his or her power is limited by the Security Council and budget committees as well as pressure for jobs from individual nations. Yet many believe the holder of the position is expected to bring crises to the attention of the world and have strong communication skills. Others prefer a low-key role.
REAL LIFE. REAL NEWS. REAL VOICES.
Help us tell more of the stories that matter from voices that too often remain unheard.