Sacha Walckhoff is tasked with a job anyone would loathe for a house everyone loves: Creative Director of Christian Lacroix.
"I'm not only scared, I do not sleep anymore," he shares in a transatlantic phone call. "Maybe I'm unconscious. I'm thinking of what we have to do, but I don't think of how people would react or what they'd say. Otherwise I would stop, and I don't want to stop."
The designer, who has worked for eighteen-years at the House of Lacroix, is referring to the gritty decisions that come with his glamorous new title: translating the houses' legendary cache into collections that will bring in cash. It' no easy trick as, since the house launched in 1987, it's never turned a profit. Such financial difficulties coupled with creative differences with Lacroix's current owners, the Falic family, prompted the departure of Mr. Lacroix last December.
Now along with Chief Executive Nicolas Topiol, and a small team of employees, Walckhoff has been strategizing on ways to reinterpret the brands heritage, without copying it.
"We don't want to compete with all that history. We want to do something fresh and new and easy for people to get."
Cue Lacroix's latest initiative: sunglasses. These shades, featuring ornate frames of tortoise and gold, range in price from $250 to $600. They are also the first licenced product the house has launched since Mr. Lacroix's exit. Prototypes have already been shown to trade-press and buyers. They will be available in France and Europe in mid-January 2011, and in the United states by April 2011. Designed mainly for women, but with a few unisex styles, the shades serve a singular purpose: echoing an elite message at a price the masses can afford (even if that means skipping a few bills for some.) As Walckhoff tells it, other licensed products including stationary, furniture and more are scheduled to follow this launch.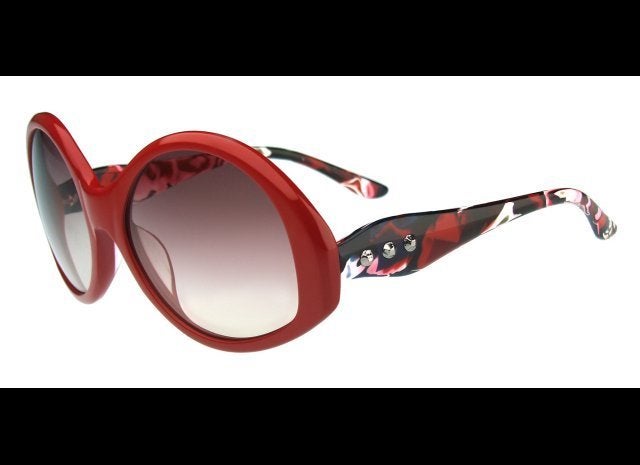 New Sunglasses from Christian Lacroix
But, what's good news for consumers spells doom for one Jean-jacques Picart, who brokered the deal that launched the house of Lacroix in 1987. In a recent interview with Newsweek he deemed Lacroix's new strategy "pathetic," while being brutally blunt about licensing and Lacroix.
"It's a declaration of incompetence. When you own a name like Lacroix, you don't make notebooks."
And yet, Walckoff, in his genteel manner, respectfully disagrees.
"When you say Christian Lacroix, everyone is very excited. When you ask them a few questions about the brand, they say it's because of the couture, the color, the city of Paris. But then you ask about products, and people don't name any."
"(Right now,) Lacroix is completely abstract," he continues. "It's like talking about a dream - but where's the reality? This is the work we are doing. We want to anchor the brand in reality. The only way to do it is to do it through product, so we have to build product for people to have accessibility."
After all, this is not the brand's first attempt at licensed products. Mr. Lacroix himself trotted out dozens from fragrances to baby clothes to denim throughout the '90s. And as he is wont to do, he was light years ahead of his time - and his contemporaries. Over a decade later, fellow luxury labels and designers from Lanvin to Lagerfeld, are following suit. What was once taboo (prompted by nightmares of Pierre Cardin's licensing deals) is now celebrated, as high fashion meets high-street shops like H&M and Target.
For Lacroix, this change in perception of licensed goods might just make all the difference.
And for Walckhoff's, it may transform his job into one everyone loves as much as the label.
Popular in the Community