I've met two crazy Frenchmen in my life. The first was a guy whose name escapes me, but we raced on bicycles down the switchbacks of the Pyrenees in Andorra and just when I thought I was winning, this Frenchman put his hands behind his back into an aerodynamic tuck that would make any daredevil nervous.
He will forever be remembered in my mind as "The Flying Frenchman."
Then I met the second Frenchman, Ben Lecomte. He's going to swim the entire Pacific Ocean.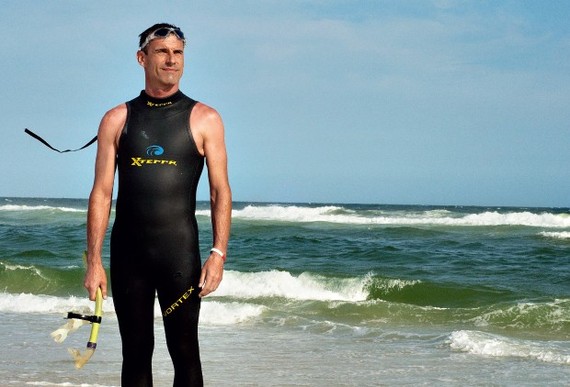 That's 5,500 miles of dark, cold water (with plenty of beautiful sea creatures like sharks).
Ben has always been a swimmer. He loves the water, but saying Ben loves the water is like saying Steve Jobs likes apples.
Not too long ago, Ben hopped into the Atlantic Ocean and swam its entire length wading through jellyfish stings, intense exhaustion, and being trailed by a blue shark for five days.
So, will he actually swim the entire Pacific Ocean? I believe so.
But he's not just doing it for fun. Ben likes to take his passion for swimming and turn it into real meaningful work.
When he swam the Atlantic Ocean, he raised money for cancer in memory of his mother who died not too long before.
He says, "Once you have the passion. For me then, it's a matter of getting people's attention." And he's getting a lot of attention for this event.
A Beautiful Idea + Attention = A Megaphone to Say Something
That we need to build a more sustainable future for our ocean. Our ocean cannot survive if we keep treating it the same way. Plastic bottles, heaps of trash, and nuclear waste have turned our ocean into a garbage patch.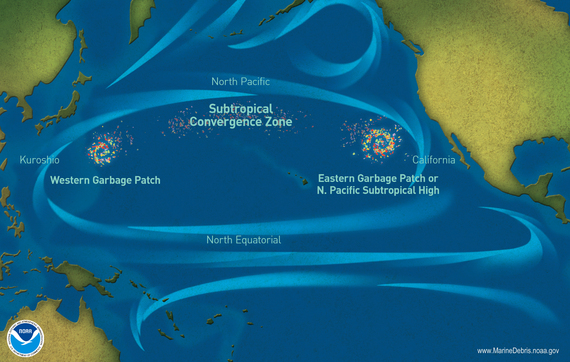 With his hair still wet from a swim training session, Ben gave me a call from his cell phone.
In his thick French accent, he said "The middle of the ocean. It's not in our backyard so we think we cannot influence it. But we are creating a big liability right there in that environment that is so important to us."
How important is the ocean to us? Just ask Harrison Ford.
So Ben's bringing the middle of the ocean to our backyard. After swimming for eight straight hours every day, Ben will rest for the remaining sixteen hours and power up social media to share his experience.
You'll be able to see what he sees without having to put on a wetsuit.
This season, when The World Economic Forum sits down to discuss the upcoming world sustainability goals in Abu Dhabi, they'll be watching Ben Lecomte. When they think of the ocean, they won't just think of Harrison Ford's deep timbre, they'll see a beautiful vast blue that is littered like Broadway in New York City and we need to do something about it.
In partnership with Global Resolutions and Water Defense, Ben is crowdfunding for social good. He'll use his beautiful plan of swimming the entire Pacific Ocean to raise awareness for water sustainability.
Learn more about your new backyard and take a closer look at Ben's plan here (and see how you can help.)
Listen to the full interview with Ben here.
As for me, I need to get myself to France to see if there's something in the water that turns a man in a superhero.
Like what you are reading? Here is a free copy of Your Life on Purpose: Ten Simple Tips to Live a Life with Impact (no, you don't have to give up your email). If you prefer to listen, here's my 10-minute daily podcast on living intentionally.
If you'd like to join my weekly newsletter where I share more thoughts like this and some love, you can do so by clicking here.
Calling all HuffPost superfans!
Sign up for membership to become a founding member and help shape HuffPost's next chapter