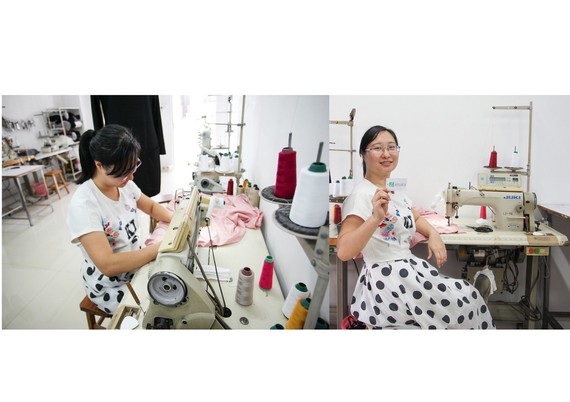 Americans love clothes. According to the Bureau of Labor Statistics, the average American household spends $1,700 annually on clothes. Fashion is accessible, heavily marketed, and increasingly affordable.

In the mid-2000s, a subset of the industry called "Fast Fashion" completely disrupted the market. Companies like H&M, Zara, and Forever 21 branded themselves as Fast Fashion companies capable of taking styles from the catwalk to mainstream production in just a few months. This rapid turnaround and the volume of styles they could produce undercut the more established retailers like Macy's and JCPenney.

Today, a new industry is emerging--one that Roman Kirsch calls "Agile Retail." Kirsch, the founder and CEO of Berlin-based fashion retailer Lesara who was recently named to Forbes 30 Under 30 list, says that the next generation of fashion companies will make the leap to 100-percent online sales, rely on smart data to target new styles, and do all of their production and distribution in-house.

H&M's stock price has fallen substantially in the last year, and they recently announced a greater emphasis on Internet sales--perhaps a signal that they, too, realize Agile Retail may be the next big thing.

I sat down with Kirsch to discuss Agile Retail and the future of the fashion industry.

What is Agile Retail? How will it change the retail industry?
Kirsch: Agile Retail is about utilizing smart data to find what trends are popular with consumers at this very moment, and the ability to react to that information instantly with a seamless, integrated supply chain. It is really the next inevitable step for fashion retail in the Internet age. It supplies consumers with more options that they can purchase for less, and have shipped to their front door faster than ever before.

What's the difference between Agile Retail and Fast Fashion?
Kirsch: The two most important differences are that Agile Retail is faster and smarter than Fast Fashion.
Shorter production cycle: H&M needs two to three months from design to market; Lesara needs about 10 days until a new style is available for purchase online.
Zara is a leader in the Fast Fashion industry, producing 11,000 new items each year. Lesara is two years old and produces 50,000 new items each year.
Zara delivers new styles to its stores twice a week. Agile Retail companies launch new styles every single day.
Agile Retail companies focus on the data. They know what consumers want and only
produce what is going to fly off the shelves. This cuts down on losses from overproducing styles that flop.
What will the fashion shopping experience look like in five years?
Kirsch: Mobile commerce is becoming more and more important. People will conduct 80 percent or more of all transactions via mobile applications. But perhaps more importantly, companies will increasingly utilize data-based research to develop a level of understanding about consumers that we haven't seen before. Machine-learning algorithms will lead to improved relevancy and personalization, and help tech-driven retailers to curate better products. Products will be online before consumers know that they need and want them.

With trends moving faster than ever, do you think slow-moving retail giants like Macy's and JCPenney will survive?
Kirsch: These companies may survive, but they will not be recognizable if they do. Why would consumers go to a store to purchase styles that are six or nine months old? Today you can go online and choose from a larger selection at a lower price, and that is going to become an increasingly popular way to shop for clothes.

How does Lesara know which trends to target? And how will trend targeting change in the next five years?
Kirsch: Lesara doesn't rely on subjective trend forecasting like other fashion companies do. With super-short production cycles and data-based knowledge, we produce trends and items people are searching for right now. We use multiple sources of data, from own website data to third-party data and even social media, to forecast what styles will begin trending. With more data and constant A/B-testing of new merchandise, our prediction accuracy consistently improves over time.

Online shopping still struggles to compete with store locations. How will that change?
Kirsch: Online shopping is already a more convenient and efficient way to buy clothes. Those differentiating factors will only increase with time. In particular:
Your online shopping is more customized, because your preferences and profile are recognized. Customer engagement is far superior, as your browsing tendencies can be learned and re-targeted with advertisements and discounts.
Operation costs are lower in terms of storage, logistics, rent, etc. Those savings are reflected in retail prices.
Selection will always be wider, not restricted by what can be held at any particular store. Consumers are ordering directly from the warehouse, not buying a piece of clothing that has been tried on by a dozen other people. Shopping online is a better way to be inspired and educated about new trends.
Consumers can be presented with information in numerous channels that assist them in making more informed selections.
These benefits are being reflected in global sales trends. Online revenues continue to grow at 20 percent every year, globally, while offline retail sales are forecasted to be flat.
Popular in the Community