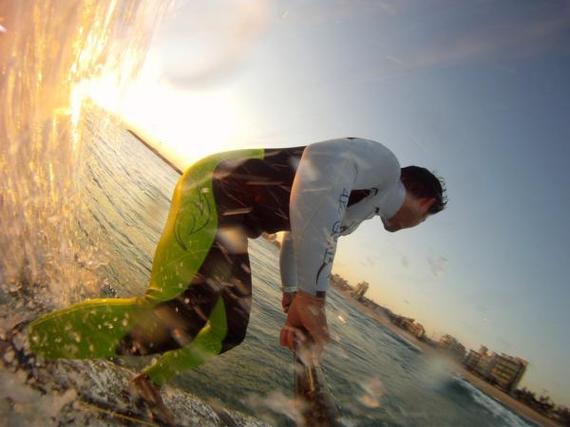 Courtesy of Tower Paddle Boards

Stephan Aarstol, founder and CEO of Tower Paddle Boards, forged a deal with Mark Cuban on ABC's Shark Tank, bringing the Dallas Mavericks owner on board as an investor and strategic advisor. In exchange for $150,000, Cuban gained a 30% share of the emerging stand-up paddleboard company.
At the time of Cuban's investment in 2011, Tower had $100,000 in lifetime sales. This past month, they crossed $20 million.
"Stephan has done an amazing job growing Tower into a dominant industry force. He is one of my best Shark Tank investments," Cuban said. According to him, "quality, customer satisfaction, distribution and pricing" set Tower apart from its competition.
Aarstol explained the company's success: "It's all about the distribution channel. By going direct with the same practice that everybody else makes to direct consumers, we could knock $500 off the price [of paddleboards] and still be a very profitable company."

Having Cuban on board as an investor and strategic advisor has given them the opportunity to grow. "They could invest in making more boards and pushing more ads that sold those boards," Cuban said.

With an impressive four-year growth rate of over 2600%, Tower Paddle Boards has grown into a robust company and has received several prestigious awards. It was named the fastest growing private company in San Diego in 2014, and ranked number 239 on the 2015 INC 500 list of America's fastest growing companies. Its inflatable paddleboard was named one of the top ten innovative products of INC 500 companies.
Did This Company Just Invent the Five-Hour Workday?

Aarstol attributes much of his continued success to the company switching to a five-hour-workday last June, a marked difference from the 80-hour grind common in startup culture. Tower's official hours are from 8 a.m. to 1 p.m. All employees in the company are on salary, so they are paid the same as they were before. By reducing the hours and rolling out 5% profit sharing at the same time, the per-hour earnings of everyone on staff nearly doubled overnight.
"We are a very efficient company. So we figured, let's do an experiment. Let's actually live our brand, and get out of the office at one o'clock every day," said Aarstol. "A lot of what this does is create a constraint on time, which makes us just work faster."
The experiment is going so well that Aarstol felt compelled to share their experiment with others. His book, The Five-Hour Workday, goes on sale in July. In it, Aarstol contends that in addition to the obvious lifestyle improvement for everyone, the compressed workday actually improves operations, efficiency and profitability. Furthermore, it has made a huge impact on employee retention and acquisition.
Grossing about $7 million in 2015, Tower is poised for even more explosive growth. They are on pace to pull in more than $10 million this year.
On ABC's Beyond the Tank, which aired in January this year, Aarstol told Cuban that he envisions spring-boarding the company into a beach lifestyle brand, expanding the product line to skateboards, active wear, sunglasses, liquor and even resort hotels. "We're going to have 20, maybe 30, sub-brands underneath," Aarstol said on the show.

"It comes down to whether they have the board business organized enough that they can continue to grow it, which they do," said Cuban in an interview.

He went on to explain: "Now is the time to look at dipping their toes into lifestyle, and they also have been testing these new-wave snorkel masks that are blowing out the door. As long as they can limit the loss on failures and make big wins, they are ready to grow."
Tower has already taken steps to actualize this vision.
"We've since grown new business divisions under the Tower brand, such as Sunglasses By Tower and a digital magazine called Tower Life, which has grown to nearly 50,000 subscribers," said Aarstol. "We're doing something unique with our new ecommerce sunglasses company."
Breathing new life into the industry, Tower takes customer service to an entirely new level by employing a unique approach. "We ship our entire store to the customer, providing a free at-home shopping experience," explained Tower Sunglasses Business Director Alexander Resnick. "Customers try out different models of sunglasses for a week, then send it back to us. We call it Shop-in-a-Box."

"Our customers pay between $59 and $95 for sunglasses that our competitors charge well over $200 for," noted Aarstol. The biggest problem with e-commerce is that conversion rates are tiny. Tower hopes to change this. The process for placing an order is simple. "Samples are free, so customers go on to our website and put in a credit card. We authorize it for one dollar, so we know that it's a legit credit card. But they won't be charged. Then we will send everything to them for free."
Judging from the company's immense success so far, the Tower brand is on track to disrupt markets, as they continue to sell high quality at low cost by leveraging their online marketing expertise and direct consumer online business model.

Can they really do this while only working five hours a day?
Related
Popular in the Community