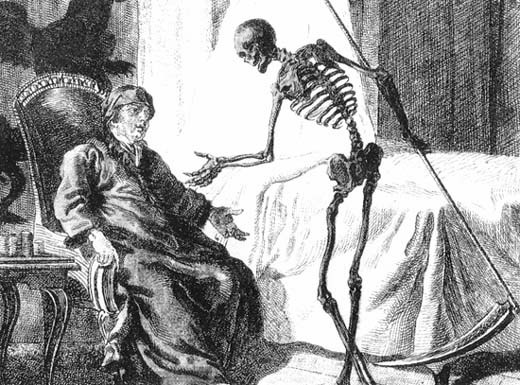 Deathist culture has been ingrained into us for centuries. Transhumanists aim to change that and usher in an age of indefinite lifespans made possible by 21st Century science. -- Image courtesy of MathKnight on Wikipedia Commons
The rapidly growing field of transhumanism--an international social movement whose highest immediate priority is overcoming human death via science and technology--is facing a colossal challenge. About 85 percent of the world's population believes in life after death, and much of that population is perfectly okay with dying because it gives them an afterlife with their perceived deity or deities--something transhumanists often refer to as "deathist" culture. In fact, four billion people on Earth--mostly Muslims and Christians--see the overcoming of death through science as potentially blasphemous, a sin involving humans striving to be godlike. Some holy texts say blasphemy is unforgivable and will end in eternal punishment.
So what are transhumanists to do in a world where science and technology are quickly improving and will almost certainly overcome human mortality in the next 30 years? Will there be a great civil rights debate and clash around the world? Or will the deathist culture change, adapt, or even subside?
First, let's look at some hard facts. Most deaths in the world are caused by aging and disease. Approximately 150,000 people die every day around the world, causing devastating loss to loved ones and communities. Of course, it should not be overlooked that death also brings massive disruption to family finances and national economies.
On the medical front, the good news is that gerontologists and other researchers have made major gains recently in the fields of life extension, anti-aging research, and longevity science. In 2010, some of the first studies of stopping and reversing aging in mice took place. They were partially successful and proved that 21st Century science and medicine had the goods to overcome most types of deaths from aging. Eventually, we'll also wipe out most diseases. Through modern medicine, the 20th Century saw a massive decrease of deaths from polio, measles, and typhoid, amongst others.
On the heels of some of these longevity and medical triumphs, a number of major commercial ventures have appeared recently, pouring hundreds of millions of dollars into the field of anti-aging and longevity research. Google's Calico, Human Longevity LLC, and Insilico Medicine are just some of them.
Google Ventures' President Bill Maris, who helps direct investments into health and science companies, recently made headlines by telling Bloomberg, "If you ask me today, is it possible to live to be 500? The answer is yes."
Increasingly, leading scientists are voicing similar ideas. Reuters reports that renowned gerontologist Dr. Aubrey de Grey, chief scientist at SENS Research Foundation and the Anti-aging Advisor at the US Transhumanist Party, thinks scientists will be able to control aging in the near future, "I'd say we have a 50/50 chance of bringing aging under what I'd call a decisive level of medical control within the next 25 years or so."
We all can't live forever. Aging is slowing killing every person but we can try to stay healthy in our mind, body, and soul. With the help of the best scientists, Longevity Cookbook is a guide to tell you how to slow aging and what type of food will help you live longer and healthier from a scientific standpoint. Support Longevity Cookbook right here: http://bit.ly/LongevityCB

Posted by Steve Aoki on Sunday, May 24, 2015
Despite this positive momentum in transhumanism, changing cultural deathist trends for 85 percent of the world's population may prove difficult. Humans are a species ingrained in their ways, and getting fundamentally religious people to have an open mind to living far longer periods than before--maybe thousands of years--could prove challenging.
Recently, a number of transhumanists, including myself who is an atheist, have attempted to work more closely with governmental, religious, and social groups that have for centuries endorsed the deathist culture. Transhumanists are trying to get those groups to realize we are not necessarily wanting to live forever. Transhumanists simply want the choice and creation over our own earthly demise, and we don't want to leave it to cancer, or an automobile accident, or aging, or fate.
To change the deathist culture in America and abroad, it's important for people to understand that lengthening lives and having the ability to overcome human mortality is not something that has to be seen as clashing with religion. I've often told Christian friends, for example, that living longer could be seen as a way for religious missionaries to spread their message further--to save more people if that's how they want to view it.
Longer lifespans and more control over our biological selves will only make the world a better place, with more permanent institutions, more time with our loved ones, and more stable economies.
In the end, transhumanism is not really trying to overcome deathist culture, but get it to understand that transhuman culture can also stand functionally next to it, helping the aims of everyone involved. Together, we can find the middle ground, and give everyone the choice to follow whatever path they want when it concerns dying or not dying in the 21st Century.
Support HuffPost
The Stakes Have Never Been Higher
Related
Popular in the Community