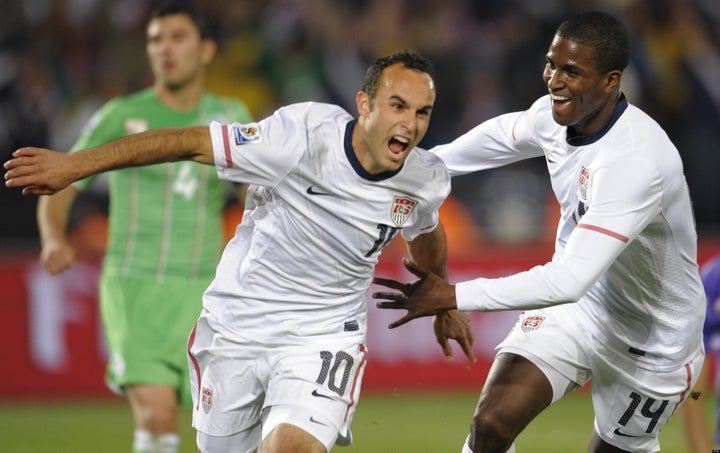 Now that the dust has settled on a group stage that left American fans drained, crazed, and finally in a state of religious ecstasy, what's next for Team USA, flush off one of the greatest comeback victories in United States sports history? Yes, they were robbed blind by the evil Couibaly of Mali (doesn't he sound like a villain from a James Bond movie?). Yes, at the beginning of every one of the three games, USA looked like they'd been slipped a mickey, as they jogged around semi-sedated, falling behind against England and Slovenia, and let off the hook like a wriggling fish only by pure luck at the hands of the Algerians. Yes, as their coffin was being lowered into the grave and the last nail hammered into their casket, America came back from the dead like we were in the middle of some new vampire movie. But in the end they survived to fight another day, thanks to the defensive (and offensive) prowess of Tim T-Ho Howard, who has laid solid claim to being the best goalkeeper in the galaxy at the moment. And the emergence of Jay Maximum DeMerit. After he was belted in the mouth by a rude Algerian, he chewed on and swallowed his own blood and then morphed into the Incredible Hulk, battering and ramming anything in his path. But perhaps most of all, due to the emergence of the newest American hero, Landon "The Man" Donovan, who started America's redemption by scoring a truly world-class goal against Slovenia, scalping the flapping Slovenian goalkeeper, then, of course, manufacturing that miraculous last gasp goal that set off celebrations from the Redwood Forests to the Gulfstream Waters all the way to South Africa.

Now that America's underdog team has had a chance to let their blood pressure drop, their heart rate and back to normal, and been congratulated by America's first black president, Bill Clinton, and their current black president, Barack Obama, what's next? Only the hopes of an entire soccer mad continent, as Africa's last hope, the Black Stars of Ghana, come hard, packing their fierce physicality, crafty creativity and immense will to win. The question is, will the weight of the host continent buoy Ghana on to new heights, or weigh them down with expectations so heavy they break their back? Their strengths are clear: an organized, crunching, rough, tough tackling defense designed by Serbian tactician Milovan Rajevac; a massive and talented goalkeeper in Richard Kingsonr; and an up-and-coming goalscorer in Asamoah Gyan. Their weaknesses are equally clear: they have difficulty scoring goals, a tendency to panic under pressure, and a slightly lumbering quality, which leaves them exposed to quick, tricky, unexpected flashes of offensive magic.

Which brings us to Landon "The Man" Donovan. Having cemented his reputation as not just a great goalscorer, but now a leader of men, it's up to him to supply that enchanted bit of sleight of foot trickeration. And isn't that what makes the great ones truly great? From Kobe Bryant to Derek Jeter to Tom Brady, the bigger the stage and stakes, the bigger and brighter they shine. How far the US goes in this World Cup depends in large part on how big Landon Donovan is capable of becoming. But first and foremost, Coach Bob Bradley, whose inspired substitutions played an instrumental role in getting America through to the next round, must make it abundantly clear that when the whistle blows to begin the game, the Americans have to actually start playing. If I were him, I would play the first 10 minutes of this game with 11 defenders. Then once they've settled in, release the hounds! Jozy Pussycat Altodore, who is the oldest 20-year-old on the planet, has to keep his head about him while all others are losing theirs. Pussycat, when you're in front of the goal, take your time and pull the trigger slowly instead of jerking it. Clint Eastwood Dempsey, having been gifted generously by the soccer gods, was later punished by same, so I believe that if he represents righteously, the gods will smile upon him again. I urge you, Coach Bradley, tell this man to shoot the ball repeatedly. ON GOAL. History has taught us that you just never know when the simplest shot in the world will turn into a Great Green Gaffe. I'm hoping that Coach Bradley reasserts Wolverine-muttonchopped to Gooch Oneywu back into the center of the defense. His magisterial presence was missed, especially early on when the American defense looked as nervous as a virgin at a bachelor party. As for coach's son Michael Bigboy Bradley, he's had a top drawer World Cup, and if I could, I'd buy stock in Michael Bradley right now. My only knock on him is that he sometimes skates during games, doesn't close down fast enough on defense, or track back with enough fortitude. But if he keeps running, hustling, winning 50/50 balls in the midfield, and producing pristine, penetrating, pinpoint-precision passes into the bowels of the Ghanaian defense, America will succeed.

Not to look ahead, but looking ahead, if Team USA can squeeze a victory out of Ghana, it's on to the winner of the Uruguay-Korea game. Uruguay opened with a desultory 0-0 tie with the increasingly existential, ultimately disgraced and disgraceful French. But they won their next two games convincingly, led by a world-class goal scorer in Diego Forlan, who was recently added to my World Cup 2010 all-hottie team. I think they will beat South Korea, who laid some serious wood on Greece, and looked downright amateurish in a 4-1 smackdown at the feet of the supernatural Lionel Messi and Argentina.

But first things first. Saturday. Ghana. From an American point of view, the team has paid its dues, taken every body blow the soccer gods delivered, overcome shockingly inept referee decisions, two unjustly disallowed goals (note: England scored as many goals as the US had disallowed), and the best that North Africa, the UK, and Eastern Europe has to offer. They have one of the best goalkeepers, and attackers the tournament has produced to date. And lest we forget, last year in this same country, at the Confederations Cup, America didn't just beat Spain, they spanked their Spanish bottoms. Then they had mighty mighty Brazil crying uncle, down 2-0 at the half in the Final. Plus, there's a nasty taste lingering in the mouth of many Americans from the last time they faced Ghana on the world stage, in Germany, circa 2006. Largely as a result of yet another hideous referee decision, Ghana won on an infamous phantom penalty kick that sent America crashing and burning from the tournament. Hopefully, from America's perspective, this time they have all that bad luck out of their system. So, if they can use their heads, access their balls, and leave their hearts out on that South African field, they can absolutely win this game. After that, the sky's the limit for the red white and blue.
Calling all HuffPost superfans!
Sign up for membership to become a founding member and help shape HuffPost's next chapter