This post was originally featured on Forbes.com on October 25, 2017
"The movie business is in trouble," a senior new media executive at a major studio confided in hushed tones at the "VR on The Lot" conference on Friday, October 13. The conference was a VR/AR education event for the Hollywood community organized by The VR Society, a non-profit founded by leading entertainment, game and tech companies. "Attendance is crashing. Don't quote me on that. The quality of in-home is so good today, the challenge is to offer something they will never have at home." A long line of speakers confidently predicted that Location Based VR (LBVR) was going to be one of the key economic drivers of this first wave of consumer VR products, while exposing countless millions to the technology.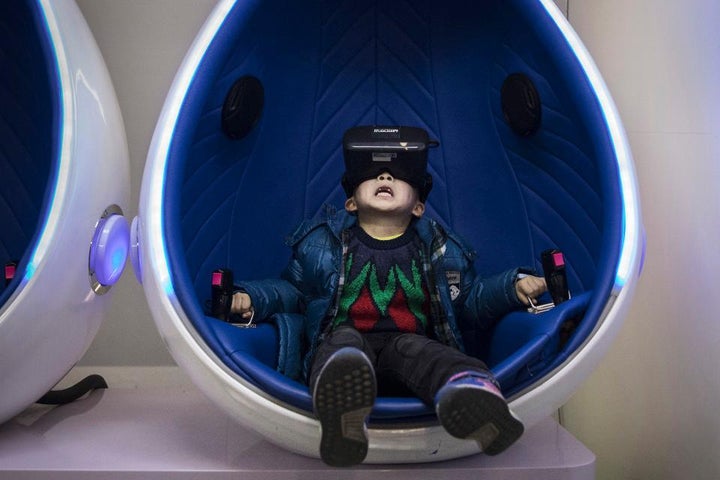 There are several companies working to expand the appeal of traditional movie going with new technology. The highly immersive Barco Escape three-screen system is the most successful of these and boasts of a remarkable 62% boost in box office for Escape showings over other formats. Last year's Star Trek release used the system to great effect. Donald Fox, a theater operator with locations in Pennsylvania and Maryland, agrees the way to get more people in movie theaters is to make them better. But he's taking a slightly different approach.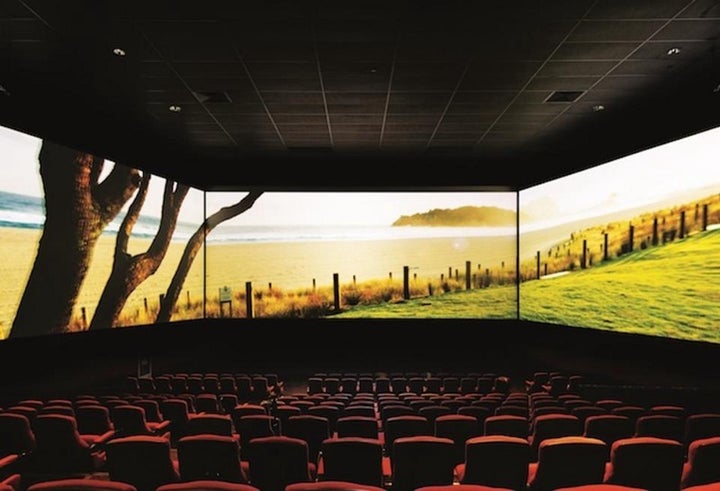 Fox Theaters recently installed luxury recliner seating, added a full kitchen and bar. "We reduced the number of seats by 50%, and increased admissions three-fold," Fox told me. "Reserved premium seating with made-to-order food and cocktails makes people more comfortable, engaged and relaxed. As a result, they like the movies more."
Phil Contrino of The National Association of Theater Owners said Fox's strategy is part of a trend within the industry to upgrade seating and other amenities, such as dated arcades. "Movie theaters have somehow been labeled as a legacy industry that is very static, and that's just not true. Some of the most important innovations that have happened since the beginning of watching movies on a big screen have been happening recently."
LBVR comes in four basic sizes: (1) VRcades that feature Head Mounted Displays (HMDs) from the HTC Vive high-end home system (until recently Oculus did not permit public use of its equipment); (2) Stand-alone casual VR such as VR Coasters with a minimal footprint; (3) VR theaters, which usually feature swivel pods; and (4) free roam, or warehouse scale, VR. The bulk of the activity is in China right now, with the US poised for dramatic growth. We'll leave swivel chair VR, VR Coasters, Barco Escape and reclining seats for another story.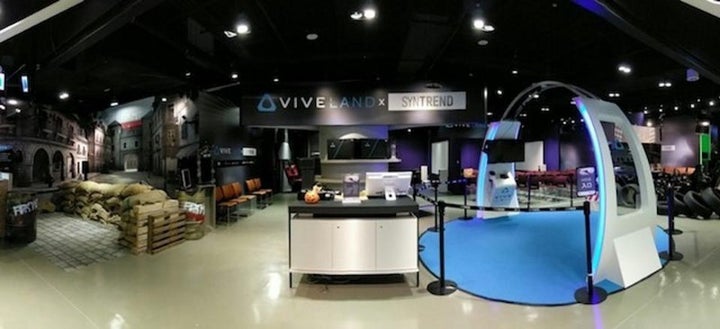 In 2016, China had an estimated 5,000 VRcades (TechinAsia says there are 12,000) far outstripping any other nation. By contrast, there are perhaps 1,000 in North America and 500 in Japan, Korea and the rest of Asia. A headset and a laptop can pop up anywhere, so the actual number is tough to pinpoint. While only two fully themed "Viveland" attractions exist in major malls in China right now, many VRcades are in Internet Cafes. However, unlike an Internet-connected PC, each user needs an attendant to operate and instruct. VRcades are experimenting with memberships, subscriptions, or simply a flat rate per hour. Alvin Graylin, President of HTC China, says "there's no clear data on exactly how many [VRcades] are operating. But it's true many who jumped into doing arcades without proper planning or resources have had a tough time."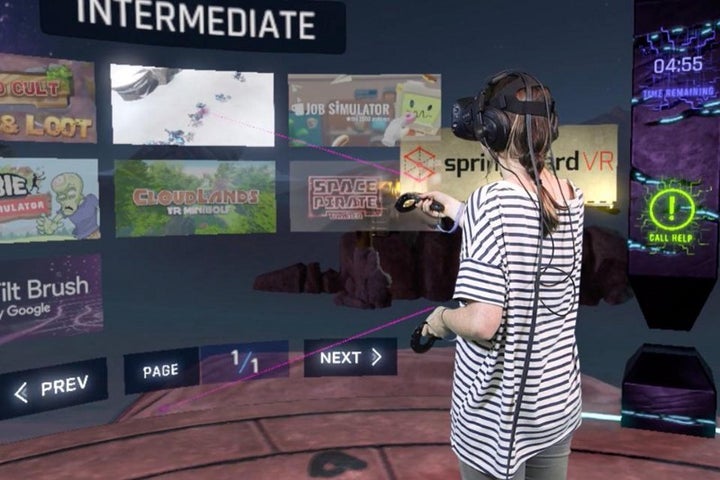 One year ago, Springboard VR of Oklahoma City, OK opened its first VRcade based on the HTC Vive VR system. Founders Jordan Williams, Will Stackable and Brad Scoggin quickly realized the need to consolidate software operations and create a simple framework that allows users to make reservations and manage games, so they created the Springboard VRcade management system, featuring game preview, first-time tutorial, time tracking, scheduling, content licensing, game launcher, quick setup, call for help and more, and integrating seamlessly with the most popular POS (point of sale) systems. Their SAAS (software as a service) company now has 185 clients and is growing 25% every month. "It's the wild west out there," Williams told me. "There are a few people with multiple locations, but mostly it's just people trying it out with a few Vives. One of the biggest challenges these arcade owners face is game licensing, which is one of the most important services we provide."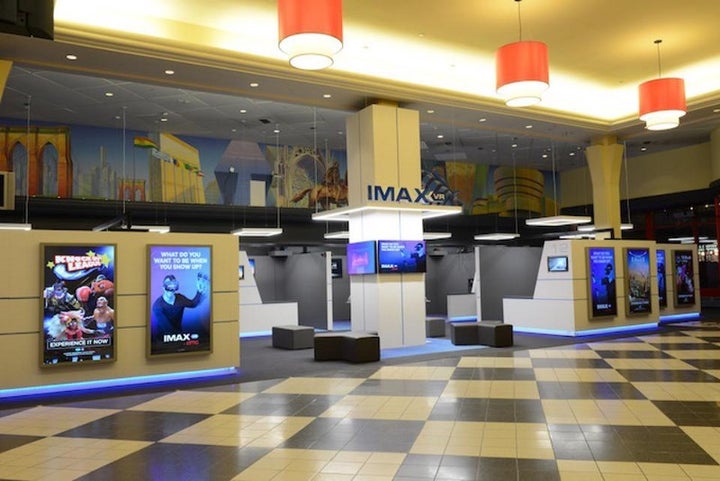 One step above the LBVRs supported by Springboard are the much-hyped IMAX Experience Centers from the big screen giant. While superficially slicker than their regional counterparts, IMAX Centers are also based on on the HTC Vive. They also offer the more immersive advanced Starbreeze headset at a slightly higher price. There is one IMAX VR center in LA, and one on the East Side of Manhattan. The Manhattan location is almost always empty when I walk by. A manager told me they are busy on weekends, but they have throughput issues. With a maximum 48 turns per hour, people have to wait. Most say they will come back and never do. Four new IMAX Experience Centers are planned for next year. The company has set aside a $25 million fund for the creation of new VR content, though it continues to characterize its VRcades as an experiment.
Warehouse-scale VR is as close as one can come to walking around inside another world. Using a backpack PC, headset, and carrying props, guns or tools, you enter the simulation and become someone else, in a fully digital world. Honestly, it is the only true VR. Even the weakest of the offerings is downright amazing and worth every penny. However, repeatability is an issue. At a million dollars a title, one wonders how often will they be able to update. Some experiences are built as cliff-hangers, encouraging the purchase of the sequels. Some seek to build in levels, allowing users to gain mastery, planting easter eggs which can be revealed in each subsequent immersion. The environment reacts to the participants, adding yet more variation.
As many as sixteen people can share some simulations, relieving throughput pressures at peak times. Warehouse-scale is also by far the most expensive. Several dozen powerful and expensive trackers are needed. The backpack PCs communicate with a central server. A Zero Latency partner told me the system cost half a million dollars to install.
The free roam providers in the market (or soon to be) include The Void, Zero Latency, and Dreamscape, VR Studios, Nomadic, and Tick Tock Unlock. Each is taking a slightly different approach to the technical and business challenges facing LBVR.
The Void, of Salt Lake City, UT, has used its first mover advantage in the U.S. to position itself on the high end, opening "Ghostbusters" at Madame Tussauds in New York in the summer of 2016. This fall, The Void was named one of eleven companies in Disney's prestigious entertainment technology accelerator program. The result is a deal to open two locations, Disney Springs in Orlando, FL, and Downtown Disney in Anaheim, CA, and feature a new Star Wars adventure, "Secrets of the Empire," in December. Those are premium locations because of the constant, new entertainment-seeking foot traffic. While the rent is set accordingly, it also means The Void can charge premium prices while maximizing utilization, minimizing marketing costs, and reducing the need to refresh titles as frequently. "Secrets of the Empire", like Star Tours, could last a decade or more.
The other challenge to this approach is scale. There are a limited number of such high-traffic tourist venues available worldwide. Of course, increasing your footprint in the Disney parks is scale, so the Disney relationship makes The Void the instant industry leader. Amusement parks are great venues for free roam VR, even as a premium ticket, as it is at Madame Tussauds.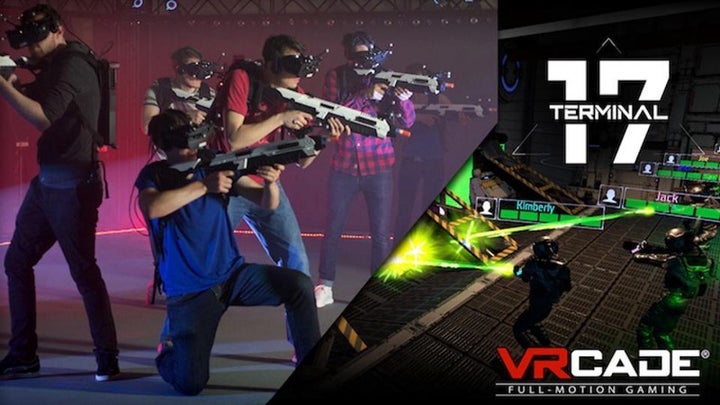 The vision and technology for VRstudios began almost 5 years ago with three young entrepreneurs that set out to build the first large-scale arena for competitive immersive VR experiences. This resulted in the first completely wireless multi-player, room-size systems that went to market in 2014 and were broadly positioned as a platform for all types of commercial enterprise applications. Kevin Vitale, the current CEO and seasoned technology executive, joined the company in 2016 and focused exclusively on LBVR.
Vitale and his partners have diverse backgrounds in enterprise technology, software, entertainment and game development. VRstudios is well known inside the insular theme park industry. Indeed, they were recently "Best in Show" at IAAPA, the enormous amusement park operators show in Orlando, where roller coasters and cotton candy machines crowd the aisles. Their clients include industry leaders like Universal Studios, where they offer a Halloween-themed VR experience, part of their aptly named "Halloween Horror Nights at Universal Studios" and Knott's Berry Farm in California, which has its own VR experience for up to 16 players, "Showdown in Ghost Town."
VR Studios also has installations in movie theaters, FECs, and casinos. Those are four-minute experiences, which maximizes throughput. VR Studios recently released a 25-minute adventure "Terminal 17", for it's new VRcade Arena large-scale system. Eight visitors suit up in backpack PCs and strap on high-resolution industry standard headsets in order to become a squad of galactic marines dispatched to clear a space station from alien bugs. The experience includes some cooperative escape room puzzle solving elements mixed in between mayhem for some depth and variety. Like all good simulations, you lose track of time inside the bug-infested futuristic power station.
"We look at this from the point of view of the operator," says CEO Vitale. "Our system is built to minimize costs and ensure ROI." The VRcade Arena will be again be demonstrated at the 2017 IAAPA (International Association of Amusement Parks and Attractions) Expo next month in Orlando.
Dreamscape Immersive recently made headlines with AMC's $20 million investment, a jolt of funding that hit before the company even had the chance to open its first location, slated for the newly renovated Westfields mall in West Los Angeles. The free roam LBVR venture, headed by former Disney Imagineering Chief Creative Officer Bruce Vaughn, is preparing a breathtaking new adventure for its opening. It consists of three ten-minute experiences with cliffhanger endings. The company will open with several experiences. I was given an early demo of one of the titles when I visited their Los Angeles office last week and was absolutely stunned by an early walkthrough. They are keeping their debut titles a secret, so all I can say is that the new title is a great concept, exceptionally well executed with show business panache. Up to six visitors can share each experience. Like The Void, Dreamscape Immersive features modular set pieces, over which graphics are perfectly mapped. Railings in the digital world can be touched. A stick can be a flashlight, or a torch or wand. There is wind, and soon, smell. The cliffhanger ending will encourage guests to sign up for the sequel, which may also be ready at opening. Tickets will run around $15 for a ten-minute experience, $20 at peak times. Dreamscape Immermsive plans to offer packages and subscriptions which will encourage advance booking and repeat visits.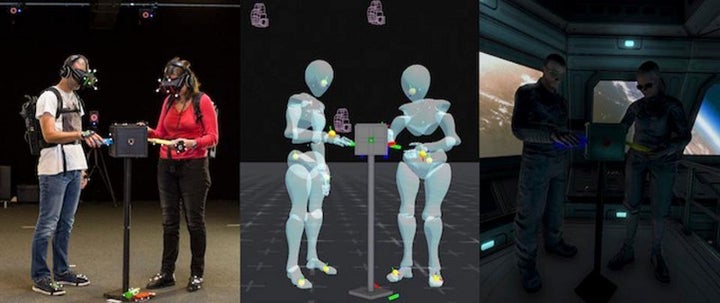 If quality factors into success, Dreamscape Immersive is well positioned. In addition to Vaughn, the company is led by Co-Chairman Kevin Wall, Entrepreneur and Producer of large-scale events like Live 8, and Chairman Walter Parkes, Producer of Men in Black, Gladiator, and Minority Report, and perhaps best known in geekland for writing the classic 1980s hacker movie War Games. Along with AMC Theaters, Dreamscape Immersive's investors include Warner Bros., 21st Century Fox, Metro-Goldwyn-Mayer (MGM), IMAX Corporation, Westfield Malls, and Steven Spielberg.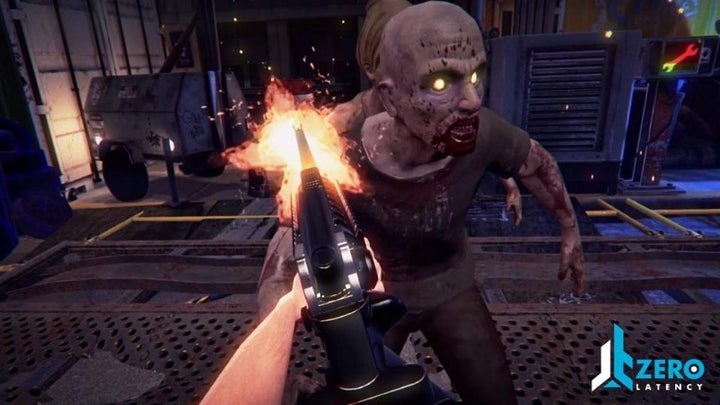 Zero Latency (ZL) founder Tim Ruse and his partners have come remarkably close to realizing their ambition to a create a completely new form of interactive entertainment. The company tells me they opened the first free roam VR center in the world, predating even The Void. They currently have 13 locations in Australia, Japan, Europe and the U.S. with area licenses in place with contracts already signed for ten locations in the coming year.
"In the end, it's going to be a content game, just like computer games today. You have to develop hits. Those are the killer apps for VR," said Ruse. ZL's current experiences are "Zombie Survival", "Engineerium", and the upcoming "Outbreak Origins". The survival game puts the guest inside a compound under assault by Zombies. It's an exciting eight-person experience, especially if you like Sega and Zombie shooters. Ruse says all ZL games engender competitive team play. For this reason, 30% of their business is repeat play. The other current offerings are the much more ambitious and heady, "Engineerium," puts you in an Aztec themed floating M.C. Escher world, and suggests someone could make a substantial work of art using this new medium.
ZL branding is minimized in its facilities. Their attraction inside the arcade at Kalahari Resorts in Wisconsin and Pennsylvania is branded "The Arena, powered by Zero Latency". Their Boston franchise is "Mindtrek VR, powered by Zero Latency".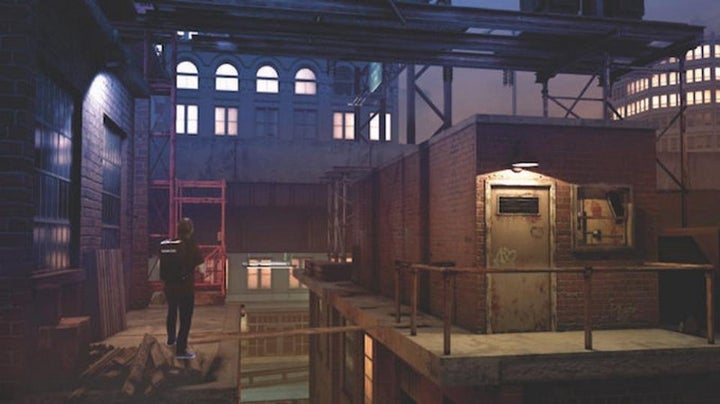 A new free roam VR company, Nomadic, came out of stealth at CinemaCon in March, 2017. Founded by veterans of ILM and Electronic Arts, the company has not yet announced their first location, which they hope to open in the spring of 2018. I visited their San Rafael, CA headquarters in August and had a chance to experience "Chicago," a ten-minute adventure cleverly designed to guide you through an urban landscape to stop a horde of drones from destroying the city.
I liked it so much I did it twice.
"Chicago" also incorporates real set pieces and props, wind, etc. which completes the illusion. It's quite effective. For several weeks this October, Nomadic is residence at Technicolor Experience Center in Los Angeles to promote its capabilities to potential partners of all kinds: studios, exhibitors, game developers, writers, directors, investors, and operators. The company is hoping to meet the competitive challenges of the business through partnerships in content and real estate. "To compete with online and bring people through the door, shopping centers have to be more entertainment focused," said Kalon Gutierrez, Nomadic's Head of Growth. "There's a huge opportunity here. It's not only the next generation of the movie business — but the mall business too."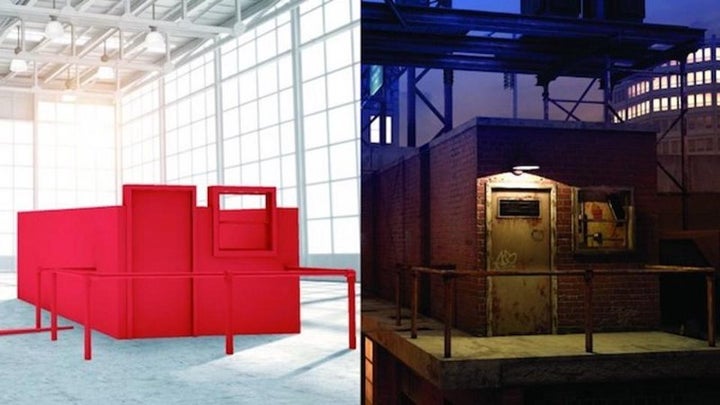 For Ali Khan, a Trading Technology Expert from London and his wife, Samrien, the path to VR started with the success of their "Tick-Tock Unlock" escape rooms in Manchester, Glasgow, Liverpool, and Leeds, into which they have sunk their life savings. Their games feature theatrical "game masters" who guide the audience into HTC Vive VR headsets, taking the escape room experience into another dimension, literally, while creating a context and a mission. Although their headsets are tethered to a computer, users have room size mobility, can pick up and manipulate objects and can see one another's avatars inside the layered, mixed reality world. Customers arrive at the venue for Health and Safety training at ENSO, a global energy company but end up joining a rebellion against ENSO. "What is unique is the scale of the story, which begins even before your visit, and the interaction of live actors is of utmost importance because you need to know what you are going to do there." Kahn is raising money to open a London location which will be much larger and feature additional levels and, of course, more VR. Tick Tock has created a social role-playing game, which instills a quest for mastery in players that engenders repeat visits.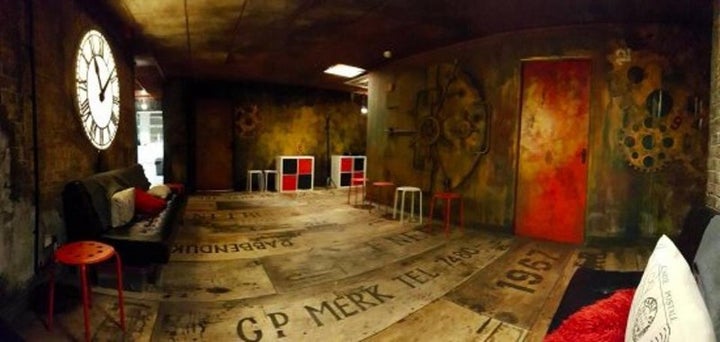 Two Bit Circus (TBC), a 50,000 square-foot retail entertainment attraction (they call it a "micro theme park"), is a different idea. Set to open in downtown Los Angeles in 2018, TBC will offer food, beverage, alcohol, and a wide variety of entrainments, including a robot bartender, VR, and escape rooms. The company says it's going to experiment with different ticket schemes. VR World in midtown Manhattan offers a variety of VR experiences for a cover charge, like a nightclub. They have a full bar. So far it seems the model is working for them. I am personally skeptical of combining VR, cocktails, and food. It adds more cost, complexity, and difficulty to something this already difficult and complex.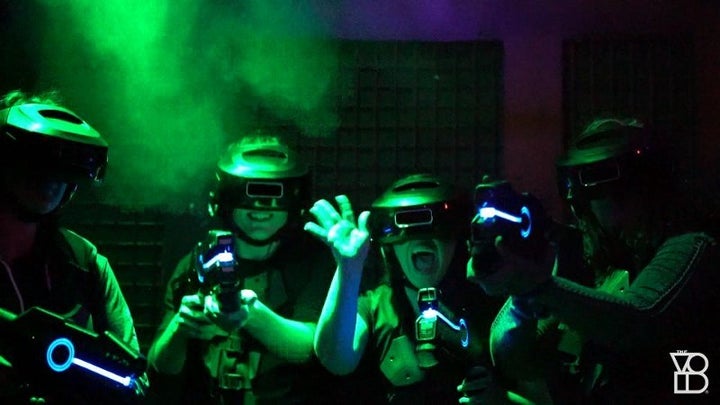 One of those looking at the big picture of the out-of-home entertainment sector is industry veteran, Kevin Williams, who just organized "The Future of Immersive Leisure 2017" Conference in Las Vegas,. An ex-Walt Disney Imagineer who worked on developing the DisneyQuest in the 90s, Williams told me "a little deja-vu hits me when I get called in to consult on some of these projects — seeing some ideas that we once saw in the 90's dusted off and presented as new. Great technology is not a business plan."
As if on cue, to illustrate the international dimension of what's happening, I was connected with Daniel Japiassu, CEO of YDreams Global, a publicly traded Vancouver based International marketing agency with offices in San Paulo, Dubai, and Seoul, representing clients like Addidas, Audi, Vodafone, and L'Oreal. YDreams has developed Arkave (not a typo), an LBVR center with its own free roam system, based on the HTC Vive that uses backpack PCs. Up to three players can share each simulation. The first Arkave location is opening in San Paulo's largest mall next month. "Our goal is to be the fastest growing VR gaming arena in the world by creating a highly immersive, multiplayer experience, scalable through a franchising model and flexible enough for the high-end third-party content from big game and movie studios," Japiassu told me. He believes Arkave's competitive edge is the low cost of owning and operating their system which doesn't cost much more than a regular Vive VR system. This is one of the main reasons Japissu believes they will attract franchisees from all over the world.
As I'm sure you've assayed by now, as much as I love warehouse scale VR and the wide breadth of potential experiences, I am skeptical about most business models outside of the general admission theme park. It's ridiculous to suggest that a few hundred people a weekend will change the fortunes of a struggling mall. It is far more likely VR will be dragged down with the rest of the mall's retailers. "People have to get out of the house," several speakers at the On the Lot Conference affirmed. This is an assumption, not a fact. Mall-based dollar per minute entertainment failed in the 90s. The big money is not in the mall, it's in consumer electronics products like the new Star Wars headset from Disney coming out this Christmas for $199.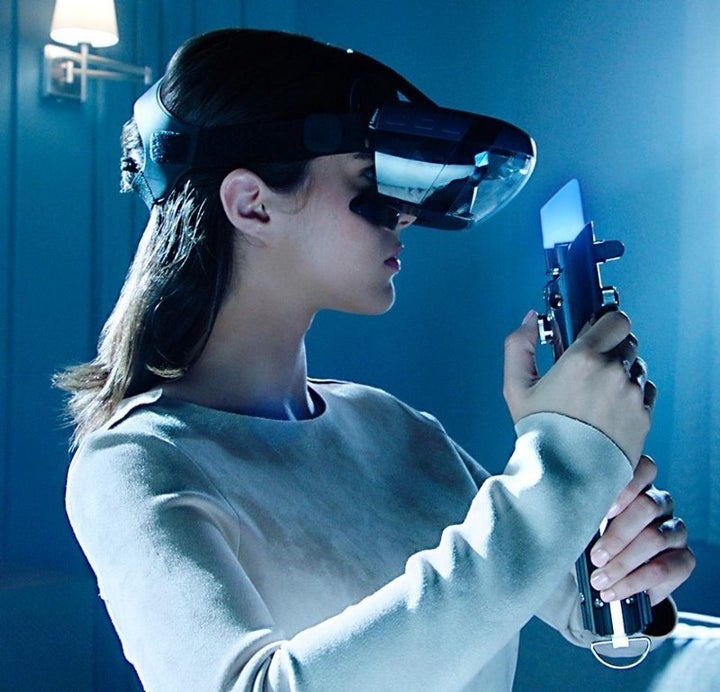 There should be consumer VR (and maybe AR) centers in malls that demo both high and lower end VR. You could charge for the demos, deducting the hourly fee from the price of a new home system. There could be something akin to the Apple Store's Genius Bar for sales and customer service. The store could bundle PCs with HMDs, preconfigured, even preloaded, with VR software, making high-end VR as close to plug-and-play as it can possibly be. The stores could sell lesser systems, too.
High-end home VR, even to consumers familiar with it, is still a consultative sale. If HTC, Oculus, and Microsoft were serious about exposing the public to VR, they would underwrite VR stores as a part of an integrated marketing strategy. I ran this idea past the Microsoft folks — for their expanding chain of Microsoft Stores — and they said they already do this sort of thing, though that was not my recent experience in their flagship store in New York. My proposal got an Oculus executive overly excited, but not in a good way. Oculus views the competition as the competition, not "co-opetition," so alliances like this are unlikely. The good folks at HTC say they'd take something like this seriously if Microsoft and Oculus were in. I still think for a scrappy consumer electronics retail entrepreneur, this is a good play. I give it away freely, waiving my customary royalty. Let me know how it works out.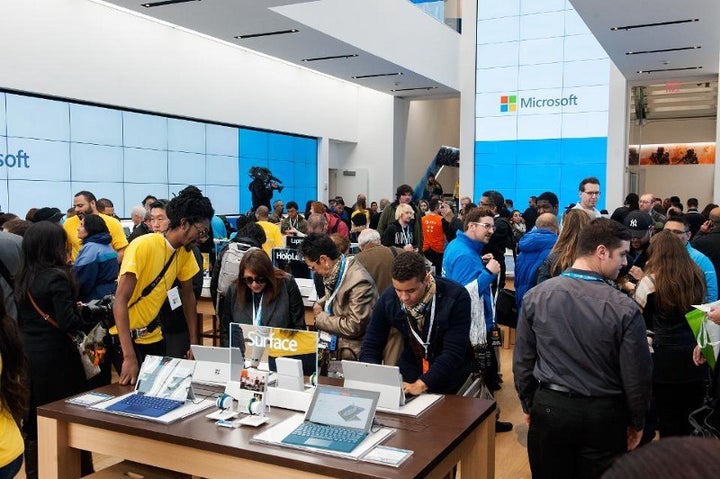 Related
Popular in the Community