Sustainable Development Goal (SDG) 2 calls for ending hunger, achieving food security, improving nutrition and promoting sustainable agriculture. This goal -- or rather, goals -- are lofty, especially when taken under the relatively short deadline of 2030. So what does it take to end hunger in 15 years, and can we do it?
The short answer is yes: we can end world hunger by 2030, and we know the strategies that can take us there. In fact, we are already on our way, and have been for the several decades. Since 1990-92, the number of hungry people in the world has declined by 216 million people, despite an increase in world population of more than two billion. Child nutrition and health are improving, too, with a 40 percent decrease in child stunting in the past 25 years. Research institutions, global leaders and policy makers all agree -- ending hunger by this deadline is an achievable goal. So what will it take to get there?
It will take global commitment. It will take political will. But most critically, it will take a strong, responsive, inclusive development process, starting at the community level.
The majority of hungry people are small-scale food farmers living in fairly remote rural areas, and most of them are women. They not only lack access to sufficient, nutritious food but also to a full range of basic human services. They live in societies shaped by a prevailing patriarchal society, leaving them with a mindset of resignation and powerlessness.
Ending hunger requires addressing all of these issues together, and empowering rural communities to take charge of their own development in all key sectors. The issues that really matter in people's daily lives -- water, sanitation, primary health care, primary education, year-round access to affordable, nutritious food, basic safety and social justice -- will not be fully solved by policy experts in Geneva, Washington or New York. They must be solved locally, with community members leading and driving the change. This type of development -- community-led development -- is critical to ending hunger by 2030.
Siloed programs that only tackle one or a few of these sectors are insufficient -- ending hunger necessitates an integrated approach that includes programs on nutrition, education, the empowerment of women, health and agricultural development as well as safety-net systems focused on poor and food insecure people. To be effective and sustainable, approaches must combine action in all of these areas to address the underlying causes of hunger.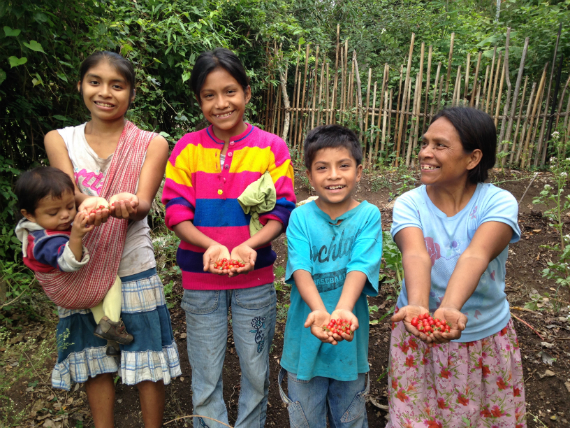 Photo Credit: The Hunger Project
Across 24,000 communities in Africa, Latin America and South Asia, The Hunger Project has seen women and men lift themselves out of poverty and hunger through locally driven programs. The Hunger Project's Epicenter Strategy, for example, demonstrates the effectiveness of an integrated and community-led approach, which focuses on training members of communities to take action in the areas of health, food security, education, family income and local government. Those trained leaders, in turn, are mobilizing millions of others to do the same. Through this strategy, more than 100 clusters of villages have launched village-level projects to generate their own income and build classrooms, food-storage facilities and nurses' quarters to ensure ready access to health care. Women, who are central to ending hunger, attend women's-empowerment workshops and skills-training courses, transforming their role in the family unit, overcoming traditional gender norms and better providing for their family.
Ending hunger requires us to grapple with the very human issues -- patriarchy, disempowerment, lack of opportunity, resignation, powerlessness -- that hold hunger in place. Ending hunger is possible technically, but hunger is not fundamentally a technical issue. It is a human one.
Follow Åsa Skogström Feldt on Twitter.
This post is part of a series produced by The Huffington Post, "What's Working: Sustainable Development Goals," in conjunction with the United Nations' Sustainable Development Goals (SDGs). The proposed set of milestones will be the subject of discussion at the UN General Assembly meeting on Sept. 25-27, 2015 in New York. The goals, which will replace the UN's Millennium Development Goals (2000-2015), cover 17 key areas of development -- including poverty, hunger, health, education, and gender equality, among many others. As part of The Huffington Post's commitment to solutions-oriented journalism, this What's Working SDG blog series will focus on one goal every weekday in September. This post addresses Goal 2.
Calling all HuffPost superfans!
Sign up for membership to become a founding member and help shape HuffPost's next chapter