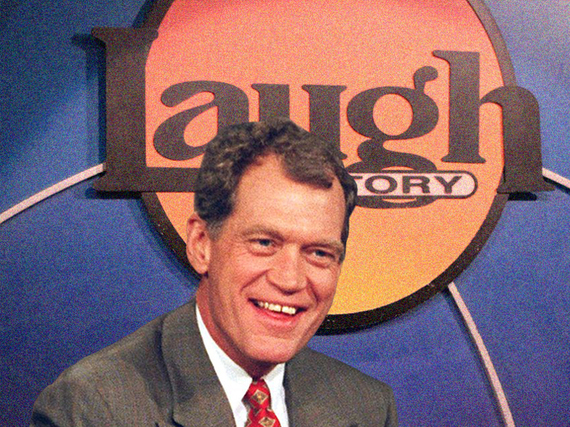 While the show business community and the audience for David Letterman are in the process of saying thanks and goodbye, I've had a recurring thought: why must we say goodbye? Many of us are going to have a difficult withdrawal from our dose of Dave, especially the comedy community, and I'm just hoping his absence from our lives is a brief one.
I first met David Letterman back in 1977 when the late comedian George Miller introduced me to him. I was just a kid and a newcomer and I was starting to work as a comedian. One day Robin Williams invited me to open for him and David Letterman at the Bla Bla Cafe on Ventura Blvd. During my set the audience was so quiet I thought they were all deaf and needed sign language, until I finally got a good laugh on this joke: "I was at a dance club and I asked one of the girls to dance with me. She was, as they say in my country, extremely well fed. While slow dancing, she came in real close to me and whispered in my ear, 'what do you use in your country for protection?' I said, 'a knife or a stick.'" I was so pleased to get any response that I said, "That's my closer, good night" and bolted from the stage. Later that night during Robin's set, he was feeling badly for me and brought me back onto the stage and started teaching me Shakespeare. That got a lot of laughs, the audience really enjoy it.
After the show, David gave me suggestions on how to fix some of my jokes. One joke he fixed, wound up getting laughs whenever I performed it afterwards. The way I told the joke was, "Everybody always gave me advice on how to pick up girls in America by spending a lot of money on them. So I met a girl and I said, 'I would like to buy you a piano.'" David said I would get more laughs if I added a response from the girl. He said that she should reply "I would rather have an organ." I did that joke Dave's way, and always got lots of laughs. David was like that with everybody. He was very creative and giving, always offering other comedians help.

In 1979 when the comedians went on strike because we weren't getting paid, David was already making money, but made it a point to help out. I remember one night we were on the picket line and David and Tom Dreesen showed up; I found out later that David guest hosted that night for Johnny Carson, but he showed up to help his fellow comics further their cause.

If it wasn't for comics like David Letterman, Tom Dreesen, George Miller, Jay Leno - and many others - the comedians today would not be getting paid at the established clubs. I always remind the comedians that those individuals were the pioneers, who struck to get them their due. For those interested in that history, I recommend the excellent book written by Los Angeles Times editor Bill Knoedelseder, called I'm Dying up Here.

David never stopped helping comedians. Like his mentor Carson, Dave helped expose and promote stand-up comics on his show. In fact, he exposed more comedians on his TV show than any subsequent late night host. He never forgot his roots, and he never forgot those who performed with him on his rise. Tom Dreesen, Jeff Altman, Johnny Dark, Paul Mooney, George Wallace, Jimmie Walker, John Witherspoon, and so many others, were all on The Late Show many times, because Dave knew it was an important way to get them known.
David truly is a person filled with care and compassion. When David found out about George Miller's diagnosis with leukemia, he arranged to secure a two bedroom apartment with a 24 hour nurse for him. David paid for everything. After a few years, Miller's health deteriorated and near the end, Dave - even with his busy schedule - managed to fly in from New York to spend a few hours with his comic buddy. I joined Dave and Tom Dreesen and Gary Mule Deer at George's apartment and watched Dave give him encouragement and positive reinforcement. A few months later, George died from a blood clot in his head and I had to pass on that tragic news to everybody including David. He was devastated.
David is a rare person, extremely funny, and extremely generous with a big heart. Not only does he help comedians, his charity work is unmatched and practically unknown. He has a foundation for underprivileged kids and nobody knows about it. I only found out about it from one of my Comedy Camp kids.

If I headed any network, I would never let a comedy treasure like him retire. David is still at the top of his game and has so much more to give. If he doesn't want to work nightly anymore, perhaps one of the networks can get him to do a few specials each year. He is a national treasure and a "doctor of the soul" whose sense of fun has cured many of us from our doldrums. I've never seen all of the Laugh Factory comedians in agreement on any one thing, but they all seem to agree on David's importance and contributions to comedy. It seems that these feelings are also shared by comics all around the country.
So my mantra is--so long Dave, enjoy the break, but we ain't saying goodbye.
Support HuffPost
The Stakes Have Never Been Higher
Related
Popular in the Community