I would like to confess something. Today I am wearing a short-sleeved grey dress with striping on the edges. I also wore it on Monday.
As I dressed this morning, I calculated the odds of anyone at the office picking up on what I've been led to believe is a major fashion don't. In my favor: I worked from home for part of the day on Monday, and today is Friday. A lot of people are gone because of the holiday. So I crossed my fingers, grabbed my bag, kissed the kids good-bye and headed to the office.
If I were a man -- a "powerful" man -- I could wear this damn dress every day, I reckon. At least that's my reading of this New York Times story, entitled "The Men Powerful Enough To Wear the Same Thing Every Day."
The article features Facebook founder and CEO Mark Zuckerberg, notorious for wearing the same grey T-shirt each day. He does this so he can focus on being in charge of the biggest social network ever. "I really want to clear my life to make it so that I have to make as few decisions as possible about anything, except how to best serve this community," he reportedly said after being asked about the shirt during a Q&A session last year at his company's headquarters.
Other notable repeat wardrobers include President Obama, 80-year-old fashion designer Giorgio Armani and Apple founder Steve Jobs, whose black turtlenecks were legendary. To be fair, these men have multiple versions of the same item -- not quite the same thing as my wearing the exact same dress.
Like Zuckerberg, they want to spend less time deciding what to wear and more time making decisions.
The article got me and others wondering if powerful women could also get away with slimming down their sartorial options. I asked Twitter. Wall Street Journal reporter Elizabeth Holmes also raised the question.
Around my office, many colleagues told me they thought it wasn't OK for a woman to wear the same thing every day.
A few, including fashion editor Michelle Persad, were emphatically in favor: "My vote is yes yes yes yes yes yes women can wear the same thing to work every day," she said.
One woman created a hashtag:
Many women, famous ones, are known for wearing a signature uniform -- not Zuckerberg-level T-shirt and hoodie, but a stylish ensemble that doesn't change much.
Cultural critic, writer and icon Fran Lebowitz wears the same jacket, men's shirt with cufflinks, jeans, cowboy boots, two gold rings and tortoiseshell glasses on a daily basis.
Vogue creative director Grace Coddington always wears all-black. Even Angelina Jolie has a signature look:
Arianna Huffington a few years ago blogged about wearing the same dress over and over again. "If you have a dress you love, how often can you wear it before reaching an unacceptable amount of repeats?" she wrote. The answer seemed to be: a lot of times. (Good to know the boss is on my side.)
Yet last year when one of the most most powerful women in the world, Federal Reserve Chairwoman Janet Yellen, wore the same suit a couple of times, she was called out. "Somebody spot Janet Yellen some new threads," was the actual title of Roll Call's piece on Ms. Yellen's "mistake."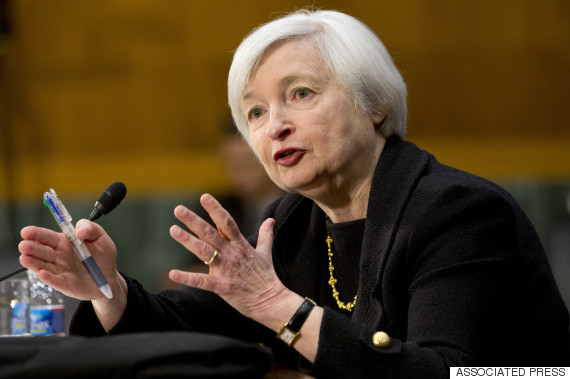 Yellen got called out for wearing this suit, for some reason.
Still, a lot of people seem to think women -- who, I suppose, are the brightly colored peacocks of the human race -- should be expected to adorn themselves differently each day. Presumably to attract the duller birds.
To be perfectly clear, as you've by now figured out: I am neither powerful nor chic. I'm just another working schlub. The dress is easy. I can throw it on and be ready in under five minutes. That frees my time for other stuff: reading the news, checking email, hanging out with my kids. I don't get caught up in the drama of figuring out what to wear. I've even written about this before.
As the New York Times piece notes, reducing the number of decisions you make in a day helps you make better decisions when you have to. It also reduces stress. There's actually a lot of research to back that up.
If you have a lot of different clothes and each day you're making decisions about how to piece together your outfit, you'll eventually suffer a little bit of mental fatigue, according to research from Kathleen Vohs at the University of Minnesota's business school, with whom I spoke a few years ago.
It's probably why Wonder Woman wears the same outfit all the time. Gotta save that brainpower for wielding the lasso of truth.
Related