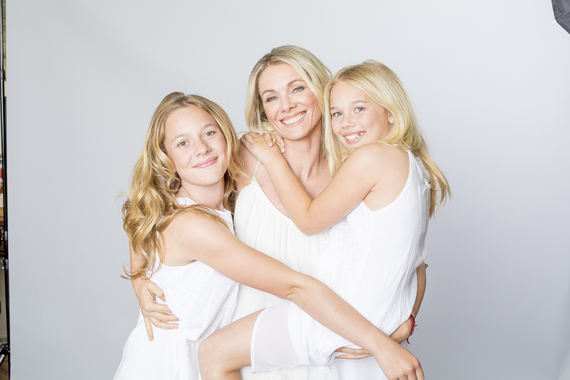 More and more women who, after taking two or more years off of work to stay at-home to raise their kids, were contacting me seeking support to re-enter the workforce. Their reasons varied: their kids were in school, their marriage was on unsteady ground and they wanted financial security, work was a core part of their identity and they missed the collaboration for a higher purpose, and so on.
A woman's prolonged transition back into the workplace was often not easy, and it took its toll on her self-esteem. Many female clients and mom-friends were facing massive pay and title reductions while others struggled to even get interviews. Technological advancement had outpaced seasoned experience for many.
Kerry Dolan, Founder of OptIn (www.OptBackIn.com) experienced these set-backs first-hand. She started Optin in California a couple of years ago after facing her own career transition challenges. OptIn is a multi-platform start-up resource for women looking for support as they navigate the challenges when re-entering the workplace.
"When he met me, I was a high-power executive. By the time I thought to go back to work, I had no resources, I had self esteem issues and I'd lost my sense of self. It [work] turned out to be a very big part of who I was. I had lost a big part of me." - Kerry Dolan, Founder, OptIn

Dolan, herself a mom and former successful Manhattan executive in the tech start-up industry for over 15 years, got married and gave up her career a year-and-a-half later when her doctor gave her an ultimatum: "Go on bedrest or your babies are going to die," she says. Dolan spent the next 8 months tending to her delicate identical fetuses, who are now healthy 12 year-old girls.
Work was on the back of her mind even as she nursed her then newborns, but Dolan says, "I couldn't keep my foot in the door at the rate I was used to working. I was used to giving 115% and at the time, it wasn't going to be possible." So she stayed home full-time while her husband worked full-time. The couple went on to have a third child.
"I felt totally trapped. I had even considered taking a job as a dental assistant. My husband reasoned that it wouldn't even pay for the gas and dry-cleaning bills. My self-esteem took a big hit," Dolan boldly acknowledges. Eventually, she and her husband started having marital issues and sought the support of a therapist. Her "aha" moment came when the therapist asked what the conversation around career and staying at home had been like. She realized then there had never been a conversation. After giving birth, she says, "I just kind of fell into being a full-time mom."
Dolan and her husband are now divorced. She contends her not going back to work ruined her marriage. "When he met me, I was a high-power executive. By the time I thought to go back to work, I had no resources. I had self esteem issues and I'd lost my sense of self. It [work] turned out to be a very big part of who I was. I had lost a big part of me."
With two girls of her own, Dolan says she wanted them to know women needed to be independent and financially secure for themselves. Her bigger life's purpose today is to be what she calls a mother's advocate. She envisions a cultural shift around the perceptions of working moms, one state at a time. And this is what she says she hopes to achieve with OptIn, to help women find their way back to work and, for some, their selves. Optin offers a 6 week workshop including interview prep, self-esteem courses and connection to other women like themselves. Dolan notes many of the women are well-educated women who were feeling down on themselves. She says they were grateful for the opportunity to stay at home, but many were not fulfilled the way they had once been in their careers.
Alysia Pearson, a former full-time CNN news employee-turned Master Gardner in Atlanta, Georgia opted for a different approach when she and her husband decided to have children over a decade ago. She said since she and her husband (a fellow CNN employee) were financially stable, they agreed Alysia would stay at home with the kids and, Pearson says, "We agreed if it didn't work, we could figure it out."
Pearson was at home full-time for a year and a half after their first child was born before she realized she wanted to return to work. She said she found full-time mommy-hood isolating, so Pearson picked up freelance writing and producing. She notes she was grateful for the opportunity and that it was a good transition back into the workforce while still being at home with her then-toddler. Eventually Pearson decided to go back to work part-time and the couple gave birth to their second child.
Pearson acknowledges her peeling back to part-time impacted her career. She was now doing less challenging work and for lower pay. But she also says she has no regrets. "It was a conscious choice. My kids and Bryan (Pearson's husband) were my first priority and still are." And she adds, "The only thing I would have done differently is maybe gone back to work part-time sooner. I found it was really good for my 'mommy-brain'...the social aspect outside of the home was key for me."
Jen Levinson, a LA-based online mommy blogger for over 20,000 families throughout the Los Angeles region says she doesn't know if she would have been able to go back to traditional work from a financial position after having her first set of twins. (Now she and her husband have a total of five children.) Levinson notes that when she birthed her first set of twins, like Dolan, she was placed on bedrest for almost 5 months. It was there she founded Jen's List (www.JensList.com).
Levinson says the blog started more as a way to keep her mind busy. "Then my girlfriends started emailing me, so I started creating a group. It went from 5 to 1,0000 in four years without pay. Then I started getting advertisers and now I've been running it for 10 years."
Levinson says she thinks that women do experience difficulty with being a mom and balancing work. "What I see a lot, if the woman does go back to work, they still feel responsible for the home. I take care of all the bills, school, after school stuff...and I still have a job," Levinson says. She adds, "If I didn't have Jen's list, I would not have wanted to go back to work. I am fortunate to be able to work from home and to be my own boss." She says she knows this isn't the case for everyone.
And for those women, Dolan believes she has the answer. "I do believe that a woman, or man, can go back to work 9-3." She says she was working much longer than she was getting paid for when she went back to work before starting Optin. She says she got into the officer earlier and never took an hour to eat or talk at the water cooler like the younger culture did. "That's their social," Dolan says. "I went in, did my task and left. I realized how much more I accomplished in that time than they did."
Dolan acknowledges she must create a whole cultural mind-shift. She says she believes the idea of women in high-ranking positions bringing their kids to the office puts a lot of pressure on women who don't share the same resources. "I didn't have the option to bring my twins and a nanny. That's not what the average woman gets."
Still, Dolan believes that in time, she can pioneer more room for transitional moms. "I spoke to a large male-oriented real estate company in LA and I was surprised how responsive they were. All the projects that need to get done, the current workforce is not staying later to get it done or they get trained and leave the company for more money. Companies are looking to hire some of my mom clients to get these projects done and to stick around. This is where flexibility helps."

While there remains no one right answer for all women today, Levinson notes, if she could have one wish, it would be that we, as a society, would stop judging women for whatever decision they choose about work and motherhood. She says, "Being a good parent is hard enough. I wish more people would just embrace what's right for them and not expect it to be right for everyone."
To that end, I salute all primary caregivers this week with the rest of the country. If you want to treat yourself or your mom with a relaxing and fun gift, check out a few of these affordable ideas for Mothers' Day specials/gifts found in your own neighborhood:
1. beGlammed (www.beGlammed.com) offers 10% on hair and makeup services on-demand in 20 cities nationwide and Toronto. Use promo code MothersDayGlam15 upon checkout.
2. SkinLaundry (www.SkinLaundry.com) offer facials and more. First-timers get a free 15-minute service, with moms getting an anti-aging mask using MOM16 promo code.
3. Birchbox (www.Birchbox.com/gift) is a great way to treat mom year-round with beauty and skin care products delivered straight to her home each month.
4. Soothe (www.soothe.com) offers safe, in-home massages for hard-working ladies and men.
5. ABC News (http://abcnews.go.com/Travel/americas-10-coolest-mothers-day-brunches) collected some of the best places in metropolitan cities across the country to treat mom to brunch.
Jennifer Musselman combines her seasoned business background with her Masters Degree in Psychology to empower people and inspire brands. She's based in Brentwood - Los Angeles and San Francisco, California.
Related
Popular in the Community