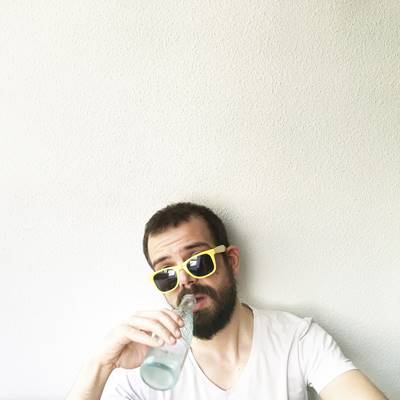 Hailing from Spain is Yuri Méndez who goes by the artist moniker Pajaro Sunrise. His new album The Collapse released by Lovemonk, a boutique label based in Madrid, features collaborations with Bart Davenport, Charlie Bautista, and Javier Jiménez as well as production support from Shawn Lee. Though following his passion in music, creating The Collapse was no easy task for Méndez. A few weeks after the album was completed, his life became oddly reflected by the song titled "Everything Collapsed" when everything around him did indeed, collapse.
Upon returning to Madrid, Méndez experienced a barrage of personal dramas ranging from the disintegration of a long-term relationship to a broken hand. There were several lost friends, jobs and broken guitars in between that spectrum but his broken hand seemed to be the most painful and costly as it forced him to cancel all of his summer gigs. Just because you have taken a leap of faith in the direction of your dreams does not mean your faith will go untested.
Méndez began recording The Collapse in early 2015 even when a serious bout of conjunctivitis blurred his vision. Despite this physical obstacle, he persevered and turned his time of convalescence into a time of creation. In November of that year, his vision returned and he was able to fully devote himself to The Collapse, joining another Lovemonk family member, Bart Davenport in the studio. Co-producing the album, Davenport brings his own flavor to the music adding a springiness to Méndez 's somber sound. They recorded at Punta Paloma, an idyllic recording studio surrounded by pristine coastline and lush vegetation near Tarifa, Spain, a unique region where Europe meets Africa.
While most artists create music as a way to celebrate experiences or work through pain, they are generally about things that have already transpired. What is unique about The Collapse, is that it is based on real events that occurred in Méndez's life, yet they are events that took place after the album was already completed. He inadvertently wrote his future, a self-fulfilling prophecy of sorts, but with no intention behind it. It seems, however, that struggle is a common thread among the creative-minded as they try to maneuver their way through a business-minded world. Méndez's faith was shaken but not taken as he says "we might as well sing to the collapse of everything" in the title track over an uplifting melody.
The Collapse is an evocative fusion of bliss and melancholy, just as the life of Méndez has been. Though he felt the collapse of his own life surrounding this album, he used this downward spiral to focus on his music and let the magic of his creation reinvigorate his life. His experiences give the album a depth and honesty that listeners crave, though it may not be in the conventional chronology that we are accustomed to hearing. Méndez may be on to something, creating a new style of music that is about the future instead of the past. This teaches us to look forward instead of backwards, embracing whatever may be waiting for us.