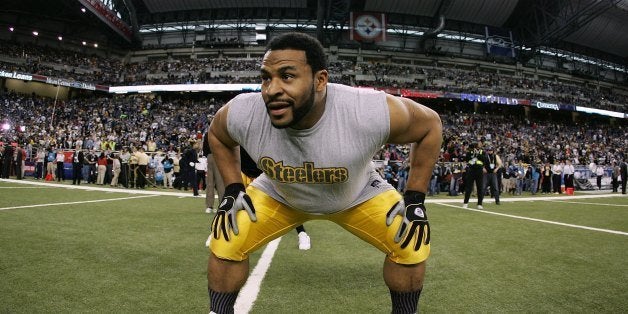 Jerome Bettis, former NFL player and Pro Football Hall of Fame inductee, was an unbreakable force on the football field. During his 13 seasons as a running back, it often took multiple players to tackle him. His nickname was "The Bus" because of how he rolled over defensive players. He was a Superbowl XL champion and when he retired, he was ranked fifth all-time in rushing with 13,662 yards on 3,479 career carries. In a word, he was unstoppable... unless, that is, he came across a piece of shrimp or shellfish.
Jerome was just 14 years old when a tiny bite of shrimp fried rice almost "took him down" at his Aunt and Uncle's home. At first he thought it was merely his asthma acting up, but as his throat began to tighten further, he instinctively knew something very different was happening. He went directly to the hospital as he was suffering from an anaphylactic attack, and he was injected with epinephrine and diagnosed with a severe shellfish allergy.
The demands of a pro athlete are incredibly rigorous, particularly when it comes to food choices. Frequent air and bus travel, different city destinations each week and a boundless appetite to counterbalance the extreme physical workouts of practices and games are only a few of the demands on professional athletes. So it may surprise you, as it did me, that Jerome never had an anaphylactic attack when traveling with his football team. How did he manage this? Was he worried all the time? Preparation is key for football and it turns out, so is being ready for an allergic reaction. He told me there was a "playbook" he diligently followed. The whole team and staff looked out for him, and they took his allergy very seriously. There were no "seafood only" restaurants chosen for the team. If a seafood dish was ordered by another teammate, the kitchen was instructed to prepare it last to avoid cross contamination. He had an action plan and let everyone around him know what it was. He told me that once he educated all those around him, they began to look for potential exposures and advocate for him. He trained all those around him on how to use his auto injector and had two of them on his person at all times.
I wondered. What if you are not a pro athlete with a team of people looking after you, but just an ordinary person? I asked Jerome what he would recommend to my son and others to keep safe? Education and awareness of those around you, he believes, is vital to keeping safe. Have an "action plan" like his. He hammered the point to me that you will be able to sleep at night if you are prepared with a game plan for the worst-case scenario.
Jerome Bettis practices what he preaches. He took time out of his busy day to talk to me as he was headed to Washington, DC on behalf of Sanofi US (the maker of the talking auto-injector Auvi-Q) and AAN (Allergy and Asthma Network) to raise awareness and support change through education. He believes that it is vital to inform legislators on how significant food allergies can be potentially life threatening.
Jerome would like to see auto injectors more readily available in public spaces such as schools. He further stressed it is imperative to teach others that in the event of anaphylaxis, once you have used the auto injector, you must still get immediate medical attention. Then we discussed what would have happened if Jerome had been on a plane when he had his first attack. If that had happened, "The Bus" might not be here today as a great man and football legend.
Airlines are not required to stock their planes with easy to use auto injectors such as the Auvi Q or Epi-Pen, which any adult or child could operate. In many planes, the emergency kit contains only epinephrine vials. Dr. Patricia Leonard, a trained allergist, was recently on board a plane when an allergic emergency arose with a 4-year-old child. She noted in an interview after the incident that "even doctors who don't work with food-allergic children would not likely know offhand the correct dose of epinephrine to give a 4-year-old." She also described having trouble locating the correct vial and reading the instructions. Would there have been anyone capable of calculating the correct dosage for him if Jerome had had his allergic attack on a plane or would the plane have had to make an emergency landing instead? We concluded that he might not have survived if this situation had arisen at 35,000 feet.
It is nice to note that when Jerome speaks out as a spokesperson for the Auvi-Q, he is respected and admired. I shared with Jerome that I have been the recipient of hate mail with regard to my advocacy efforts on behalf of those flying with a food allergy. I remarked to him how ironic it was that his nickname was "The Bus", since many remarks to me have stated that as a nut allergic parent, I should just learn to take "the bus" and not expect to fly safely. Could he have taken the bus and still had his NFL career? Jerome told me it would have been impossible for him to do that due to short turnover in games and it just would have been physically impossible to drive to all those games on time. Thankfully for him, they do not routinely hand out shrimp packets on planes and they are not a snack of choice for most passengers to bring onboard. But nuts are a different story. They are still routinely served on many airlines and many passengers bring them onboard.
If only the airlines could take a "support team" approach toward travelers with life threatening food allergies -- the same way Jerome's teammates supported him -- we could solve the problem quickly and efficiently. As allergic passengers, our current "game plan" is to prepare for the worst. We need, at a minimum, the ability to pre-board to wipe down the area for allergen residue and to have the flight crew make an announcement to fellow passengers that a food allergic passenger is on board. There are actual medical studies that show this kind of game plan makes air travel safer for food allergic passengers. Currently, some airlines block us from executing part or all of our game plan. Please, do not just take it from me, take it from "The Bus" -- to win with food allergies, you need a game plan, a team that has your back, and education awareness.
REAL LIFE. REAL NEWS. REAL VOICES.
Help us tell more of the stories that matter from voices that too often remain unheard.