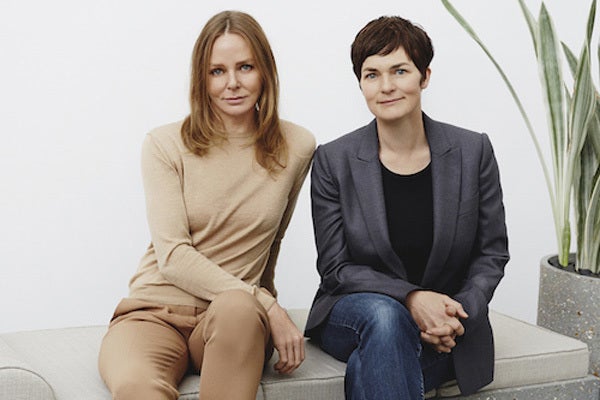 I tend to be a little extravagant with my children during the holiday season, which presents a dilemma—given I know that the making, transporting, and disposing of all this stuff (including quite a few clothing items) adds to plastic pollution, air pollution, and climate change.
But recently, I was inspired to discover the work being done by fashion designer Stella McCartney (Paul McCartney's daughter) and Ellen MacArthur who first came to public attention for circumnavigating the world alone at age 24, and later becoming the fastest person to ever do so.
Together, they have teamed up to help the fashion industry embrace the hopeful, sustainable, and realistic vision of a "circular economy" that re-envisions production by designing out waste and pollution.
Why should this matter to parents who care about clean air and climate change?
The designer Eileen Fisher once made the point succinctly: "The clothing industry is the second-largest polluter in the world, second only to the oil industry."
How the Fashion Industry Affects the Environment
You may have previously read Lori Popkewitz Alper's reporting on how microfibers from the washing of our clothes contributes to plastic pollution in our oceans.
Now consider three more 2017 findings from the World Resources Institute that illustrate how the fashion industry contributes to climate change and other pollution.
The average consumer purchased 60 percent more clothing items in 2016 than in 2000—while keeping each garment only half as long. The result: More landfill, more energy use, and more pollution.
It takes 2,700 liters of water—or, what a person drinks in 2.5 years—to make one cotton shirt. And 29 million tons of cotton are produced a year: enough for 29 shirts for everyone on Earth, according to the Copenhagen-based organization, The World Counts. Not only does that result in an enormous amount of water diverted for cotton in a world where one in nine people lack access to safe drinking water, much of it ends up being polluted as it is run through dyes and other chemicals.
Making one polyester shirt creates twice the carbon emissions of a cotton shirt. To consider this in a more realistic scale: Polyester production released greenhouse gas emissions roughly equivalent to that of 185 coal-fired power plants in 2015.
So what is Stella McCartney and, perhaps more curiously, sailor Ellen MacArthur doing about it?
A Breakthrough Insight From Sailing the World
In a TED Talk about the surprising lessons learned while circumnavigating the world, MacArthur explains what she discovered from packing everything she needed for her to survive on the water for three months, including food, fuel, clothes, toilet paper and toothpaste.
"No experience in my life could have given me a better understanding of the definition of the word 'finite.' What we have out there is all we have. There is no more," she says.
But the real insight, she continues, came when she returned to shore and realized: "Our global economy is no different. It's entirely dependent on finite materials we only have once in the history of humanity."
Transformed by this recognition, she gave up sailing, dedicated herself to learning about how the global economy works—especially in terms of its dependence on limited fossil fuels and materials—and pursued a fascination with how we could improve the system. Put another way, she set out to explore how we could use things but not use them up.
This became the mission of the Ellen MacArthur Foundation, which she founded in 2010. And last month, she came together with McCartney to release a new report entitled, "A New Textiles Economy: Redesigning Fashion's Future."
Making Clothing Beautiful and SustainableA high-end designer, McCartney is a pioneer in what she calls one of the last industries to wake up to the ethics of sustainability.
"I believe in creating pieces that aren't going to get burnt, that aren't going to landfills, that aren't going to damage the environment," McCartney has said.
And perhaps most encouragingly, she is doing so in a way that demonstrates sustainable clothing need not—and if it is to be successful, must not—compromise being fun and beautiful.
This holiday season, the efforts of these two women give me hope that we can reconcile gift-giving, sustainability, and protecting children's health. We just need a lot more of us to work at it and demand it.
Related
Popular in the Community