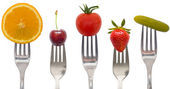 My husband is a journalist who doubles as a class-act chef, a Romeo with delectable recipes.
He announces he is going to make an ultra-complicated Miso Salmon dish. He shows me the recipe and smiles. "You will love it," he says, "because you love everything miso."
Now this is true romance, high-caloric and irresistible, but romance just the same.
I grew up with a worn, yellowed book titled: The Way to a Man's Heart is Through his Stomach. I found the sexist title off-putting. Why is this limited to men? The direct route to my heart is definitely through my stomach.
I love the effort my Romeo puts into researching the recipe, shopping for the ingredients and ultimately cooking the dish. This cooking portion, by the way, is always done while we share a glass of wine.
Of course, when you're romanced by food on a day-to-day basis, there is one downside. Dieting isn't an option because you can never resist the moveable feast.
The only way I can survive the decadence is by upping my exercise. This is how I make peace with living in a food-lover's paradise.
At least I'm in good company. It turns out Julia Child wasn't big on dieting either. As she put it: "The only time to eat diet food is while you're waiting for the steak to cook."