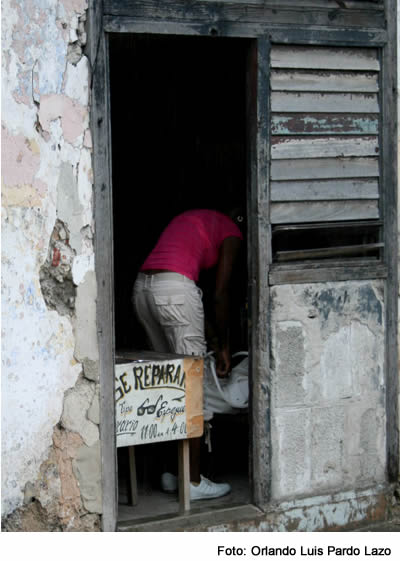 People are shouting from balcony to balcony and at first I think they're insulting each other, but that's not it. The woman from the building on the corner tells another woman that they have Crazy Glue at the little shop at Boyeros and Tulipan. Both are wide-eyed, gesticulating, "I thought it was gone forever," "There's been none anywhere," they say. I chuckled while looking at the tip of my shoe, greatly in need of this instant fixative that the neighbors are announcing as if the ration stores had gotten a delivery of beef. If I get there in time to get a tube of the magic glue, I could fix the computer key that's been flying off, and also the doorbell, which you can barely hear when someone rings it.
Surrounded by my list of broken things, I start to wonder if there will be statistics on how much crazy glue is used each year on this Island. It is not a basic product, but I sense that there is a relationship between the need to repair our belongings and the seriousness of the country's economic crisis. If not, why is the whole world running after an adhesive that is advertised as able to reassemble everything? Often I have bits of glue stuck to my elbows or on my clothes after making one the repairs I'm faced with every day. The last time I focused on these tasks I ended up with my thumb and index finger glued together, until hot water managed to separate them, taking off a piece of skin in the process.
In many stores, when this contact cement comes in you'd think they were having a big sale. People buy dozens of tubes, as if its great adherent power could glue together a reality cracked by frustration. We are not an excessively austere people, who can't stand to throw out useless things, but we find it difficult to pay attention to the expiration dates provided by the manufacturers. When we break something, we rarely have a substitute. So I will leave this post here, and go and buy my share of crazy glue, my necessary dose of that instantaneous mender. Perhaps a few drops will help me to gather the pieces of that future we've dropped on the floor, smashing it to smithereens all over the place.
Yoani's blog, Generation Y, can be read here in English translation.
Translating Cuba is a new compilation blog with Yoani and other Cuban bloggers in English.
Related
Popular in the Community