 During the 30-year period from 1970 to 2000, the wall between contemporary opera and musical theater was pretty thoroughly demolished. Ambitious musical theater composers were starting to experiment with classical sounds and compose music designed for more operatic voices. Simultaneously, operatic composers were learning how to use computers to help generate musical scores and finding ways to enhance the music they had written for classical voices with subtle amplification.
In 1971's Follies, Stephen Sondheim wrote a number ("One More Kiss") to be sung by performers with clearly operatic voices. Among the sopranos who have portrayed the younger and older versions of operetta star Heidi Schiller are Licia Albanese, Carol Neblett, Erie Mills, Yma Sumac, and Rosalind Elias.
In 1973's A Little Night Music, Sondheim's score was composed entirely in 3/4 time. This waltz-themed work has since been performed at the New York City Opera (among others). In the following clip from a 1990 Live From Lincoln Center telecast, mezzo-soprano Regina Resnik performs "Liaisons."
In 1976, Sondheim's score for Pacific Overtures, although based on the pentatonic scale, included a spoof ("Please Hello") of Gilbert & Sullivan's famous patter songs.
1979's Sweeney Todd, The Demon Barber of Fleet Street contains some powerfully operatic music (and has since been performed by numerous opera companies and symphony orchestras).
After the release of a concept album, Claude-Michel Schonberg's musical epic, Les Misérables was staged in Paris in September 1980 before receiving its London premiere on October 8, 1985. Les Misérables has since been performed on numerous occasions with a full symphony orchestra.
On October 9, 1986, Andrew Lloyd Webber took the West End by storm with the premiere of The Phantom of the Opera. Several roles in the show require operatically-trained singers.
Christopher Yavelow's Countdown (the world's first computer-assisted opera) received its world premiere in Boston on February 12, 1987 and, on December 1, 1994, became the first opera in cyberspace.
When Nixon in China received its world premiere on October 22, 1987 at the Houston Grand Opera, composer John Adams insisted that amplification be used for the principal singers and parts of the orchestra.
In September 1989, Schonberg's through-sung Miss Saigon (an adaptation of Puccini's Madama Butterfly) had its world premiere in London.
In 1996, Jonathan Larson's rock opera, Rent (which was inspired by Puccini's La Boheme), took the musical theater world by storm.
In September 1998, Elton John & Tim Rice's Aida (inspired by Verdi's opera) had its first fully-staged production at the Alliance Theater in Atlanta, Georgia. A revised production opened in Chicago in November 1999 before the new musical had its Broadway premiere on March 23, 2000 at the legendary Palace Theater.
Although Sondheim's Passion (1994) and Schonberg's Martin Guerre (1996) may not have been commercial successes, by the time of their premieres, audiences had grown used to through-sung works of musical theater that had been composed from a clearly operatic perspective.
While most notable for its massive scenery, the original production of Sweeney Todd required a cast of 27 actors and a 26-piece orchestra. In addition to its spectacular production values, the original London production of Les Misérables required a cast of approximately 35 performers. Rising production costs have forced many contemporary composers to avoid creating new works that, because of their demands for numerous performers and instrumentalists, may be too expensive to ever produce a return on their original investment.
The marketing debacle following the 1985 introduction of New Coke led many consumers to cry "If it ain't broke, don't fix it." Much the same could be said of Cameron Mackintosh's 25th anniversary touring production of Les Misérables, which apparently left the original production's directorial team (Trevor Nunn and John Caird) feeling "horribly betrayed."
Based on the sprawling novel by Victor Hugo, the original production (which I saw in London and at the Kennedy Center Opera House) was a knockout that had the kind of dramatic power which swept audiences off their feet. But with a first act that contains such an incredible amount of narrative exposition, it's important to keep matters moving -- often at any cost.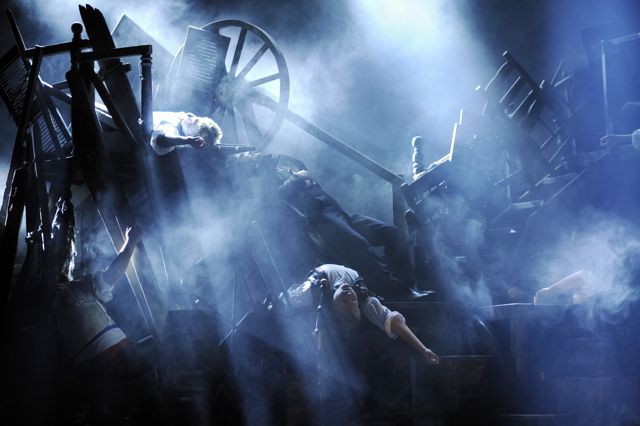 The Barricade (Photo by: Dean Van Der Meer)
With new (and not necessarily better) orchestrations by Chris Jahnke, this 25th anniversary production was directed by Laurence Connor and James Powell who, quite frankly, should be slapped upside the head for what they have done to an iconic work of musical theater. At the very least, there is absolutely no reason for Betsy Morgan to perform Fantine's plaintive solo, "I Dreamed A Dream," with the aggressive fury of "Rose's Turn."
Peter Lockyer portrayed a gaunt, determined Jean Valjean trying to escape Andrew Varela's villainous Javert. Timothy Gulan (Thénardier) and Shawna M. Hamic (Madame Thénardier) took full advantage of their characters' lust, greed, and other bawdy attributes.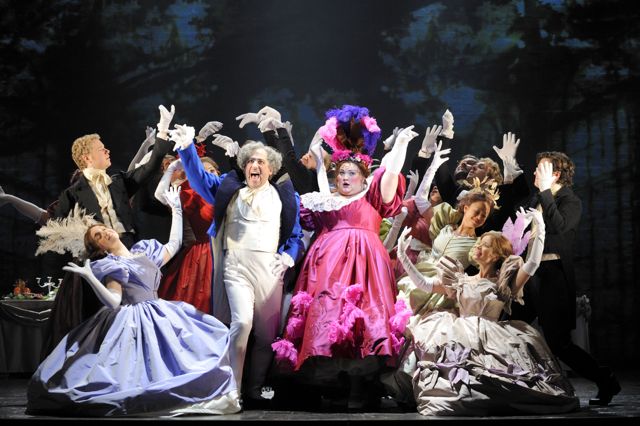 Timothy Gulan and Shawna M. Hamic as the Thénardiers. Photo by: Deen Van Der Meer
While much of the evening seemed as if was being performed with a bad case of roid rage, I cannot, in all good conscience, blame the cast. The fault lies not with the actors but with Mick Potter's singularly oppressive sound design.
Experts in hearing loss prevention warn that people should not be exposed to sound levels of 100 decibels for more than 15 minutes without wearing some form of hearing protection.
Cumulative damage from chronic exposure to noise can go undetected for years (loss of hearing usually affects high-frequency sounds first).
As the federal agency responsible for monitoring workplace noise, the Occupational Safety and Health Administration (OSHA) has very specific standards which businesses must meet. Unfortunately, OSHA usually only launches an investigation when complaints are made (most employees are reluctant to do this for fear it might affect their job security).
Although a study conducted by The New York Times at local restaurants, bars, stores, and health clubs easily recorded sound levels above 90 decibels, many of the business owners had no idea they were in violation of OSHA's sound guidelines.
While municipal agencies usually handle complaints about noise from neighbors, most theatergoers feel powerless against the onslaught of sound aimed at their eardrums during many touring musical productions. The San Francisco Opera's recent production of Nixon in China did a splendid job of showing how amplification can be used to enhance (rather than distort) a performance in the 3,146-seat War Memorial Opera House. Critics may point out the sound problems with shows booked into the 2,203-seat Orpheum Theater, but until SHN's President (Carole Shorenstein Hays) and CEO (Greg Holland) decide to take a proactive stance toward monitoring sound levels, many of their ticket buyers will continue to suffer unnecessarily.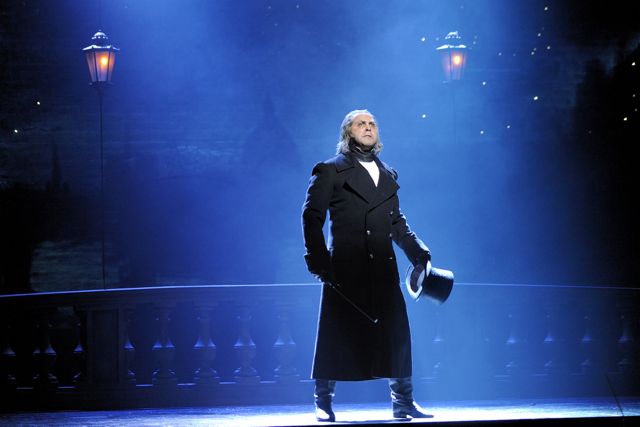 Andrew Varela as Javert (Photo by: Dean Van Der Meer)
I was also quite surprised to see how Matt Kinley's set design (purportedly inspired by Victor Hugo's paintings) and the projections used for the scenes in which Jean Valjean must drag the wounded Marius through the sewers of Paris seemed to darken, diminish, and ultimately cheapen the production. With the exception of some unnecessary strobe lighting during the Act II battle scene, Paule Constable's lighting had some extremely effective moments. Here's the trailer:
Curiously, watching this 25th anniversary production of Les Misérables only made me more eager to see the film adaptation starring Hugh Jackman, which is scheduled to hit theaters at Christmas. Here's the trailer for the film:
REAL LIFE. REAL NEWS. REAL VOICES.
Help us tell more of the stories that matter from voices that too often remain unheard.