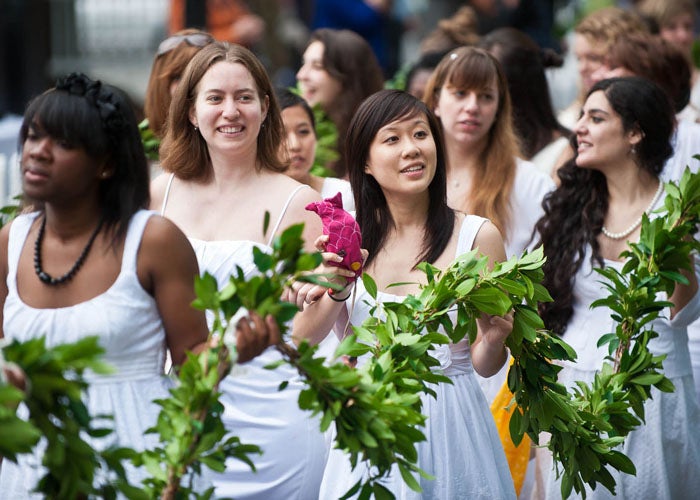 On the eve of the election, as the nation searches its soul, I sit in silence. As a little girl, I dreamed of the day that I might have the chance to cast my vote for a woman president. I want to fully feel the excitement of this moment, but right now I am just exhausted.
So I have chosen to focus my thoughts this week on reflection and remembrance instead: on rekindling the hope that history is long, our democracy is strong and we can all get through this together.
It's easy to lose sight of the fact that we are living through a seminal moment in American history.
There is a distinct possibility that we are about to elect a female president for the first time in our nation's history. In the grand scheme of things, this is watershed. In addition to Democratic Nominee Hillary Rodham Clinton, Green Party candidate Jill Stein is also on the ballot. And eight years ago, the Republican ticket featured VP candidate Sarah Palin.
One hundred years ago, this possibility was unthinkable. To many even today, it remains unthinkable. It was less than a century ago when women were first granted the right to vote, in 1920. It did not come easily. Progress does not come easily.
Turn your face up. Feel the wind. Don't let anyone take this moment, your voice, your glory from you.
Let us not forget the sacrifices of our mothers and foremothers whose battles won us a voice in political life. From visionary firebrand Victoria Woodhull to the black girl magic of Shirley Chisholm, generations of American women have brought us to this day.
We owe so much of our present—and our future—to the past. We are reminded of this by the "I Voted" stickers women are placing on suffragette Susan B. Anthony's gravestone. We see it in the faces of all of the grandmothers who can't believe they have the chance to vote for a female president in their lifetime.
Much of women's history is a history lost. Listen to their voices, remember their stories, for they are part of our own stories and the great American story.
From here on out, I am shutting off the television and not refreshing any more polls. I am curling up with my hot mug of tea and watching "Suffragette" on HBO.
I am doing what I do when I want to calm down and refocus. I am listening to music, to anthems of survival and triumph from women who have shaken off what the world expects of them. It is the soundtrack of our history being fought for and won.
"Listen, to the song here in my heart," sings Beyonce in a soaring track from 'Dreamgirls.'
So I am quiet and I listen.
I close my eyes and imagine the walk to the polling place and the walk home, leaf by leaf, brick by brick, as I too take part in the long march of history.
I am thankful to be witness to this moment. I am grateful in my life to have been shaped by so many bright, brave women who made me who I am today. I am grateful for all of the grandmothers across this great country who have lived to see this day—and those who haven't, but live on in our hearts.
From the deep, I hear a song rising. I hear the words that echo down through the past, that sweep past us and urge us ever onward. Turn your face up. Feel the wind. Don't let anyone take this moment, your voice, your glory from you.
Check out my playlist of girl power anthems in celebration of this moment in women's history.
Calling all HuffPost superfans!
Sign up for membership to become a founding member and help shape HuffPost's next chapter
BEFORE YOU GO
PHOTO GALLERY
Hillary Clinton Style Evolution