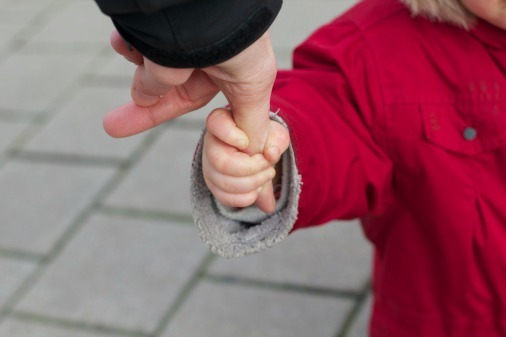 -A toddler peacefully eating a snack, instead of screaming inside the restaurant, like usual.
-A child requesting "more vegetables" at dinnertime, with "please" and "thank you."
-A teenager volunteering to do extra chores around the house.
Does this sound like science-fiction? Something taken from the pages of a fantasy novel, perhaps? You might be chuckling to yourself, but I assure you: these situations are not fantastical. They're very real and attainable.
The short answer is: positive role modeling.
To raise great kids, first, set a great example that your kids naturally want to follow.
You set the tone. You teach your kids how to operate in the world. When you eat your veggies, when you manage your stress levels, when you set routines for yourself and honor them, consistently, your child naturally wants to follow suit. It all starts with you.
"Positive role modeling" sounds simple enough, right? Simple, and yet not always easy to do. Especially when life gets messy and challenging. It's not always easy to be a "positive role model" for your kids when your spouse decides to cheat, when illness strikes, when stress and tension build up, when you're tired, when you're anxious, when you've been wronged, or when you're just in a lousy mood.
Yet, in those trying moments, that is when your child needs you to be a positive role model most of all. Those are the moments when you have a unique opportunity to teach your child, "This is how we can manage stress effectively" and "This is what it means to be honest and also compassionate" and "This is what unconditional love looks like" and "This is what it means to honor your word," and "This is what it means to forgive."
Commit, today, in this moment, to becoming the best person, parent, and role model for your child that you can possibly be. Not just when life is easy. When life is not easy, too.
It is never too late to become the person, parent, and role model that you want to be-and that your child needs and deserves.
Your child is looking to you & counting on you.
PS. A very special announcement:
After working with parents for 29 years--that's hundreds upon hundreds of hours impacting families--I've consolidated decades of insight on how to raise happy, healthy, successful kids into one 172-page book titled: IT STARTS WITH YOU.
This book was a labor of love--love for parents, love for kids, love for the processes that I've shared with clients through the years, and which I've found to be undeniably effective.
IT STARTS WITH YOU was officially released recently, when I was interviewed for a parenting segment on a popular morning television program. Such a thrill to celebrate the "birthday" of this brand new book on the air! Here's how to learn more about this book.
Suzanne Gelb, PhD, JD, is a clinical psychologist, professional life coach, television commentator, and author. She believes that it is never too late to become the person you want to be: Strong. Confident. Calm. Creative. Free of all of the burdens that have held you back--no matter what has happened in the past.
Her insights on personal growth have been featured on more than 200 radio programs, 250 TV interviews and on Time, Forbes, Newsweek, The Huffington Post, NBC's Today, The Daily Love, Positively Positive, and much more. www.DrSuzanneGelb.com.
Disclaimer: This article is for informational purposes only. It is not a substitute for professional or psychological advice, diagnosis, or treatment. Always contact your qualified health provider before implementing any new personal growth or wellness technique and with any questions about your well-being.
Copyright © 2016 Dr. Suzanne Gelb, All rights reserved.