Hey, I'd like to invite you, alongside the San Francisco-Marin Food Bank, to participate in the 2015 Hunger Challenge, it began today and runs through September 18th. This is an exercise in empathy - a call to walk in someone else's shoes for 5 days. They're asking you to spend the week with them cooking meals, using an average food stamp budget ($4.50 a day), plus a grocery list reflecting items featured at their weekly food pantries.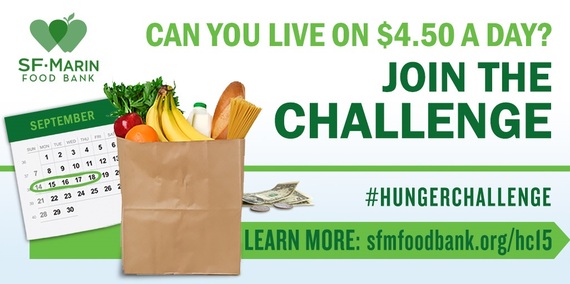 Together, we can raise awareness of the struggles associated with food insecurity and mobilize the public to end hunger in San Francisco and Marin, where 1 out of every 4 residents is hungry.
Note: Roxy and Natalie's mom, Teri, works at the Food Bank and we've known each other for many years. The idea for me to challenge 'em came up as we were discussing our recent work efforts when we saw each other at Reverie, our local coffee shop, a few weeks ago. Teri's younger daughter enthusiastically piped up that she wanted to do the Challenge and the idea took hold.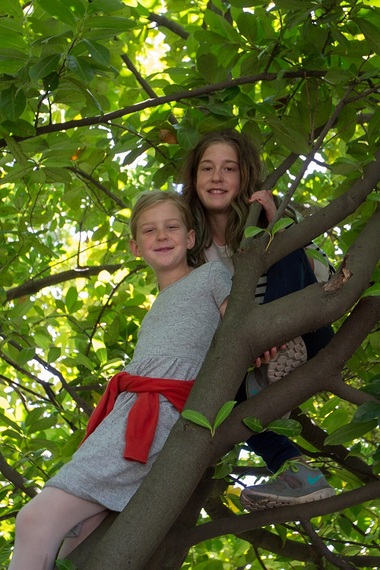 (This is allegedly Roxy and Natalie...I recall them being much shorter)

Teri updated us, re: Day 1 of the #HungerChallenge:
Roxy and I set out for Trader Joe's at 5 p.m. yesterday, armed with a few notes and a basic plan for the week. Trader Joe's on a Sunday evening is a madhouse, and we didn't help matters since we stopped constantly to tally the cost of the groceries we were accumulating several times in every aisle. What is immediately apparent from the planning and shopping is how cautious my menu planning is under these circumstances. As is typical in every family, different people like different things more or less. When there's not money to spare, indulging individual idiosyncrasies is just not an option. Neither is trying something new that people might not like - so we shoot straight down the middle and plan a week of the classic favorites: black bean tacos, lentil soup, pasta with chickpeas. We eat mostly vegetarian anyway, but we typically eat fish at least once a week. Everyone likes salmon, but that's definitely not an option on this budget and I don't want to blow money on some other kind of fish that I don't know how to prepare and might not go over. Bacon (universally popular and goes well with pasta or breakfast) is also too pricey, so beans are our major protein source this week. I'm also noticing a lot of white foods - pasta, bread, rice, taco shells.

One decision that I made was to try to buy organic. I know this is something that probably would have to go by the wayside pretty quickly if this way of living became the norm for me, but I wanted to try simulate what life would really be like if suddenly we had extremely limited income and had to rely on food stamps -- it's not like I would be a different person. I also wanted to challenge the notion that people living on limited resources somehow don't -- or shouldn't -- enjoy good food, however defined. It's just that it's expensive.

A final word about the food from the (simulated) Food Bank pantry: without this produce, I would be over budget for sure. There should be enough fruit for the week (my husband this morning, "Can I take an entire apple or is that too greedy?") and the carrots and onions will make lunches and soup possible. I only had to buy a few other kinds of produce, like spinach, romaine, and garlic, and I think we should be okay. Stay tuned to see what we do with all those potatoes...

You can see what we bought at Trader Joe's in this picture. This, plus a couple of key items like coffee and milk, is what we have for the week. We still have a little room in the budget in case we need to buy something later in the week -- but not much. After breakfast and lunch-making this morning (and the dog snatching a piece of toast with PB on it...), it already looks like we'll need more bread.
I'll be sharing their updates each day this week. Please check back in to see how they're doing and to cheer 'em on. And, maybe do one better and join Roxy and Natalie to show your support for the people in our community who struggle to get enough to eat.
REAL LIFE. REAL NEWS. REAL VOICES.
Help us tell more of the stories that matter from voices that too often remain unheard.