Global forced displacement has climbed to record levels, with a growing number of people from crisis-afflicted regions fleeing to countries like the U.S. to escape war and persecution. But for many who reach America, it is no longer a final destination.
In January and February alone, Canadian police caught more than 1,100 individuals illegally entering the country from the U.S. ― nearly half the number of people apprehended at the border in all of 2016. Some 5,500 people applied for asylum during the same two-month period.
Immigration officials released data this week illustrating the surge in unlawful crossings. They expect those crossings, as well as asylum claims, to climb even higher as the weather warms, putting Canada on track for its largest numbers in years.
A recent Reuters/Ipsos opinion poll reveals that nearly half of Canadians want asylum-seekers who cross the border illegally to be deported back the U.S., and disagree with the way Ottawa is handling the issue.
In Canada, asylum-seekers attempting to enter at a legal port or crossing will be turned back to the U.S. unless they meet specific criteria outlined in the 2002 Safe Third Country Agreement between the U.S. and Canada ― like being an unaccompanied minor. If they're caught after entering the country illegally, however, they cannot be turned away ― instead, they are detained briefly, given shelter, then allowed to file an asylum claim from within Canada.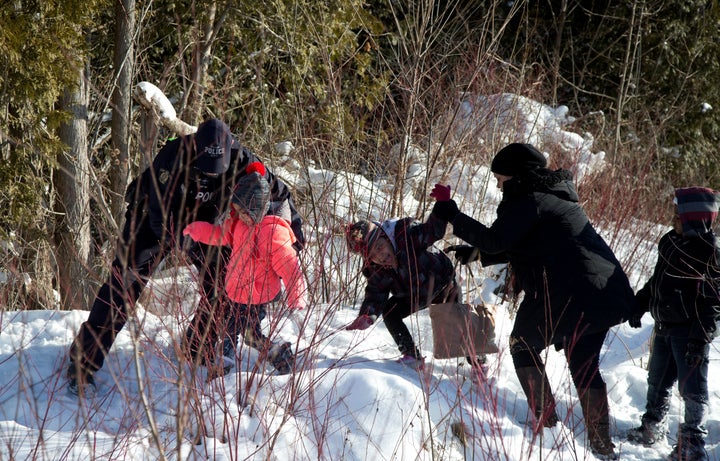 Hundreds of people, mainly from the Middle East and North Africa, have walked north across the U.S.-Canada border in the wake of U.S. President Donald Trump's election. Undeterred by severe weather conditions, some have suffered health issues and even lost fingers to frostbite as a result.
"The Trump policy, he was just deporting the guys over there. We didn't see any future there, so that's why we came over [to Canada]," a Pakistani refugee who spent a year living in New Jersey told NPR. "Canada is the best place. They give us the shelters. My lawyer, she's being paid by the government."
Trump took office after spending months on the campaign trail demonizing refugees and repeatedly vowing to "send them back." He also pledged to construct a multi-billion dollar wall along the U.S.-Mexico border to curb illegal immigration.
Little more than a week after his inauguration, the president issued an outright ban on travel and immigration from several Muslim-majority countries, suspended U.S. refugee resettlement for several months and halted refugee admissions from war-torn Syria indefinitely. Federal judges intervened, so Trump's administration revised and reissued the ban, which was again blocked in court.
As chaos unfolded in the aftermath of Trump's ban, Canadian Prime Minister Justin Trudeau sent a clear message to refugees: "To those fleeing persecution, terror and war, Canadians will welcome you, regardless of your faith," he said. "Diversity is our strength." His government has accepted more than 40,000 Syrian refugees to date.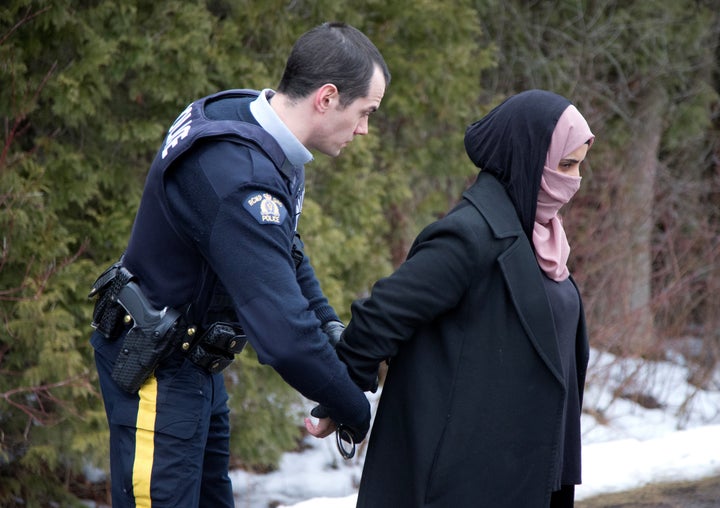 But the rising number of illegal crossings and asylum claimants has quickly become both a humanitarian issue and a source of political controversy. Canadian Conservative candidate Kellie Leitch is calling for an intensified immigrant screening process that she says will ensure that newcomers have "Canadian values," including tolerance and generosity.
Leitch slammed the Liberals' "wrongheaded policies" on immigration as "foolish and costly" in a recent post on Facebook. "It is not compassionate to allow people who don't share our Canadian values to come here," she wrote. "They will never integrate or accept our way of life, and the result will be constant conflict and heartache." 
Her proposed policies echo Trump's calls for "extreme vetting" of immigrants through ideological tests.
Yet while Trump's anti-immigrant rhetoric and policies may be "spooking some people" enough to cross illegally into Canada, they only account for part of the issue, Janet Dench, executive director of the Canadian Council for Refugees, told The Huffington Post.
Calling all HuffPost superfans!
Sign up for membership to become a founding member and help shape HuffPost's next chapter
BEFORE YOU GO
PHOTO GALLERY
Canada Welcomes Refugees