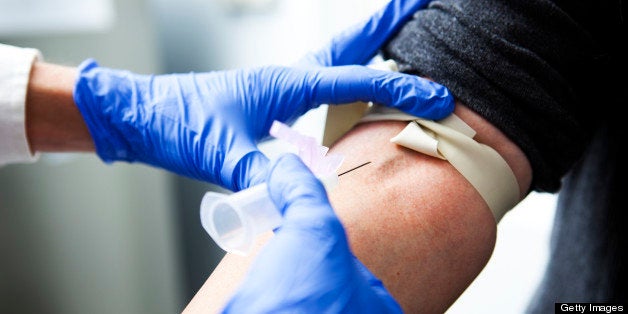 Canada is lifting a lifetime ban that had prevented gay men from donating blood; but some restrictions will still be enforced.
The non-profit Canadian Blood Services, which manages the country's blood supply, announced Wednesday that the policy banning gay men from ever donating blood will end by summer 2013. The organization released a statement saying Health Canada, the national public health department, gave approval for the lifetime ban to be lifted and replaced with a five-year deferral period. Thus, gay men can donate blood so long as they haven't had sex with another man within the last five years.
"Recent scientific data and advances in transfusion safety led us to review the exclusion of men who have had sex with another man. This change is scientifically justified and will in no way endanger the high degree of safety of blood products," Dr. Marc Germain, vice president of medical affairs at non-profit blood management organization Héma-Québec, said in a separate news release.
According to Héma-Québec, there is still the need for an exclusionary period, due to the fact that some groups are "at risk of infections that can be transmitted through transfusion." The organization went on to say, "The frequency of HIV transmission among men who have had sex with other men (MSM) is still higher today than in the general population." In 2011, approximately 46.7 percent of people living with HIV in the country were MSM.
One Blood Services executive acknowledged that some might have a problem with Canada's new MSM waiting period.
"We recognize that many people will feel that this change does not go far enough, but given the history of the blood system in Canada, we see this as a first and prudent step forward on this policy," Dr. Dana Devine, vice president of medical, scientific and research affairs at Canadian Blood Services, said in a stement released by Canadian Blood Services. "It's the right thing to do and we are committed to regular review of this policy as additional data emerge and new technologies are implemented."
CTV notes that multiple countries already permit gay men to donate blood, and some even have a shorter deferral period than Canada. In Britain and Australia the deferral period is one year, while in South Africa it is six months.
In the U.S., however, gay men remain prohibited from donating blood.
As of 1983, the U.S. Food and Drug Administration has barred any gay man who has had sex with another man since 1977 from donating blood. The FDA considers 1977 the beginning of the AIDS epidemic in the U.S., and this donation policy was enacted during a time when doctors were still unsure how AIDS spread, CNN notes. At that time, there were no legitimate tests to check for HIV in the blood, and infected blood was finding its way into the nation's supply.
Over the years there have been numerous petitions to lift this restriction. Most recently, students from Sarah Lawrence College and San Jose State University teamed up in March to petition for the FDA to change its policies on MSM donations.
Canada's policy change will be effective July 22.
Calling all HuffPost superfans!
Sign up for membership to become a founding member and help shape HuffPost's next chapter
BEFORE YOU GO
PHOTO GALLERY
18 LGBT Pride Facts