Canada is an amazing country for long road trips. In fact, there is so much to see that you kind of want to have your own car to drive around and explore. We have done this multiple times and driven from the USA to Canada with our own car. However, during my last two trips to Canada, I put Eastern Canada to the test to explore what happens if you don't have a car. How easy it is to navigate and see as much as possible when you are relying on other modes of transportation? Turns out, a lot! Being open to different means of transportation is just part of the fun!
Explore Canada with Katja Presnal on Findery!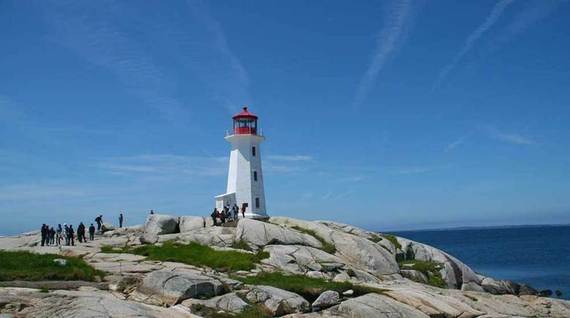 This photo and the ones that follow were taken by Katja Presnal of Skimbaco Lifestyle
Yes, I admit, first I embraced the least adventurous way of exploring Canada without a car; I headed to Nova Scotia and New Brunswick on a luxury cruise ship from New York City. The vacation started as soon as we got on board. We were pampered with entertainment, good food, and family fun even before crossing the border to Canada. Cruising was the perfect choice, especially because I traveled with my sister, our children, and my mother-in-law, and the ship offered so much for different generations. It was also perfect, because it was easy to choose different excursions once we got to Canada. Cruising isn't for everyone, but it's a great way to see as much as possible in a relatively short time. I'm all for independent travel, but sometimes having a vacation where you just can rest and enjoy yourself is not such a bad choice.
2. Fly to Halifax, Nova Scotia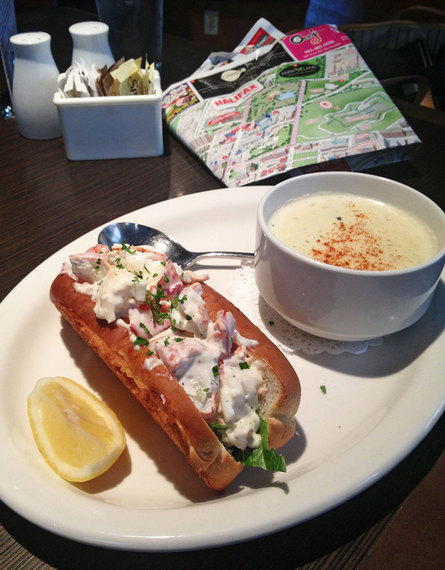 Halifax is a busy seaport with rich history and a coastal nature playground surrounding it, but you don't have to arrive by boat. You can get a direct flight to Halifax from most major airports in Canada, and the largest hubs in the USA. You can even catch a direct flight to Halifax from London, England, from Frankfurt, Germany, and from Reykjavik, Iceland, so this destination is not as difficult to reach as you might think.
Nova Scotians might as well coin the term "Northern Hospitality," because they have mastered the art of making everyone feel welcome everywhere. One of the things that makes Halifax special to me is their rich history in seamanship. They were even part of the history of the Titanic, and Titanic stories still abound. Be sure to head to the marina to find great museums like the Immigration Museum. Eat an amazing lobster roll for lunch at McKelvie's, and for dinner, enjoy the oyster bar at The Five Fishermen. Don't stop there! Halifax offers so much more. It's really a great place for everyone, whether you are into maritime history, water sports like sea kayaking, or you just enjoy great seafood.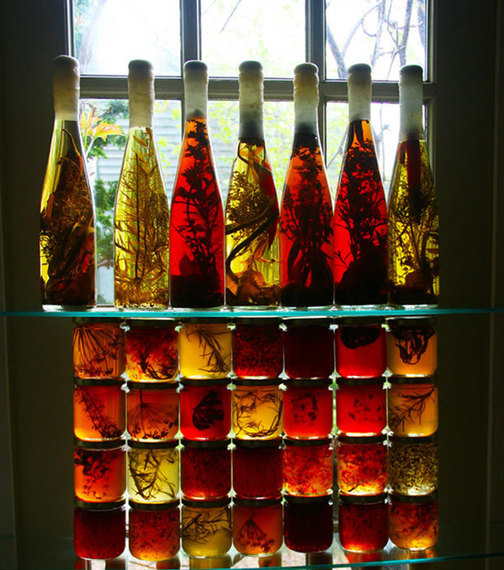 I admit, Nova Scotia is one of those destinations where I would have enjoyed having a car to drive around. Having a car makes it easier to visit places like Tangled Garden, a charming place about an hour outside the city, that has a shop where they sell jellies and other goodies made from ingredients collected in the garden. Or to visit the Titanic Cemetery, where you can see J. Dobson's grave (remember, from the movie Titanic?) among the others who were lost on the tragic shipwreck. Nova Scotia is also home to a few vineyards, and I hear it has amazing golf courses as well. While a car gives you certain freedom, most of these places are easily reachable by guided tours or by public transportation.
While you're in Nova Scotia, don't miss Peggys Cove, an idyllic fishing village with a famous lighthouse!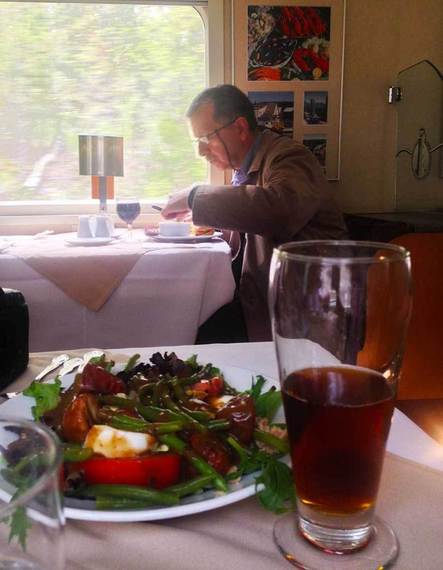 A train ride from Montreal to Halifax takes over 22 hours, but it's a fun trip if you are feeling adventurous! I highly recommend traveling in Canada by train. I flew to Halifax and took the train first to Montcon, New Brunswick and experienced the high and low tides of the Bay of Fundy. Then we continued our trip to Montreal, Quebec, on a 17-hour-long overnight train ride. We finalized our journey to Toronto a few days later.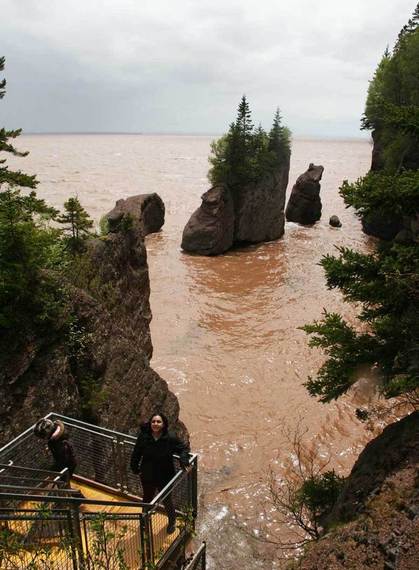 I've traveled by train in Europe and Asia before, but this was my first long distance trip by train in North America, and I would do it again in a heartbeat. The VIA Rail Canada trains come equipped with first class cabins with beds and your own bathrooms, and you can even enjoy wifi throughout your trip. Breakfast, lunch, and dinner are served in the restaurant car, and on the end of the train you'll find a dome car, where you can just relax and enjoy the views zipping by. Even the long overnight hauls in the train were more comfortable than any long haul flights I've ever taken.
5. Use the metro or bicycle around Montreal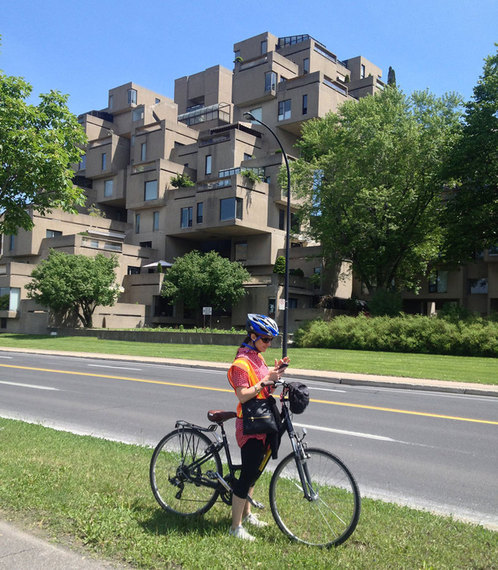 I have a tip for Americans: if you can't make it to Paris, go to Montreal. French-speaking Montreal in Québec has an amazing international vibe, and the cafes and the subway signs will make you feel like you are in Paris. The botanical gardens are amazing, there is a high level of entertainment (did you know Cirque du Soleil was founded in Quebec?), and the city is so easy to navigate by subway, or even by bike! Montreal is set on an island on the Saint Lawrence River, and I highly recommend taking a bike tour to nearby Saint Helen's Island, where the World's Fair was held in October 1967, and where the F-1 races are held each summer.
6. ExploreToronto by boat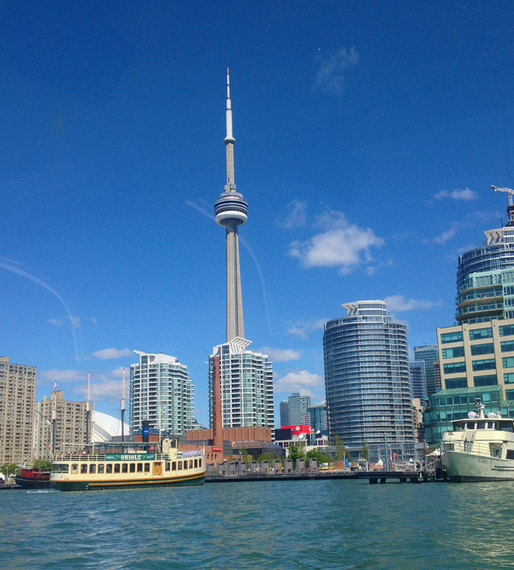 One of the reasons I love visiting Eastern Canada is the amount of boat travel you can do. You can head out on the Atlantic Sea from Nova Scotia, cruise along the St. Lawrence River in Montreal, or sail Lake Ontario when visiting Toronto. Toronto Harbor Tours offers a great way to visit Toronto with their frequent "hop on hop off" type of boat tours that depart from Pier 6 and go to Toronto Islands. It's a fun way to see all of Toronto's skyline and the famous CN Tower and SkyDome as you pass the city center. We took a tour boat to the Centreville Amusement Park, an old-fashioned children's amusement park located on Centre Island, one of the many Toronto Islands. The amusement park had a small farm section and a petting zoo, making it the perfect day trip for kids.
No matter what means of transportation you choose, Canada has so much to offer, you're sure to find something that will delight you.