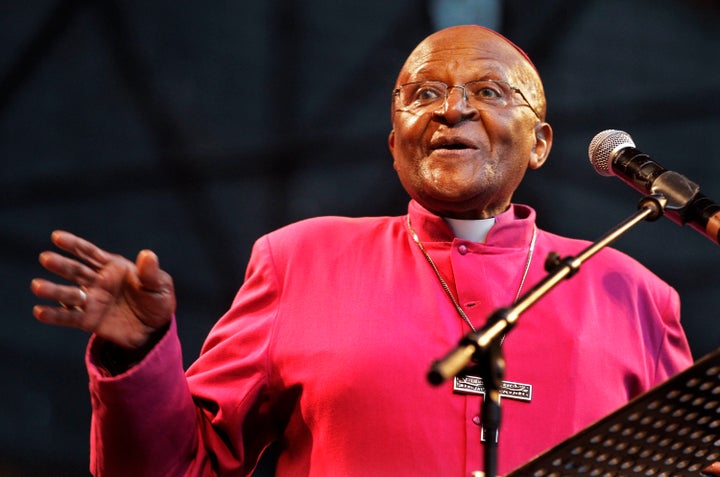 WASHINGTON -- African leaders including Archbishop Desmond Tutu, Jay Naidoo of former President Nelson Mandela's cabinet, and Zwelinzima Vavi, general secretary of the Congress of South African Trade Unions, on Wednesday released an ad calling on Canada to step up the battle against global warming, rather than actively promote the use of its tar sands.
The ad comes just days after Canada signaled at climate negotiations in Durban, South Africa that it would likely pull out of Kyoto Protocol, an international treaty aimed at combating global warming. The treaty is scheduled to expire in 2012.
"By walking away from Kyoto, the Canadian government is also damaging our reputation as a country that keeps its word," said Gillian McEachern of Environmental Defence, one of the groups behind the ad. "The tar sands are not only turning us into a polluting nation, but also into one that will break its commitments in the service of dirty oil."
Canada has already angered many environmentalists with its efforts to push crude oil from its tar sands in Alberta to oil refineries along the Gulf Coast, a move that NASA scientist and leading climatologist James Hansen has said would be "game over for our climate."
"We used to boast about how Americans sewed Canadian flags on their backpack when travelling abroad," said Keith Stewart of Greenpeace Canada in a statement. "Now we try to bully other nations into taking our dirty oil. If we want to be taken seriously in the fight to stop climate change, we have to draw the line at the tar sands."
The ad, slated to run Wednesday in the Globe and Mail , contrasts Canada as one of the first western countries to impose sanctions against South Africa's apartheid regime with its failure to pull its weight in the fight against global warming.
Canada, you were once considered a leader on global issues like human rights and environmental protection. Today you're home to polluting tar sands oil, speeding the dangerous effects of climate change. For us in Africa, climate change is a life and death issue. By dramatically increasing Canada's global warming pollution, tar sands mining and drilling makes the problem worse, and exposes millions of Africans to more devastating drought and famine today and in the years to come. It's time to draw the line. We call on Canada to change course and be a leader in clean energy and to support international action to reduce global warming pollution.
Africa is one of the places most vulnerable to climate change, according to the Intergovernmental Panel on Climate Change, with reductions in agricultural yield projected to be as high as 50 percent in some countries by 2020.
Environmental groups behind the ad -- including Environmental Defence Canada, Equiterre, Greenpeace Canada, Natural Resources Defense Council, Nobel Women's Initiative and Sierra Club U.S. -- will also be launching a new website with videos of several anti-apartheid activists describing effects of climate change on their home country and calling on Canada to step up in the battle against climate change.
Zodwa Rannyadi of the Concerned Residents Association in Soweto, is one such activist. Watch her call on Canada to do its part in the global fight against climate change and restore its reputation as a leader on global issues:
Related
Popular in the Community