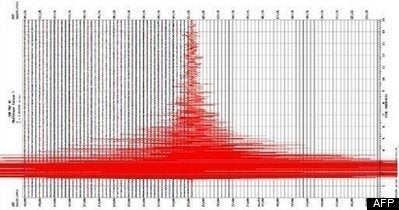 A Canada earthquake shook Toronto and Ottawa at approximately 1:45 p.m. Eastern Time today, June 23, 2010. The USGS reports the quake had a magnitude of 5.0.
Numerous reports flooded Twitter, including from the National Post in Toronto, which tweeted about heavy shaking to its building about 30 seconds after similar reports from Ottawa.
We're mapping reader reports of where the quake was felt as we receive them. Check out our map here. And let us know if you felt it in your area at world@huffingtonpost.com! Thanks to all the readers that have already written in.
Scroll down for video of the quake.
The Globe and Mail is reporting on its mobile site that there are numerous reports of "unusual ground shaking in various parts of Ontario," as well as Buffalo, N.Y.
A reader Andrew Whitaker emailed in from Michigan, "I'm working at university of michigan hospital currently in ann arbor michigan and we experienced two 10 second intervals of light shaking that is being reported as part of the earthquake in canada."
Another reader Sharon Shaw said she felt the quake from Huntington, West Virginia, near the Ohio and Kentucky border, while reader Crystal Buckley said she felt tremors at approximately 2:05 p.m. in Bath, N.Y.
Reader Jamie Malone wrote in to say "felt it in pittsburgh! 4th floor office building."
And here's a reader report from Canada, courtesy of Kahlya Ohlhoff: "I am in Hamilton ON and felt the quake. It lasted almost a minute, being on the third floor, we evacuated the building. It was pretty intense, the flowers and computer monitors were shaking enough to make our hands mimic the movement."
We've also received reports from readers that the quake was felt in Cincinnati; Kalamazoo, Michigan; Milwaukee; East Hartford, CT; Staten Island; Mt. Laurel, NJ; and Pittsburgh.
Here's some great video, courtesy of Fox 40 Sacramento via CBC, of a TV studio shaking as the quake hits.
More news about how the earthquake affected the New York area here.
Did you experience the quake? Let us know at world@huffingtonpost.com!
Related
Popular in the Community