President Donald Trump is changing not just American politics. Canadians are increasingly concerned that the president's nativist and anti-Muslim rhetoric is emboldening hate groups in a Canada, which has long prided itself on multiculturalism and tolerance.
This weekend, far-right activists rallied against asylum seekers on the border between Quebec and New York as riot police and counterprotesters gathered nearby. Members of the Three Percent — a militia founded in the United States that has recently spread to every Canadian province — were at the event. It's just one of the many far-right groups that have started chapters in the Great White North in the months since Trump's election.
"After he was elected, obviously the U.S. saw a spike in hate-inspired activity. But Canada did too," said Ryan Scrivens, a fellow at Concordia University who specializes in tracking far-right groups. He refers to the phenomenon as the "Trump effect."
"When the U.S sneezes, Canada catches a cold," he added, repeating the adage.
Two mass killings in the last 18 months have added to Canadians' fears of violent extremism. Both attacks were highly unusual for a country that has mostly been spared the kind of deadly violence that has become all too familiar in the United States.
Last month, a 25-year-old man drove a truck into a crowd of pedestrians on a busy Toronto street, killing 10 people. A post on the suspect's Facebook account called for a "rebellion" by incels, or involuntary celibates, who are part of the far-right manosphere and often espouse violent misogynistic rhetoric. The post celebrated Elliot Rodger, an American who killed six people after writing a hate-filled manifesto against women.
In January last year, a man attacked worshippers at a Quebec City mosque, killing six Muslim men. Before the attack, the shooter obsessed over far-right Islamophobia, American mass killers and Trump.
Trump's rhetoric has "galvanized Canadian-based white supremacist ideologies, identities, movements and practices," Scrivens and three fellow researchers argue in a forthcoming article in the Journal of Hate Studies.
Canada now has as many as 130 active right-wing extremist groups, according to researchers ― about a 30 percent increase since the last assessment in 2015.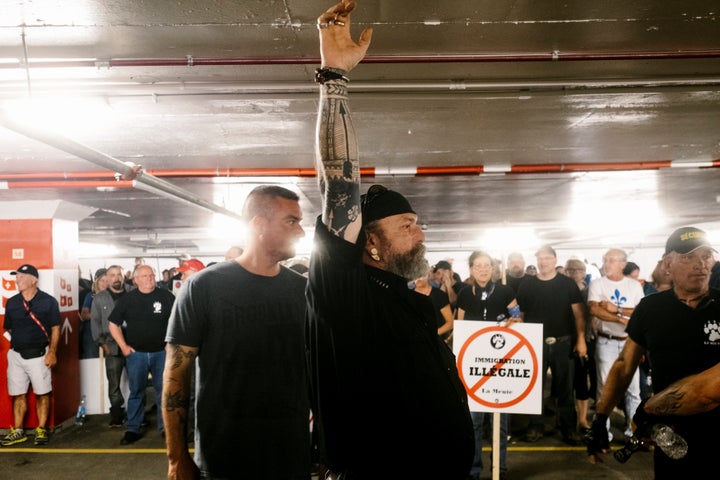 Some Canadians are especially worried about the Three Percent, a group whose members often tote assault rifles at American white nationalist rallies. Canada's stricter gun laws mean members can legally carry only items like baseball bats and tire irons. But, according to reports from Vice and other news outlets, the group conducts paramilitary training in private with guns and tactical gear.
"The fact that there are armed militia groups in Canada right now is anathema. This is not something that we're accustomed to," said Barbara Perry, an expert on the Canadian far right at the at University of Ontario Institute of Technology.
"It's just terrifying what the potential consequences are," she said.
Representatives for Canada's largest law enforcement and intelligence services refused to comment on how they are addressing any threats posed by the Three Percent and other far-right groups.
It's not just American hate groups that have made inroads in Canada. Germany's PEGIDA (Patriotic Europeans Against the Islamization of the West) has a Canadian chapter whose members have violently clashed with counterprotesters. Soldiers of Odin, originally a Finnish group with ties to neo-Nazis, is also active in Canada and carries out foot patrols in immigrant neighborhoods.
Establishing what exactly has led to the far right's growth is difficult. Although some say Trump's rhetoric has fueled Canada's hate groups, Canadian extremists have long borrowed far-right narratives from Europe and the United States.
Justin Bourque, who killed three Royal Canadian Mounted Police officers in a shooting attack in 2014, spread anti-government Three Percent memes and anti-Semitic conspiracy theories on social media. He embraced American gun culture and kept a Confederate flag on his bedroom wall.
Canadians also face similar anxieties over immigration and identity that have boosted the far right in other countries.
In Quebec, where some residents fear changing demographics threaten the province's French-Canadian identity, anti-Islamic and anti-refugee groups flourish. The Montreal Gazette revealed this month that one of North America's most influential neo-Nazis lives in Montreal.
Quebec's largest far-right group is La Meute, or the Wolf Pack, which frequently protests against refugees and immigration. La Meute denies it is Islamophobic, but in private Facebook messages, its leadership has discussed using pig heads to vandalize mosques and intimidate Muslims.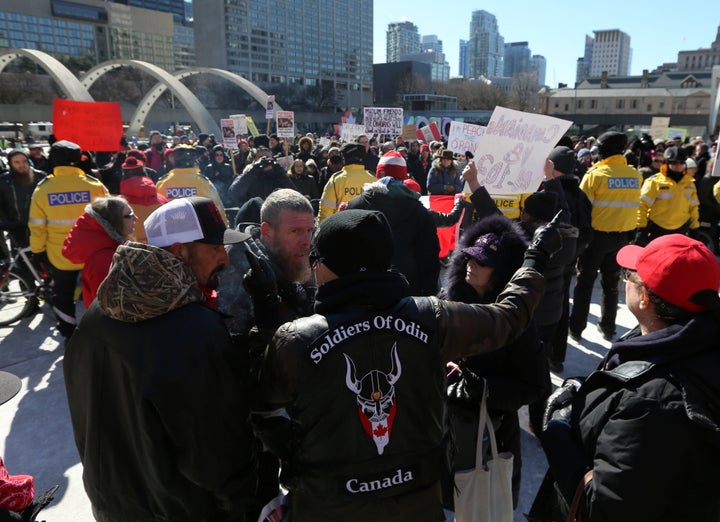 Canada has become a hub for far-right media, and several Canadians are "alt-right" darlings. The country's Rebel Media has provided a launchpad for white nationalist, anti-Islam activists and bloggers who espouse hate and conspiracy theories.
Canada has its own ecosystem of podcasts, forums and Facebook groups that rail against Muslims, feminists and Prime Minister Justin Trudeau's liberal government.
At times these Canadian "alt-right" communities veer into self-parody. A post on one subreddit accused the makers of a bottle of maple syrup of "virtue signaling" because it was certified as a halal product. Another meme calls for making Ontario great again.
"The number of far-right voices is increasing," said Leila Nasr, a spokeswoman for the National Council of Canadian Muslims. "They've become disproportionately loud."
Community groups and anti-hate advocates want authorities to take a stronger stand against the far right and for politicians to forcefully call out the groups that are attempting to put a polite, Canadian face on bigotry.
"If we allow them to go unchecked and unchallenged, the consequences are ugly, and we've seen in Canada that they can even be deadly," Nasr said.
Popular in the Community