The Canadian Parliament passed a motion on Thursday to publicly denounce Islamophobia and develop strategies to end religious discrimination. 
In a vote split 201-91 in favor of the non-binding motion, the Parliament agreed to "condemn Islamophobia and all forms of systemic racism and religious discrimination." The motion, dubbed M-103, also tasks the Parliament with establishing a committee to investigate policies that could be aimed at "reducing or eliminating systemic racism and religious discrimination including Islamophobia in Canada."
Iqra Khalid, a Liberal member of Parliament who is Muslim, introduced the motion in December as a response to /america.aljazeera.com/opinions/2015/3/islamophobia-sells-in-canada.html"}}" data-beacon-parsed="true">rising anti-Muslim sentiment. It took on renewed significance in January after a mass /www.huffingtonpost.com/entry/5-killed-in-shooting-at-quebec-mosque_us_588ea778e4b01763779537b0"}}" data-beacon-parsed="true">shooting at a mosque in Quebec City left six worshippers dead. 
The motion didn't propose outlawing anything, as several conservative websites claimed in the weeks and months after Khalid introduced the bill. A number of of far-right outlets called the motion a "war against free speech" and a "modern day blasphemy law."
The Daily Wire, founded by former Breitbart editor-at-large Ben Shapiro, called the motion a "draconian" measure that would consider "any and all" instances of Islamophobia as hate crimes. Jihad Watch, LifeSiteNews and The Rebel ran stories claiming the motion would be a "first step" toward imposing Islamic law, or Sharia.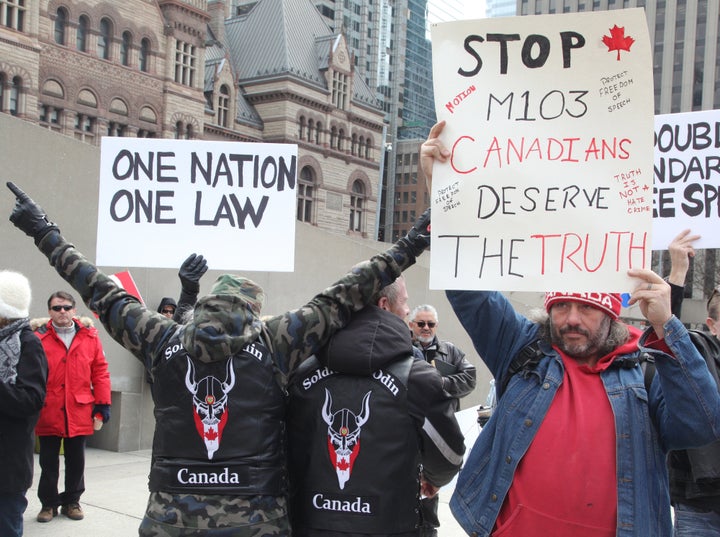 The motion set off a number of protests and counter-protests across the country as members of Parliament debated it ahead of the vote. A survey published Thursday by polling non-profit Angus Reid Institute found that 42 percent of Canadians said they would vote against the motion. Just 29 percent said they would vote in favor.
Khalid, who represents Mississauga-Erin Mills in the House of Commons, rejected the idea that her motion would hinder free speech. Though it names Islamophobia, the MP said, the motion's aims are broad. "All forms of racism are interconnected, they are not separate," Khalid told The Huffington Post in February. "People who are targeted by Islamophobia include Sikhs, Arabs, and Black Canadians and many other minority groups."
Calling all HuffPost superfans!
Sign up for membership to become a founding member and help shape HuffPost's next chapter
BEFORE YOU GO
PHOTO GALLERY
Muslim Women Who Made A Difference In 2016