Dozens of asylum-seekers have walked miles in freezing temperatures to illegally cross from the United States into Canada, arriving in small towns along the border in recent weeks.
Amid fears that U.S. President Donald Trump's platform means the U.S. is no longer a safe place for refugees, they're trying to get around the Safe Third Country Agreement, a reciprocal deal the U.S. and Canada signed in 2002 establishing that refugees must file asylum claims in whichever of the two nations they arrive in first.
Already, two men making the journey into Canada have lost their fingers to frostbite. Afraid that dangerous irregular crossings will rise, refugee rights organizations and immigration lawyers are leading the calls to revisit the agreement.
But it's not just because of Trump. Advocates say heightened anxiety over the new U.S. administration and a small surge in irregular crossings are bringing attention to an agreement that's always put refugees at risk.
"Our view is that the United States has never been a safe country for all refugees," said Janet Dench, executive director of the Canadian Council for Refugees.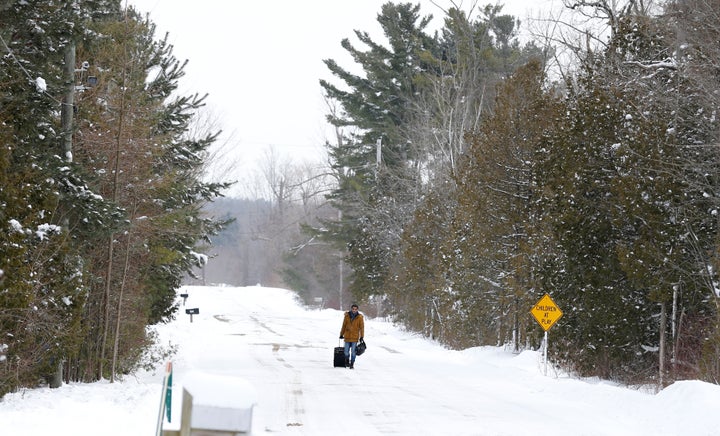 In theory, the Safe Third Country Agreement is meant to stop cross-border asylum claims and prevent internal migration issues. But lawyers and rights groups say that the U.S. and Canadian systems are too dissimilar for the agreement to be fair to all refugees, and that it should be suspended to stop people from endangering their lives trying to get to Canada, where the asylum process and climate for refugees are seen as more favorable.
"The reality is that despite our similarities, our laws are different. The criteria is not exactly the same, the adjudication is not the same," said Michael Niren, immigration lawyer and CEO of VisaPlace.com.
"There are cases where an asylum-seeker in the U.S. wouldn't get approved but would get approved in Canada, and possibly vice-versa," he said.
Under the current agreement, refugees can't, for example, arrive in the U.S. but then decide to make a Canadian asylum claim at the nearest U.S.-Canada land border crossing. (There are exceptions, including for unaccompanied minors or people with direct relatives in one of the two countries, but they are limited.)
However, once people get past the border of the country they want to settle in, the agreement no longer applies. That's why people are making the illegal crossings in the first place ― once they're in Canada, they can apply for Canadian asylum.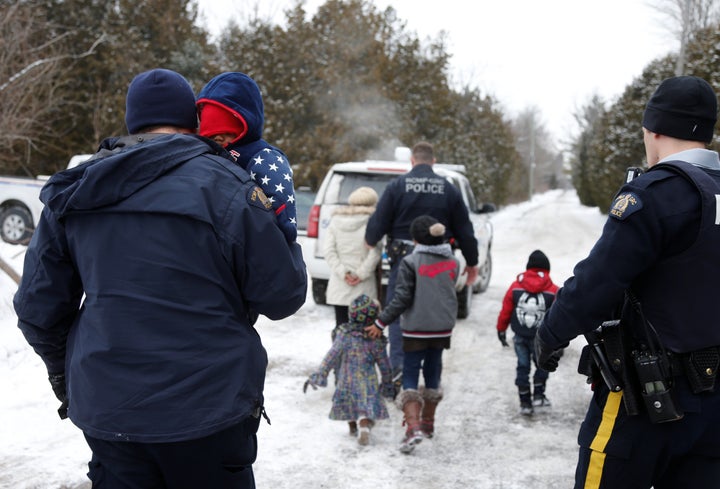 The longstanding debate over the Safe Third Country Agreement has gained increased media attention and urgency in recent weeks, as uncertainty grows over U.S. asylum and immigration policy under Trump.
Immigration lawyers are reporting a spike in calls since Trump's election, not only from those seeking asylum but from a wide range of immigrants who are worried about what the new administration will mean for their status.
"Every time there's a news cycle about another move the Trump administration makes, it's met with an increase in phone calls from the U.S.," Niren said. "We're getting calls from ... individuals who thought they would be making a refugee claim in the United States or who are in the process of it and are worried. They are considering Canada."
Dench made the same observation. "The situation since President Trump came into office has got markedly worse," she said, citing Trump's now-suspended ban on immigration from seven Muslim majority countries and his anti-refugee rhetoric.
Yet Trump is likely not the sole reason behind the increase in irregular crossings, Dench says, explaining that the global number of refugees has risen in recent years and it's only natural that a certain percentage of that group will find its way to Canada. Those crossing illegally also make up a tiny percentage of Canada's overall refugee intake.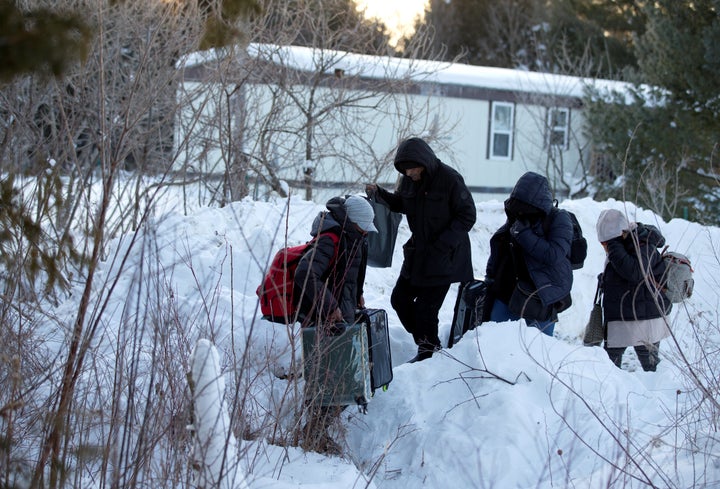 Dench's organization and other refugee advocacy groups have long opposed the Safe Third Country Agreement and have challenged its legality in Canadian federal court. They believe that the government should make use of an article in the agreement that allows either party to unilaterally suspend the Safe Third Country designation for a renewable period of three months.
The agreement has created a situation in which people who worry they won't receive a fair asylum hearing in the United States are now pushed toward illegally crossing the border, immigration lawyers argue.
The argument is similar to one that migration experts have advanced amid the refugee crisis in Europe. For years, aid groups have called for greater access to safe and legal means of applying for asylum in the European Union to prevent migrant deaths and irregular crossings.
A similar debate over what constitutes a safe third country also exists in the context of the European crisis, after the EU and Turkey reached a controversial agreement to return migrants entering EU countries to Turkey. Rights groups believe that Turkey shouldn't qualify as a safe third country due to restrictive laws and poor conditions for refugees there.
Yet despite some parallels, the scale of irregular crossings into Canada from the U.S. is infinitely smaller than migration to Europe. Advocates of suspending the agreement dismiss fears that doing so would cause a massive surge in asylum applications ― and even if that happens, they say, it would be better to deal with refugees in an orderly way through legal channels.
Canada has so far shut down talk of revisiting the Safe Third Country Agreement. Following Trump's immigration ban, a spokeswoman for the Canadian government, Nancy Caron, issued a statement saying the Canadian government "has no indication that the executive order has any impact on the American asylum system."
But keeping the agreement in place contradicts Prime Minister Justin Trudeau's repeated vows that Canada is a welcoming and open place for refugees, lawyers and rights advocates allege.
"The messaging from the Prime Minister's office is very positive for intending immigrants and asylum seekers, but in law and in practice, it's a very different story," said Toronto immigration lawyer Matthew Jeffery.
"We hope that the government will seriously consider withdrawing from the agreement, but until they do so, all we can tell people who are in the United States is that you can't really come into Canada."
Correction: This article previously described VisaPlace as a Canada-based law firm. It is a Canada and U.S.-based immigration legal tech and marketing company.
Popular in the Community