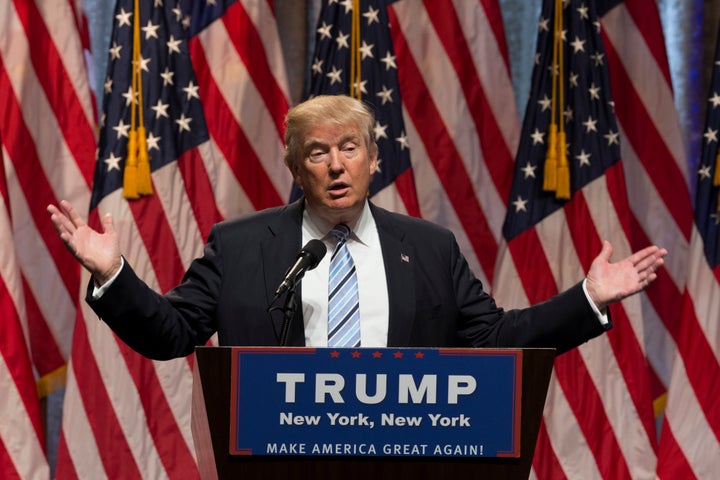 America's northern neighbors did not react well to the results of the presidential election this week. The majority of Canadians had hoped former Secretary of State Hillary Clinton would emerge victorious. Now, they worry Donald Trump's leadership will harm the United States' relationship with their country.
A public opinion poll conducted by the Angus Reid Institute reveals that nearly half of Canadians are "very upset" with the outcome of the election. But Prime Minister Justin Trudeau responded to the news with characteristic diplomacy.
"Canada has no closer friend, partner, and ally than the United States," Trudeau said in a statement Wednesday. "We look forward to working very closely with President-elect Trump, his administration, and with the United States Congress in the years ahead, including on issues such as trade, investment, and international peace and security."
His fellow Canadians have expressed a less optimistic outlook. The ARI poll shows that trade issues are among their main concerns about Trump's looming presidency, as Canada and the U.S. share one of the world's largest bilateral trading partnerships.
Days after the Republican's electoral triumph, congressional leaders confirmed the end of the pending Trans-Pacific Partnership ― a massive international free trade agreement involving Canada and the U.S. that Trump has denounced as overly complex and "a terrible deal."
When Canada signed the proposed TPP back in February, ARI found that half the country's population was unsure whether it viewed the deal favorably or unfavorably. In its latest report, the polling institute highlights Trump's campaign promise to withdraw from the agreement as a factor that may have influenced Canadians' trade-related anxieties. However, Clinton was opposed to the TPP as well.
During his campaign, Trump also vowed to approve the further development of the Keystone XL pipeline, a controversial oil conduit between Alberta and parts of the U.S. The pipeline's expansion, which was rejected by President Barack Obama in 2015, stands to benefit the Canadian economy but harm the environment. Even so, half of Alberta residents believe Canada's trade relations with the U.S. will take a hit.
Canadians' frustration about Trump's election varies moderately by age and gender, with women and people under 35 expressing the greatest displeasure. The majority of those polled believe societal sexism contributed to Clinton losing the election, and 55 percent say they can't understand why so many Americans voted for Trump.
Unsurprisingly, Liberal Canadians were significantly more upset by Trump's victory than Conservatives, polling at 75 percent and 36 percent dissatisfaction rates respectively.
Overall, only 12 percent of Canadians expect Trump's administration to positively affect their nation's relationship with the U.S.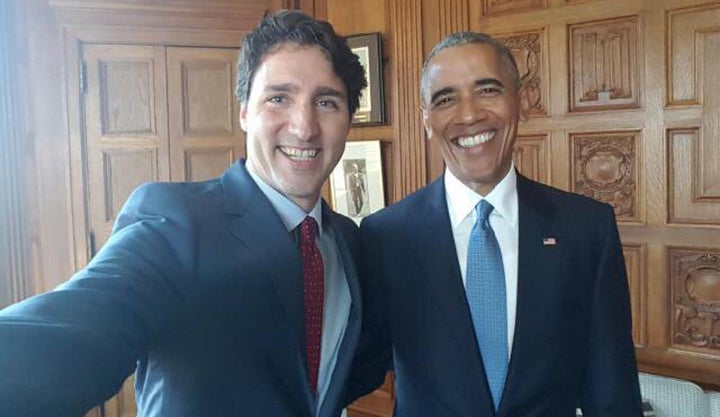 ARI speculates that Canadians' generally pessimistic attitude could have something to do with their admiration of Obama and his "bromance" with Trudeau (or as he calls it, "dude-plomacy"). That seems plausible, to say the least!
Before You Go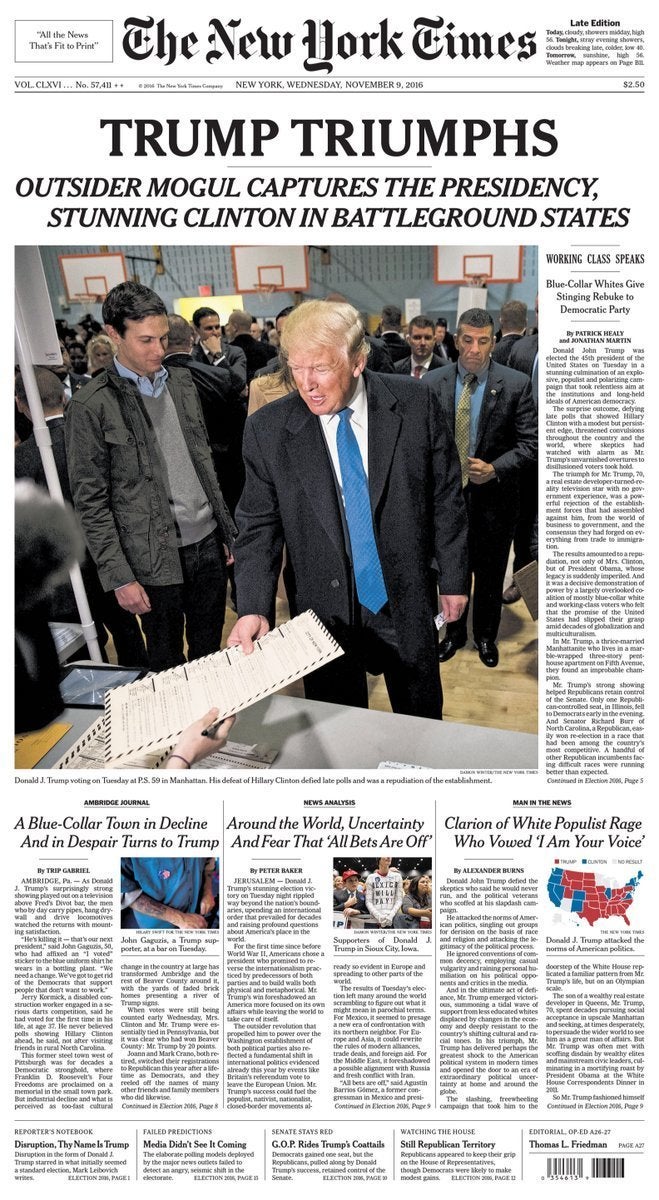 Newspapers React To President Trump
Popular in the Community