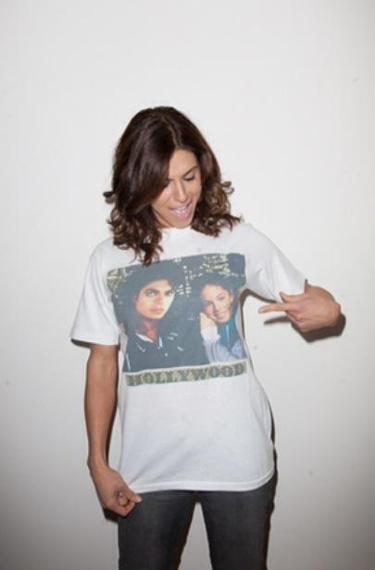 Photo by Anthony J. Branco
Cristina Rosato is getting ready for the season five premiere of Radio-Canada's "Trauma" in January in which she reprises her role as Italian neurosurgeon Dr. Giulia Amaro. This multilingual star can also be seen on Dec 15th in the Hallmark Channel original movie FINDING CHRISTMAS opposite another Canadian stunner Tricia Helfer. Cristina's Twitter: @rosats
Cristina means business. She had these interview answers turned around to me before I could even send them to her! I guess that's what happens when you play a neurosurgeon on TV.
All kidding aside (and I wasn't kidding!), Cristina is an absolute pleasure to deal with. She takes life seriously yet has a flair for fun which makes one hot, sexy package! Onto the interview!
You're Canadian yet you chose to study your craft at The American Academy of Dramatic Arts in Los Angeles. Why did you choose this academy over others?
Originally, I was enrolled at a theatre school in NYC. But that summer, I went to California with my best friend to stay with her family and as I was lying on the beach one day I thought to myself, "palm trees and sunshine ALL YEAR?" (I'm from Montreal... it gets cold!) So I did some research and found the American Academy of Dramatic Arts. I loved their program and they had a pretty impressive list of alumni. So, I called them up, and asked (demanded) for an audition. The school year was about to start and it was way past admissions time, but I said, "I'm in San Diego and I'm coming to audition next week so someone has to see me (please)!" So I did. :)
No. But I do believe in Karma.
What are the differences between being part of an ensemble cast like on "Trauma" vs. a guest starring role such as on "Lost Girl" and "Rookie Blue"?
I find it such a different experience being a part of an ensemble. When you're a guest star, the story for that episode really centers around what happens to your character and it's usually something dramatic that takes place within that one episode. Generally, these guest stars are emotionally packed and the stakes are high. On Flashpoint, Lost Girl and Rookie Blue, my characters were all fighting for something and in some sort of emotional turmoil. Adding onto the fact that you are coming onto a show where you don't necessarily know anyone and you have a lot of important scenes can be nerve wracking. Whereas, when you're a part of an ensemble, your character is part of the web that weaves the whole plot and story together. Working on Trauma has been great because the evolution of my storyline/character is a lot more gradual. I also got to know my cast mates and crew really well, which creates a much more comfortable environment (at least for me!) Rookie Blue was actually shot in Toronto. That role was originally written as a German girl who speaks English but when I came into the audition I did it in an Italian accent. The director asked if I spoke Italian and if I would try the scene without speaking English. It was so much fun they decided to make her Italian!
Why is your goal ONLY to speak 10 different languages?
Hahah! 10 is just a round up but I would like to learn a few more languages for sure. Italian was my first language. My parents spoke Italian at home and when they went back to work my grandparents took care of me. And they, of course, only spoke Italian. So when it came time to start going to school it became a bit of an issue because I didn't speak any French or English. That's a whole other story. My parents finally decided to enroll me in French school, and began speaking English to me at home but I still spoke Italian with my grandparents. So ya. Deep end? :) Then I decided to study Spanish in University. I think I'd like to learn German next or maybe Mandarin? We'll see.
You've voiced several characters in the "Assassin's Creed" video game series. What did you expect when you won your very first "Assassin's Creed" role? Was it in your contract that you'd do more in the future?
Assassin's Creed was my very first voice gig. I was cast as Caterina Sforza, who was a real noblewoman during the late 15th century in Milan. I had no idea what to expect when I booked this role. Originally, Caterina was featured in the DLC of Assassin's Creed II, but after the game's success, and the positive reaction to Caterina, the creators decided to expand her character for the following Assassin's Creed games and involve Caterina more in the main story. She was so revolutionary and outspoken. A really feisty lady and very fun role to play. I also did the MoCap (motion capture) for Caterina. Back then the technology was very different from what it is now. It changes and improves so quickly in the gaming industry. When I first started, we'd record the voice in a sound studio, like one a singer would record in. I'd receive the text a day or so beforehand to get familiar with it, but I could read it off the computer screen during the recording session. Then, we'd play out the movement and actions for the character in the MoCap studio on a separate day, with our voices on playback. Sometimes during voice sessions they'd record my face to match facial expressions. Now, when I go in to do voice and mocap, it's often (but not always) done simultaneously. So I get those tiny little dot marks all over my face, and along with our motion capture suits, we have these head pieces with built in lights, camera and microphones to record everything at once. It's great because you get a lot more accuracy and the performance matches the dialogue. Yet it's a little odd sometimes acting with a big headpiece! It also helps to be interacting with the other actors, because in the voice studio you're alone. And sometimes the other person's dialogue is simply a computer generated voice.
You're funny. Ever been told you should be a stand up comedian? Ever shy?
Oh man. Uhmmmm, nah I was pretty shy as a kid. Painfully shy actually. I remember any time someone would say my name or ask me something in front of people I'd automatically want to run out of the room because then I would turn beet red and you know what people do when you turn red? They say, "Oh my god, you're turning red!" Ya. Thanks.
Where'd you get those beautiful ears from?!
Oh I know I get ear compliments all the time. What can I say, I work out.
Did you ever meet Roseanne Barr?
NO!!! Oh man, I don't know what I'd do. Probably revert back to my old ways and just turn red? I don't often get star struck but I think that I would if I met Roseanne. Or Anthony Bourdain.
Anything else you'd like to say?
I am involved with a great organization called Santropol Roulant. It's a wonderful organization that uses food as a vehicle to break social and economic isolation between generations and cultures. It's meals-on-wheels service provides 80-100 evening meals five days/week to the homes of seniors and people living with the loss of autonomy. Whenever I'm in Montreal, I try to go help out, either in the kitchen or delivering meals. I also like to donate whatever I can on a regular basis to Le Chainon. Le Chainon is one of the most important ongoing resources providing shelter to women in need in Quebec. Like my mom always used to say, follow your heart, stand up for what you believe in and always be kind to those around you.