Article by Huub Snoep, translated by Dianne Lodder
Figure skating legend Ellen Burka-Danby received a "Token of Recognition" from Dutch ex- figure skater Karen Venhuizen, at the Jaap Eden ice rink in Amsterdam on 9 December 2014. She was awarded the special award by the Royal Dutch Skatinf Federation (KNSB) for her exceptional effort and merit in the sport of figure skating.
In "skating cafe" Jaap, the KNSB president, Roel Dekker, commented upon this reward for the now 93-year-old Ellen Burka. "In our nation, we have three figure skating greats in Sjoukje Dijkstra, Joan Haanappel, and Dianne de Leeuw. We would very much like to add you to this extraordinary list. You, born a Dutch citizen, and survivor of the holocaust thanks to figure skating, and who has done a great deal for the sport in your second homeland, Canada, after emigrating. The KNSB is very proud. This "Token of Recognition" is well earned."
Ellen Burka-Danby, surprised by this, reacted: "It is so special that the KNSB has not forgotten me. That they know I first learned figure skating in the Netherlands." She is enthusiastic about the KNSB's multi-annual plan, which is designed by discipline manager Karen Venhuizen. "It is fantastic that the KNSB is working to reach top level in figure skating again. I would have loved to help out, but I retired from coaching last year. There comes a moment when you simply must stop."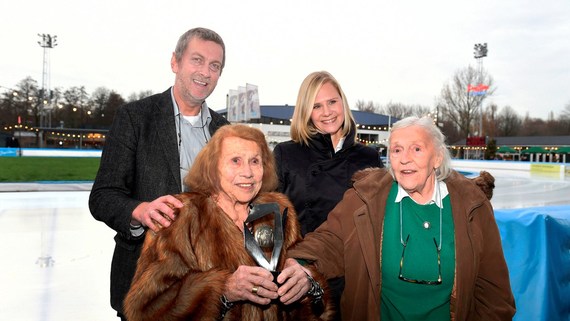 Ellen Burka, holding her award, with childhood friend Elsbeth Bon- Meijer and, behind them, KNSB president, Roel Dekker, and KNSB discipline manager figure skating, Karen Venhuizen.
With the start of World War II, Ellen's live was forever changed. The Danby family were arrested and transported to Westerbork extermination camp. Her parents and grandmother eventually died in the notorious camp of Sobibor, Poland. Ellen was lucky, surviving Westerbork and Theresienstadt, in part because she was smart enough to have herself registered as the Dutch National Champion in figure skating upon arrival at the camps. As a result, she was part of a special program of sports and amusement, and was allowed to show her skill to the other captives.

Figure skating saved Ellen Danby's live during the holocaust. She met Czech artist Jan Burka in Theresienstadt, and married him shortly after the war ended. The young pair settled in the Netherlands, where Ellen started training again. On 31 March 1946, in The Hague, Ellen Burka-Danby won a national competition, a precursor of the National Championship, which, in fact, was not held until 1951. Not long after, she gave birth to her first daughter, Petra.
In 1950, the family emigrated to Toronto, Canada. However, the marriage between Ellen and Jan did not last. In order to make a living, Ellen Burka-Danby went to work as a coach in figure skating. Her most talented pupil was her own daughter. Under the inspiring guidance of her mother, Petra developed to be as good a skater as to be invited to the Canadian National Selection. In 1962, Petra astonished friend and foe with a tripple salchov. She was the first woman to include this element in her program.
In 1964, Petra Burka was third in the World Championships and in the Olympic Games. In both events, the gold medal was won by Sjoukje Dijkstra. When the Dutch star retired from competition and joined the ice theatre, Petra Burka seized the opportunity. In 1965, she and her mother brought the World Championship gold to Canada.
In the following years, Ellen Burka-Danby celebrated successes with, among others, Toller Cranston, and, especially, Elvis Stojko. Together with Cranston, Burka-Danby developed the concept of "theatre on the ice". The underlying idea being that figure skating should be seen as a creative expression of dance. The music should no longer only be supportive, but should "be interpreted". This forever changed choreography in figure skating.
In 1992, Burka-Danby was included in the Canadian Hall of Fame of figure skating, and four years later, in the general Sports Hall of Fame. Last year, Ellen Burka-Danby was also included in the International Jewish Sports Hall of Fame.
Ellen Burka- Danby was in the Netherlands last week for the filming of a short documentary for Dutch television and was suprised to receive this award, thinking she was invited to the Jaap Eden ice rink in Amsterdam for a different reason.
Popular in the Community