Jennifer Huculak and her husband Darren Kimmel of Saskatchewan, Canada went to Hawaii for a beach vacation in October 2013. At the time, Huculak was six months pregnant. Prior to the trip, the mom-to-be received permission from her doctor and purchased travel insurance from Blue Cross, CTV News reports.
But just two days into the vacation, Huculak's water broke. She was airlifted from Maui to a hospital in Honolulu, where she had to remain on bed rest for six weeks, The Toronto Sun reports. Huculak delivered her daughter Reece nine weeks early via emergency C-section on December 10, and the baby girl spent her first two months in the NICU.
At the end of their medical ordeal, Huculak and Kimmel were finally able to return home to Canada with their healthy baby girl. But they were also left with an astounding $950,000 medical bill that Blue Cross is still refusing cover.
"We thought we had done everything right," Huculak told CBC. "We thought we had covered all avenues and we thought we were covered. We thought we were safe to go."
According to CTV, Blue Cross wrote the couple a letter stating that they were not eligible for coverage because Huculak had been "treated for a high-risk pregnancy in the six months prior to departure." But the mom said she did not have a high-risk pregnancy, only a bladder infection which led to bleeding. Huculak's doctor in Saskatchewan wrote to Blue Cross to explain that the bladder infection did not cause her early labor, but the insurance company still denied coverage.
Huculak told The Toronto Sun that she never would have traveled if she had any reason to believe there were medical risks. "Anybody in their right mind doesn't risk their life, their unborn baby's life to go on a vacation."
Facing an almost $1 million bill, the family is currently considering declaring bankruptcy. "It makes you sick to your stomach," Huculak told CTV Saskatoon. "Who can pay a million-dollar medical bill? Who can afford that?"
Still, Huculak and Kimmel are filled with love and gratitude for their daughter Reece. "She's our world. She's a perfectly healthy little baby," the mom told The Canadian Press. "It's been a very stressful year. I think what keeps us going every day is this beautiful little girl that we have."
UPDATE: Dec. 19, 5:00 p.m.
After reading Jennifer Huculak's story, Mike Douglas of Edmonton, Alberta started a petition on Change.org, calling for Blue Cross to pay the mother's claim. The petition currently has over 110,000 signatures, with a goal of 150,000.
Related
Before You Go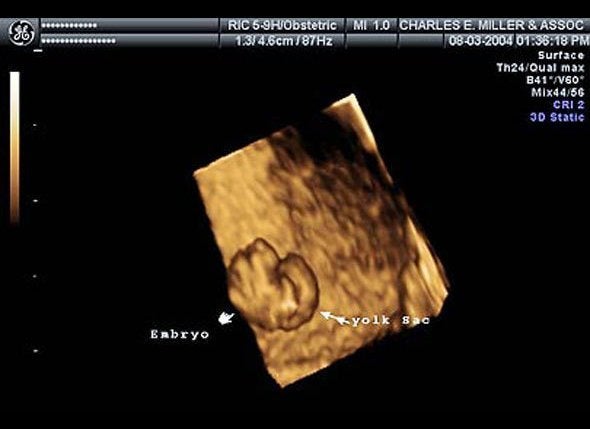 Pregnancy Week By Week