Multiple people attempting to legally enter the U.S. to either attend Donald Trump's inauguration or the Women's March on Washington say they were denied entry at Canada's U.S. border, with some claiming it was over their political beliefs.
"The first thing he asked us point-blank is, 'Are you anti- or pro-Trump?'" Joseph Decunha, a physics student at McGill University in Montreal, told CBC News.
Decunha said he was attempting to cross the border on Thursday with two American citizens, and that he didn't hide that he was going to attend the events in D.C. when asked.
"According to the agent, my traveling to the United States for the purpose of protesting didn't constitute a valid reason to cross," he said, adding that he had been photographed and fingerprinted.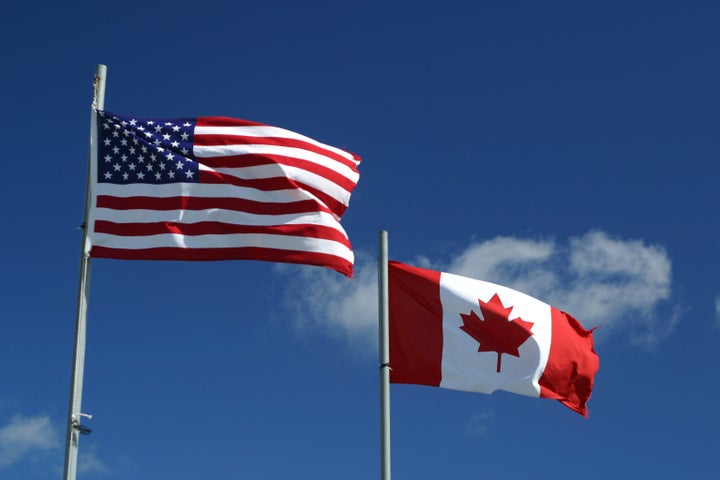 "I've never been denied entry at any border crossing before. I have no criminal record. I've never done anything illegal in Canada or in any other country," Decunha told CBC News.
He said he suspects that his political leanings determined his right to enter.
"We were forthcoming and explained we were quite vehemently anti-[Trump]," he told Reuters.
Sasha Dyck, also of Montreal, said he was also refused entry Thursday after telling border guards that he was heading to the women's march. She was in a group of eight that included six Canadians and two French citizens.
My traveling to the United States for the purpose of protesting didn't constitute a valid reason to cross.

Canadian citizen Joseph Decunha
All were denied entry, he told The Guardian, and the French citizens were told that going forward they would need a visa to enter. As for Dyck, he said he was warned that if he and the other Canadians he was with attempted to cross again that weekend, they would be arrested.
Dyck, who is a nurse, shared that this was in stark contrast to when he traveled south for President Barack Obama's inauguration and U.S. border officials high-fived him.
"It seems to me that they just weren't interested in having us in the country for the inauguration," the 34-year-old told Reuters. "I hope it doesn't represent a closing down or a firming up of the border, or of mentalities south of the border."
British citizen Joe Kroese, who studies in Montreal, received similar icy treatment.
Kroese, 23, said he and a Canadian he was with were fingerprinted and photographed before being denied entry while traveling with two Americans to attend the women's march.
"They took my phone and started going through my texts. There was another group of Canadians there that were also going to the march and were being refused entry," he told The Independent.
"They searched the car and then they asked the driver if he practiced Islam and if he spoke Arabic," he said. "They wanted to spook us a bit. It felt like a kind of intimidation."
They searched the car and then they asked the driver if he practiced Islam and if he spoke Arabic.

British citizen Joe Kroese
Kroese said the guards told him that the march was a "potentially violent rally" and that going forward he'd need a visa to enter the U.S.
Citizens of Canada, France and the United Kingdom are not required to obtain a visa to enter the U.S. for tourism or business reasons. The full list of countries whose citizens are waived by the Visa Waiver Program can be found here.
Aaron Bowker, a public affairs officer for the U.S. Customs and Border Protection's Buffalo field office in New York, said he can't comment on individual cases, but that people are only denied entry if there is a valid reason.
"If they're not truthful or upfront," he told The Huffington Post on Sunday of one possible scenario. "If we can't verify what exactly they are doing, it could be a reason for refusal."
In most cases, he said, individuals who are denied entry must then acquire a visa going forward, which would explain why some people said they were told they'd need a visa in the future. 
In a statement, CBP agreed that entering the U.S. to participate in a march "is not a prohibited act."
"We recognize that there is an important balance to strike between securing our borders while facilitating the high volume of legitimate trade and travel that crosses our borders every day, and we strive to achieve that balance and show the world that the United States is a welcoming nation," the statement read.
On a daily basis, more than 1 million individuals are admitted into the U.S. Of those people, an average of 600 are denied entry, according to the statement.
The Buffalo field office saw a 14 percent increase in vehicular traffic on Thursday, Friday and Saturday, Bowker said, with many travelers stating that they were heading to events in D.C.
Approximately 41,000 vehicles were processed over that three-day period and more than 100,000 passengers were inspected. Just over 95 people were denied entry ― or less than 1 percent of travelers who were processed. Not all of those travelers denied entry were heading to D.C., Bowker said.
This story has been updated to include additional traffic figures.
Calling all HuffPost superfans!
Sign up for membership to become a founding member and help shape HuffPost's next chapter
BEFORE YOU GO