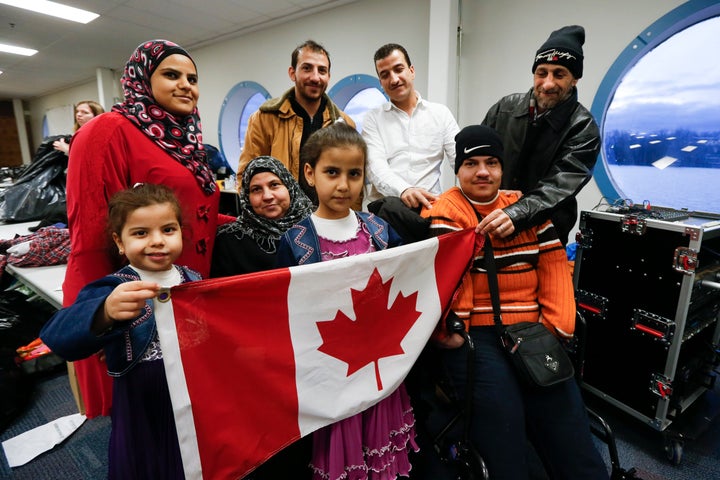 Canadian David Foster developed a passion for Arabic ten years ago, while he was working for an international company in Sudan. Now, he is using his love for the language to help his fellow countrymen welcome refugees. 
As part of a national plan to resettle 25,000 Syrians, 17,862 refugees have arrived in Canada between Nov. 4, 2015 and Feb. 8, 2016.
Foster spearheads a program in the City of Owen Sound, Ontario, and together with Nabil al-Ramahy teaches Canadians Arabic words and numbers to help them communicate with refugees resettling in the country. 
Foster studied Arabic while living in Sudan. "That's when my love affair with Arabic started," he told HuffPost Arabi.
"There is something unique about the way Arabic letters are drawn," he continued. "I fell in love with it upon seeing it for the first time and it just made me want to learn more about the origins of Arab civilization and the stories [in the book] One Thousand and One Nights," Foster added.
Foster and al-Ramahy teach a three-week course for Canadians eager to learn Arabic words. Foster also opened a school to teach English to Arabs who are newly arrived in Canada. 
"Our classes aim to create harmony between Canadians and refugees through teaching them Arabic words," Al-Ramahy, who is Canadian-Iraqi, said. "They also aim to make Canadians understand that Arabs are peaceful people who actually despise the wretched wars that forced them to flee their homes and turn to Canada and other Western countries."
Al-Ramahy says most Syrian refugees come from cities located near Iraq and speak a similar dialect to Iraqis, "Which is what made us choose some colloquial words to teach to our Canadian students."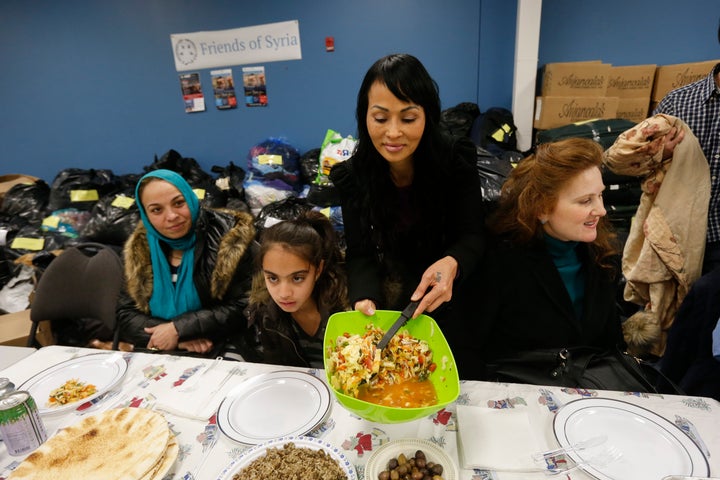 "Ahlein" (welcome), "mashy" (OK), "marahaba" (welcome), "asif" (sorry), "law samaht" (please) and "shukran" (thank you). Those are the most important words Canadian students learn in class. They are also taught numbers in Arabic.
Lindy Iversen, one of the students taking the Arabic class, said she's proud to be part of a voluntary group to welcome one of the arriving Syrian families and help them settle in Ontario.
"I'm starting to learn some welcome words in Arabic before the Syrian family arrives in Meaford city," Iversen told HuffPost Arabi.
"When I went to David Foster's school, he told me that I need to learn 20 Arabic words that would make the Syrian family feel comfortable and help them adapt better to their new community in Canada," Iversen added. 
When she meets the family at the airport, she'll greet them with the words of welcome she has learnt.
"I hope Syrian refugees arriving in Canada would blend in, learn about the new culture and feel at home," she said. "I like the Arabic language a lot. I would have learned it anyway, even if I wasn't a member of a Syrian refugees support group."
Wayne Dizak, another student taking the Arabic class said, "I am so excited to learn some Arabic words. I want to use them with my Canadian friends who have Arab roots, as well as newly arriving Syrian refugees."
Though Canada's Prime Minister Justin Trudeau has pledged to provide temporary housing and a monthly stipend for the 25,000 Syrian refugees who will be resettled in Canada by the end of February 2016, Canadian citizens, businesses and aid groups have created parallel support systems for incoming refugees.
This post first appeared on HuffPost Arabi. It has been translated into English and edited for clarity.
REAL LIFE. REAL NEWS. REAL VOICES.
Help us tell more of the stories that matter from voices that too often remain unheard.