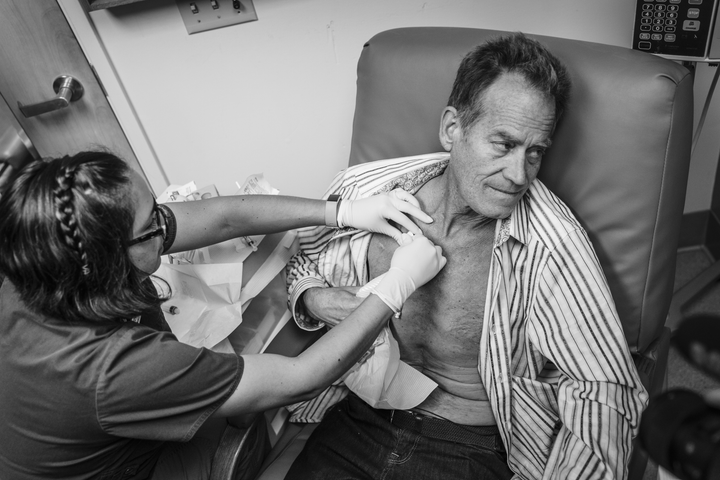 Adversary. Plague. Enemy.
In the years that I've worked in oncology, those are some of the words I've heard used to describe cancer. But as more people worldwide live with the condition, thanks to a growing wave of advanced science and next-generation therapy, a new descriptor is emerging: catalyst.
Fred Reiss, a patient who's been living with cancer since 1991, says it best: "Cancer is a catalyst. You have a pilot light of talent and spirit, and you have to decide what to do with it."
He would know. First diagnosed with testicular cancer at the age of 28, Fred has faced cancer three times in the past thirty years. After each diagnosis, he used comedy to make meaning of his experience and find new ways to bring laughter and perspective to others. Today, he takes his inspirational "FRED Talks" to hospitals and chemotherapy centers around the country.
As of 2016, more than 15.5 million people were living with cancer in the United States,[1] up from 13.7 million in 2012.[2] By 2026, that number is expected to reach 20.3 million.[3] But, all too often, cancer patients lack the vital support and community they need to redefine their lives as proactively as Fred and move forward.
That's why Pfizer is launching a new initiative designed to help people manage their lives with cancer and stay connected to their communities: This Is Living With Cancer™. For all patients living with cancer, the program recognizes the unique needs of people living with the illness and aims to support the complexities of the experience through digital tools and connecting supporters.
As part of the program, we are also launching an app, called LivingWith™, that helps patients and caregivers build a network of support and organize key documents. It also enables patients and their loved ones to record certain important information, track mood and pain and learn about local events and nutrition.
It's a testament to cutting-edge science and continuing collaboration that cancer can be increasingly controlled through medicines. Over the past two decades, the cancer death rate in the United States has declined by 25 percent, resulting in 2.1 million fewer deaths.[4] But while getting effective treatment is a necessary first step for cancer patients, it's not enough.
For patients and their loved ones, the psychological burden of cancer can be debilitating. In the 2006 National Survey of U.S. Households Affected by Cancer, one-third of respondents said cancer caused someone in their household to experience emotional or psychological problems, and one-quarter said it led to severe strains on family relationships. In other studies, caregivers of cancer patients indicate that they feel unprepared and overwhelmed by their new responsibilities.[5] As a result, many experience a deterioration in their mental and physical health and a diminished quality of life.
At Pfizer Oncology, we're very proud that our work has led to medicines that have the potential to be life-changing. Our portfolio includes 10 approved cancer therapies, with seven launched since 2011. In the past four years, the FDA has designated seven of our medicines as "Breakthrough Therapies," and has expedited their review because preliminary clinical evidence indicated they could substantially improve outcomes over existing therapies. In total, more than 580,000 patients have been treated with our medicines since 2006.
But our commitment to patients extends beyond the treatments we provide. Cancer is a life-changing condition and it demands a community of support that is as powerful as the disease. As Fred reminds us, "If you do it right, you're powered by the love of other people around you. It gives you a strength you'd never have found by yourself."
Our hope is that This Is Living With Cancer can help empower cancer patients and their caregivers to harness the strength they need.