This 9-year-old cancer survivor is on a mission to take back the term "bucket list." One game of "messy twister" at a time.
Maya, a third grader from Ohio who is battling a rare form of leukemia, wants to share her "bucket list for summer 2013" (below) to inspire others -- healthy or sick, old or young -- to get busy living. And the thing that's most remarkable of all: almost nothing on her list costs very much money.
"What I love is that it's so simple -- it's about the simple joys in life," Maya's mother told me over the phone today (she asked that only Maya's first name be used, for privacy).
Today, Maya is in remission after two bone marrow transplants in two years. It's like a window onto a new world has been opened, her mother said. More than anything, she is just happy to be out of the hospital, which served as Maya's uneasy home away from home for the last few years. But like other cancer patients, the worry about relapse is always there.
"Maya doesn't take anything for granted. For a 9-year-old, that's pretty awesome," her mother told me.
That's why she's embracing the "bucket list" and hoping it inspires others -- even if they're perfectly healthy -- to join her.
"Life flies by and if you don't make a list you won't do what you want to do," Maya's mother said. "Everyone should make a bucket list."
Maya's list is striking because it isn't made up of expensive gadgets, extravagant vacations or impossible fantasies. There's nothing wrong with those things, but there's beauty in her simplicity. In fact, for a kid in this manically digital age, it's remarkable how many things are for the offline world: playing outside (#7), staying up all night (#10), or watching the sun set (#3).
Like any kid, she may have a prankster streak (#17: "Put Mentos in coke") -- though she should probably talk to her mom about #11 ("prank call the cops").
But honestly, no matter the age, haven't we all wanted to stick our homework in the fire pit, figuratively speaking? (It's #6 on her list.)
By the way, what's "messy twister"? I have no idea but I'm pretty sure we could all use more of that in our lives.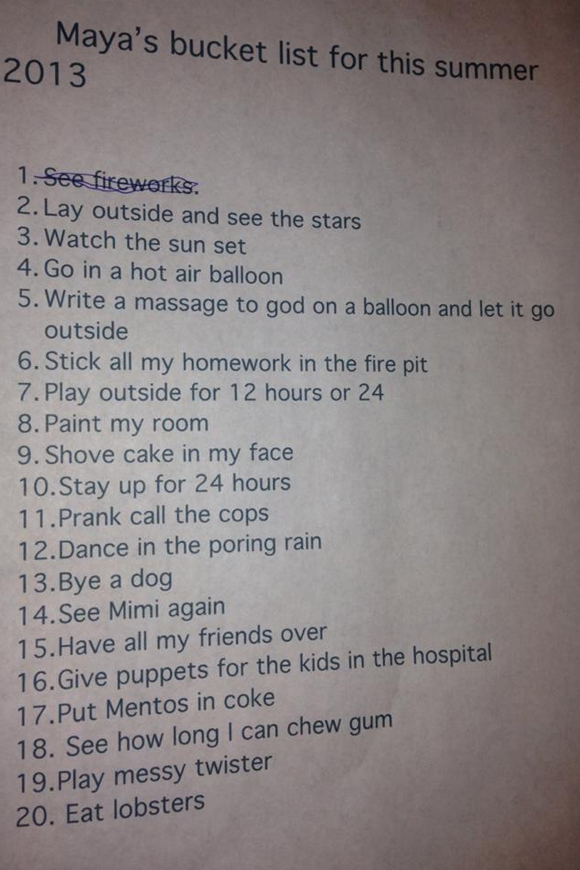 To learn more about how to donate to leukemia research, Maya's family suggested giving to the Cincinnati Children's Hospital Medical Center here. Select "other" and type in "AML research."
Related