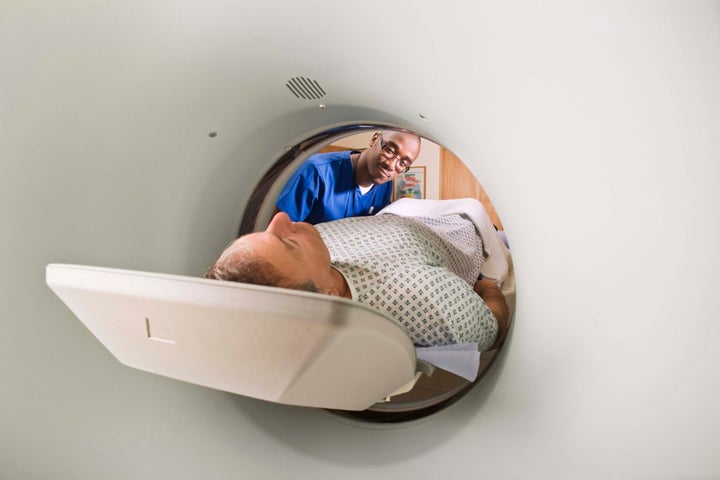 Men have a higher incidence of cancer than women; now new research suggests they are also at greater risk of dying from it.
The authors of a sweeping new study, published Tuesday in the journal Cancer Epidemiology, Biomarkers & Prevention, analyzed nearly 20 years of data from the National Cancer Institute's "SEER" program, which has tracked cancer since the 1970s. For most cancers, the study found, mortality rates were higher in men than in women.
"Men are more likely to die from cancer than women," Michael B. Cook, Ph.D., an investigator with the National Cancer Institute and the study's lead author said in a statement. "We found this to be true for a majority of specific types of cancer."
This was particularly true among patients with lip cancers (per 100,000 people, researchers determined that 5.51 men died compared to one woman), cancer of the hypopharynx (4.47 men to one woman), esophageal cancer (4.08 men to one woman) and urinary bladder cancer (3.36 men to one woman).
Among the cancers that generally have the highest morality rates, such as lung and colon cancer, men also had higher death rates.
What this finding means, the study's authors suggest, is that differences in cancer mortality among men and women occur because men get cancer more frequently, not because men necessarily have poorer survival rates after their cancer has developed. In his statement, Cook argued that identifying the reasons why men get cancer more frequently is an essential next step in preventing cancer deaths among both sexes.
One possible area of focus is tobacco use.
Though differences in smoking rates among men and women have leveled out in recent years, men still smoke more than women. The Centers for Disease Control estimates that in 2009, 23.5 percent of men in the U.S. smoked, compared to approximately 18 percent of women.
James Marshall, Ph.D., chair of the department of cancer prevention and population sciences at the Roswell Park Cancer Institute said that in approximately half of the 30-plus cancer types the researchers of the new study considered, tobacco use can be a key risk factor.
"What this study emphasizes is that if you want to make a big dent in [the sex] difference and in the overall human cost of cancer, you need to focus on keeping people from getting cancer in the first place," Marshall said. "Tobacco is so important to that risk -- not just if you smoke before a cancer diagnosis. If you are still smoking while you're diagnosed, you do worse, too."
The new study points out other possible non-genetic risk factors for cancer, including HPV infections and exposure to UV radiation. And though they call for more research on how exactly this plays into cancer survival, the researchers point out that women "more readily" and "more often" seek out testing and early care.
"Looking at it from a public health perspective, it emphasizes the importance of early detection and screenings," said Rachel Ceballos, Ph.D., of the Fred Hutchinson Cancer Research Center who hailed the study as "important" given that it is among the first to compare mortality and survivorship in men and women.
"From a public point of view," Ceballos added, "it's about trying to get men in for screening."
For all of the environmental factors that could impact sex differences in cancer mortality, the study does suggest that there are further biological factors at play. Things like sex hormones or sex-linked detoxifying enzymes that are more effective at fighting cancer in one sex versus the other can also play a role.
But in a statement, Cook emphasized his belief that the "main driving factor" in the greater number of cancer deaths among men is frequency of cancer diagnosis, not poorer survival after the cancer has taken hold.
For his part, Marshall agreed.
"What [this study] is saying is that there's no great huge biological surprise," he said. "This is a very practical issue -- you want to lower the human cost of cancer in both men and women, you have to lower the risk."