In July of 2013, I was diagnosed with IDC Triple Negative Breast Cancer Grade 3, at the age of 36, wife and mother of five beautiful children. I began treatments for this very rare and hard to treat and beat breast cancer through City of Hope. I started a trial in hopes of helping other women who would be diagnosed after me in hoping to play a small role in perhaps saving their life. In the beginning stages of this disease, I was so ANGRY. I felt that I had little control and was hopeless. I was so broken, because this disease was going to affect my children and husband and I couldn't fix it, I felt so powerless. I would get angry because the breast cancer was related to pink and this disease didn't feel "pink." I was walking into this disease defeated and I didn't know. I remember at one of the earlier appointments, looking around the room and seeing the look in the patients eyes and the hopelessness on their face. I was looking into a mirror... I was looking at myself. That's when it hit me, this is the reality of this disease but, it won't be my reality and not just for myself but, for those who hear those three dreaded words that we all are secretly afraid to hear, "you have cancer." From that day forward, I changed every single way I looked at this disease. It was no longer, "I have to go to chemo" but, I get to go to chemo. Each and every time I went to the City of Hope, I wanted to see those broken faces with smiles before I left. I wanted not only to accept this disease, but EMBRACE this disease with love, hope, happiness, laughs and strength.
I began sharing our journey on Facebook for many purposes. First, I didn't know how my "journey" with this disease will end. It is so important for me, for this battle to have a "greater" purpose than myself. I wanted my battle to help make others lives better somehow. Secondly, I believe I was defeated walking into this because of all the "media" depictions of this disease. I wanted to change peoples perceptions of cancer. If you have followed my journey and watched our laughter, fears, tears, joy, love, hope and you hear those three words in your lifetime, you will know I watched a mom of five get up everyday and take her children to school, who fundraised and supported others battling cancer, who had a double mastectomy and five days later was at her son's three day soccer tournament and you will know, I CAN do it, too! Lastly, I wanted to redefine cancer. Cancer can feel very lonely and isolating as if you are wearing a giant C on your chest. It is natural to want to crawl into a ball and hide. I wasn't going to allow cancer to isolate me. I wasn't going to allow this diagnosis to change me for the worse, I was going to change it for the better!
I did 16 rounds of chemo every Friday. Following chemo, in December I had a double mastectomy. The double mastectomy surgery couldn't have gone any better. Originally I was diagnosed, Stage 2/3 due to the size of my tumor, but without preforming a biopsy on my lymph nodes they weren't sure my exact staging. After the surgery, they tested seven lymph nodes all negative. I was then down staged to Stage 1 post chemo and declared "Cancer Free!" January 6th we got to meet Ellen DeGeneres on The Ellen DeGeneres Show! Definitely a HIGHLIGHT! The following week, just for further precaution I started radiation 33 treatments. I didn't want to give this disease any chance of returning. Two weeks prior to radiation treatments ending, I developed another lump. No way... fighting for nearly a month to get it looked at, finally tests were run. I was called in the office to speak with the doctor. Again, I would hear those three words that we never want to hear, "you have cancer." March 27, 2014, I was told, "you are Stage IV Triple Negative Breast Cancer, it has spread throughout your body you are inoperable and may have over a year, but we don't know because nothing about your 'case' makes sense."
I said, only a year? This is not good enough, my youngest is only 2-years-old now, my children need their mother. I knew that they didn't know what to do for me. I knew I would be placed on the "next" protocol chemo and when I didn't respond another one would be tried and another, until either the chemo or cancer took my life. I politely got up and said, a year is not enough time, I will beat this! So, my journey continues... I came home to my five children and had to tell them what we learned, I can't begin to adequately describe the heartache and fear they felt. This isn't my disease alone, our entire family has been diagnosed and watching them in pain and heartache are the moments when I feel like I can't breathe. They asked me, "are you going to die Mom?" My HEART was ripped out of my chest when I was asked, no child should have to worry about loosing their mom. I replied the only way I knew how, with HOPE... "I cannot answer your question only because I don't know, but I PROMISE you I will FIGHT with every BREATH I take to stay here with you!"
So a new journey begins... one that is still full of HOPE, LOVE, TEARS, LAUGHTER, FIGHT & BEAUTY!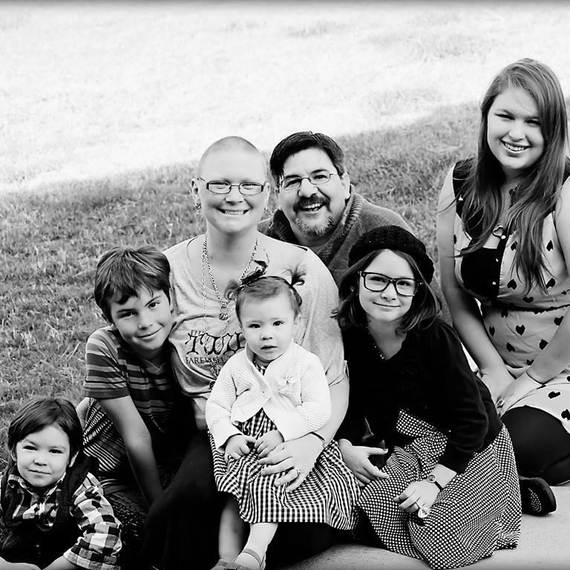 Calling all HuffPost superfans!
Sign up for membership to become a founding member and help shape HuffPost's next chapter