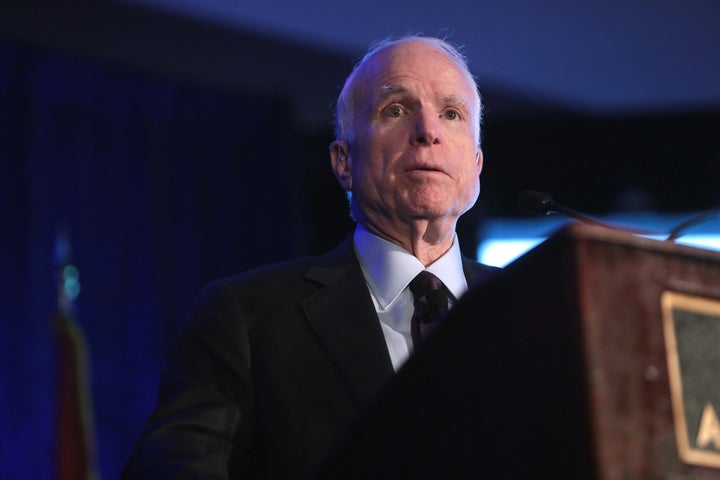 There is no Republican cancer. Or Democratic cancer.
There is no Trump-supporting cancer. Or Hillary-supporting cancer.
Cancer alleges to no party and to no one.
Senator McCain's recent brain tumor removal is a stark reminder of the sanctity of life and the importance of health care access and coverage.
I, myself, was recently reminded of this when I experienced a possible cancer diagnosis. But I was lucky. I have health care coverage and I am a physician.
As our senators, members of Congress and president seek to repeal the Affordable Care Act (ACA), we must not forget that ill health and cancer do not care if we lean left or right.
I thank Senators McCain, Graham, Moran, Lee and others for helping Capitol Hill to halt steamrolling the ACA to oblivion without bipartisan input and partnership.
Today Senator McCain voted yes to open the debate on repealing Obamacare, and I hope he continues to pursue a bipartisan solution for health care that doesn't leave millions uninsured.
For some unfortunate reason, our Congress, and Americans in general, have forgotten the great equalizer: ill health.
As a physician on the front lines of delivering health care, I care for all women who come to my clinic. We do not check voter registration cards but we do check health insurance cards. Without insurance coverage, you will not be able to receive health care in almost any clinic or hospital across America – even if you have cancer.
In fact even a healthy person who wants to have a routine health exam or obtain a cancer-screening test can't do so without health care coverage in most places across the U.S.
Health care has become politicized and hyperpolarized to the point of inflicting harm and ill health on Americans. This chasm created further jeopardizes health. As this hunt to repeal ACA ensues, stakeholders, including patients, health care providers, systems and insurers, have been denied their expert opinions.
America's on-the-ground experts need to work with members of Congress across both sides of the aisle to revise the ACA in ways that help us as a nation move forward and create a system of health care provision that is good for all Americans – not just red America and blue America. It is time to put the US back into the United States of America.
Senator McCain and myself are privileged to have full access to health care. We have high levels of health literacy and education and can more successfully navigate the complex labyrinth of the health care decision-making and all of the appointments and follow-ups that are necessary to arrive at a diagnostic resolution of complex diagnoses.
This is not the case for all Americans. Rather, many of my patients cannot even access my clinic because they have been assigned to a different managed care plan that my health care system does not cover.
Many of my patients cannot figure out how to change their health care plan because either they cannot spend hours on the phone navigating such a complex set of questions required to switch plans or they cannot understand all the questions they are being asked. Instead they forgo visiting the doctor.
The complexity of health care access and the fundamental lack of access and coverage are causing Americans to become sicker.
Patients forgo engaging in the important primary care services, such as cancer-screening tests, because it is just too difficult and takes time away from their jobs, which they cannot afford to miss. Forgoing annual physicals and screening tests leave diseases such as cancer to fester. In fact most cancers, when diagnosed early, can be cured.
I come from a line of cancer survivors and Republican and Democratic voters, and I am blessed for my health and health care. I pray for Senator McCain and his family as they face a cancer diagnosis and survivorship.
As we move forward with health care debates and struggles in our country, let us remember that at the end of the day, disease and especially cancer has no political boundaries. If we are to improve health and health care for all Americans, we must start with partnership, engaging in dialogue across the aisles and with experts – both practitioners and important people like Senator McCain – who have and are facing cancer. It is careless to allow Capitol Hill to repeal the ACA without any thoughtful, bipartisan plan to replace health care coverage.
We all need access to health care. Cancer does not discriminate.
President Trump and distinguished members of Congress: My colleagues, patients and I are ready, willing and able to help you craft a new health care bill. Please reach across the aisles and include us. Together we can find a better way.
Dr. Melissa Simon is a Northwestern Medicine physician, co-Leader of the Cancer Control and Survivorship Program in the Robert H. Lurie Comprehensive Cancer Center, founder of the Chicago Cancer Health Equity Collaborative and member of the United States Preventive Services Task Force. Her opinions do not necessarily reflect the views of the USPSTF.